Meghan Markle and Prince Harry's U.K. Popularity Rallies After New York Tour
Meghan Markle and Prince Harry's popularity in the U.K. got a bounce after their high-profile visit to New York—having hit its lowest ebb in August.
The Duchess of Sussex was liked by 28 percent and disliked by 51 percent of Britons, according to surveys conducted throughout the third quarter of 2021 by YouGov.
The figures add up to a net favorability of -23 percent. This is an improvement on her lowest-ever rating, recorded at the end of August.
At the time, 26 percent said they liked her compared to 65 percent who said they disliked her, leaving her with a net favorability of -39 percent, according to YouGov.
Prince Harry was liked by 36 percent and disliked by 43 percent, giving a net favorability of -7 percent in quarter three, according to the pollster.
His lowest rating in August showed he was liked by 34 percent, disliked by 59 percent and had a net favorability of -25 percent.
The quarter three data was based on surveys of around 1,400 U.K. adults conducted throughout July, August and September, while the August only data was based on a survey of 1,667.
Since then, Meghan and Harry toured New York to promote vaccine equity at the Global Citizen Live festival and met New York Mayor Bill de Blasio.
The visit was widely reported on positively by the media on both sides of the Atlantic.
They also did their first joint magazine cover shoot for Time100 after being included on the most influential people of 2021 list.
As Newsweek revealed, 50 percent of U.K. mainstream media coverage was positive, 16 percent neutral and 33 percent negative during September, according to research by data intelligence agency Zignal Labs.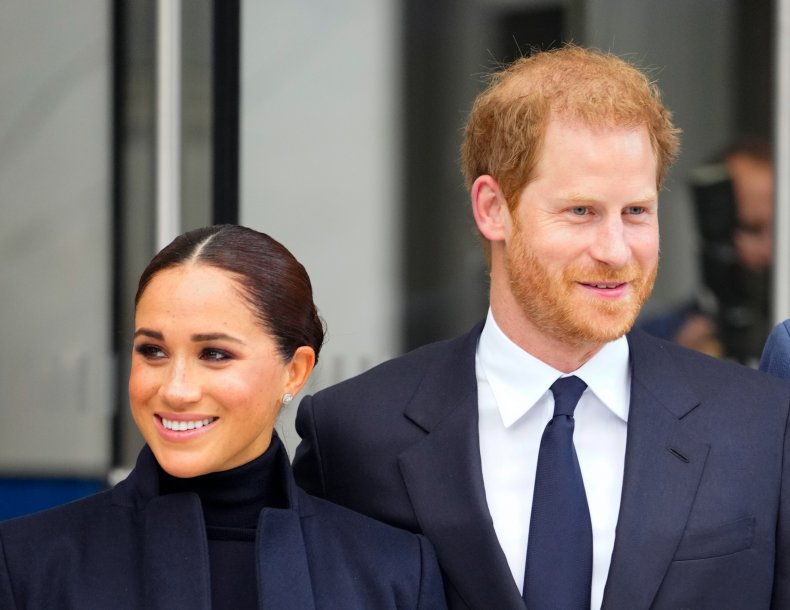 It has now been five months since their last public attacks on the royal family, in May when Harry told his Apple TV documentary The Me You Can't See how his relatives responded with "total silence or total neglect" to his pleas for help dealing with the media.
Meghan told the Central Park crowds at Global Citizen Live: "Every single person on this planet has a fundamental right to get this vaccine. That's the point. But that's not happening. And while in this country and many others you can go almost anywhere and get vaccinated, billions of people around the world cannot."
Prince Harry added: "They said many countries are ready to produce vaccines at home, yet they aren't allowed to, because ultra wealthy pharmaceutical companies are not sharing the recipes to make them.
"These countries have the means the ability and the workers to start manufacturing. All they are waiting for is the vaccine intellectual property to be waived and for the vaccine technology to be transferred over."