Prince Harry and Meghan Markle Do First Magazine Cover Shoot Together
Prince Harry and Meghan Markle have been included in the Time100 Influential People List, resulting in their first joint magazine cover shoot.
News of the Duke and Duchess of Sussex's inclusion came on Harry's 37th birthday today (September 15).
The couple are seen posing together on one of seven Time100 covers, with Harry dressed in black and Meghan in white.
They were "humbled" at being included on the list, according to their Archewell, website which ran an image from the shoot with a signed message that read: "Each of us can change our communities. All of us can change the world."
And they have a write-up from friend and charity partner José Andrés, who they teamed up with for his World Central Kitchen project.
Andrés said: "Springing into action is not the easy choice for a young duke and duchess who have been blessed through birth and talent, and burned by fame. It would be much safer to enjoy their good fortune and stay silent.
"That's not what Harry and Meghan do, or who they are."
He added: "In a world where everyone has an opinion about people they don't know, the duke and duchess have compassion for the people they don't know. They don't just opine. They run toward the struggle."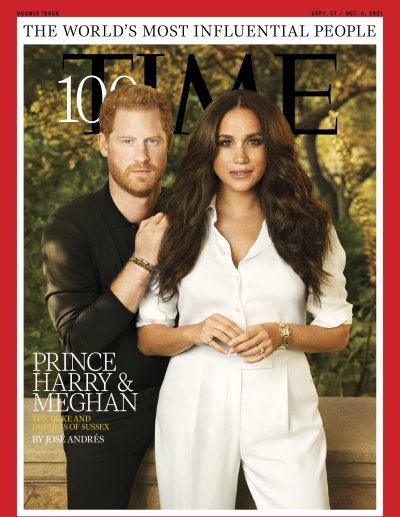 Harry and Meghan's nomination comes six months after their bombshell Oprah Winfrey interview triggered a global conversation about racism and mental health.
Meghan said in the CBS prime-time special that an unnamed royal had expressed concern about how dark her baby's skin might be before Archie was born.
She also described experiencing suicidal thoughts as a working member of the royal family, while Harry accused the royals of cutting him off financially.
At the same time, they launched their Archewell Foundation, which has partnered with a series of projects.
Together with World Central Kitchen they have built Community Relief Centers in Dominica, Puerto Rico, and Mumbai, in India.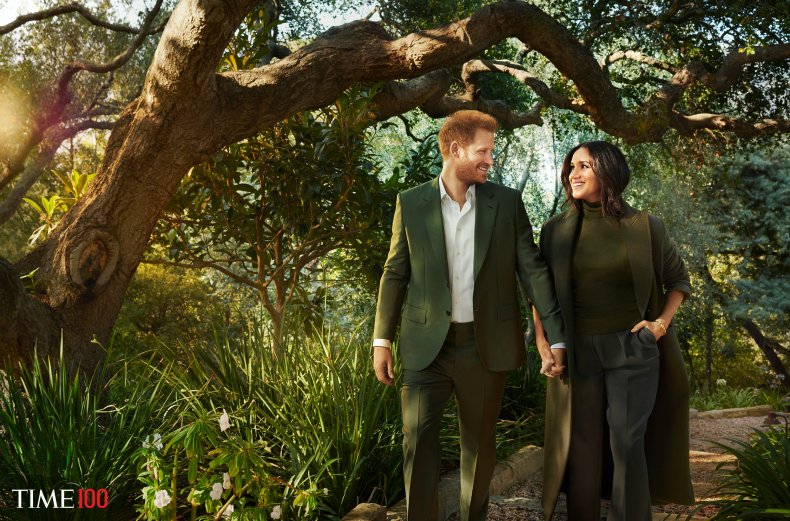 They also urged Americans to vote during a talk for Time100 last year in advance of the presidential election won by Joe Biden.
In addition to being nominated, the duke and duchess also nominated the director-general of the World Trade Organization, Dr. Ngozi Okonjo-Iweala.
Harry and Meghan wrote: "As the first African and first woman to lead the World Trade Organization....Okonjo-Iweala took on the role of director-general this March at a watershed moment for our global health and well-being."
They added: "Okonjo-Iweala has shown us that to end the pandemic, we must work together to equip every nation with equitable vaccine access. Our conversations with her have been as informative as they are energizing.
"This is partly because, despite the challenges, she knows how to get things done—even between those who don't always agree—and does so with grace and a smile that warms the coldest of rooms."
Their website reads: "Prince Harry and Meghan, The Duke and Duchess of Sussex, are not only humbled to be part of this year's TIME100 through the words of friend and partner José Andres, but to also write in praise of Dr. Ngozi Okonjo-Iweala for the publication's annual list of Most Influential People."
Time and ABC will bring the "list to life with a special television event" on Monday, September 20 at 10 p.m. ET taking a closer look at the hand-picked stars, a spokesperson said.