Meghan Markle's father has called Prince Harry's attacks on the royal family "embarrassing" and said any mental health justification was "a joke" in a new interview.
The Duke and Duchess of Sussex leveled damaging allegations against the royal family during their CBS prime-time special with Oprah Winfrey in March.
And in his Apple TV docuseries, also with Oprah, he later said the intention was to "speak truth in the most compassionate way possible, thereby leaving an opening for reconciliation and healing."
The Me You Can't See also showed Prince Harry undergoing alternative trauma therapy EMDR (eye movement desensitization and reprocessing).
However, his father-in-law Thomas Markle was scathing of suggestions Harry's public comments were intended to help his mental health.
He told GB News: "It's embarrassing that they're doing this. It's embarrassing for them to be telling me a few years ago 'never talk to the press' and then they spend three hours on a show with Oprah where Harry claims that he's reclaiming his mental illness, he's curing himself of the mental illness, is a joke.
"You don't go on a TV show and talk for three hours to get rid of your mental illness. You talk to a psychiatrist quietly in a room somewhere. But you don't turn them into a television show. I know, I've done a lot of television shows."
He also accused his daughter of lying in comments echoing Piers Morgan's many attacks on the duchess.
Markle Snr said: "She lied, she has been lying for years. Lying about the archbishop, how can you lie about the archbishop?
"Her lies are so obvious I don't know why she says them."
The reference was to Meghan and Harry's claim they were secretly married days before their official wedding in a private ceremony in their back garden with just the Archbishop of Canterbury.
The marriage certificate has confirmed that the point at which they became legally married was at the official public ceremony on May 19, 2018 at St George's Chapel, Windsor Castle.
Asked whether Meghan had experienced racism growing up, Markle Snr added: "No. Not at all. Not to my knowledge. I saw no racism whatsoever."
GB News is a new U.K. television channel with an editorial charter that states: "We do not shy away from controversial issues."
Thomas Markle and daughter Meghan fell out after he was caught staging pictures with the paparazzi for money in a story published by the Mail on Sunday days before her Windsor Castle wedding.
At the time, Harry and Meghan urged him not to speak to the press, according to messages released through her High Court privacy and copyright lawsuit against the Mail on Sunday.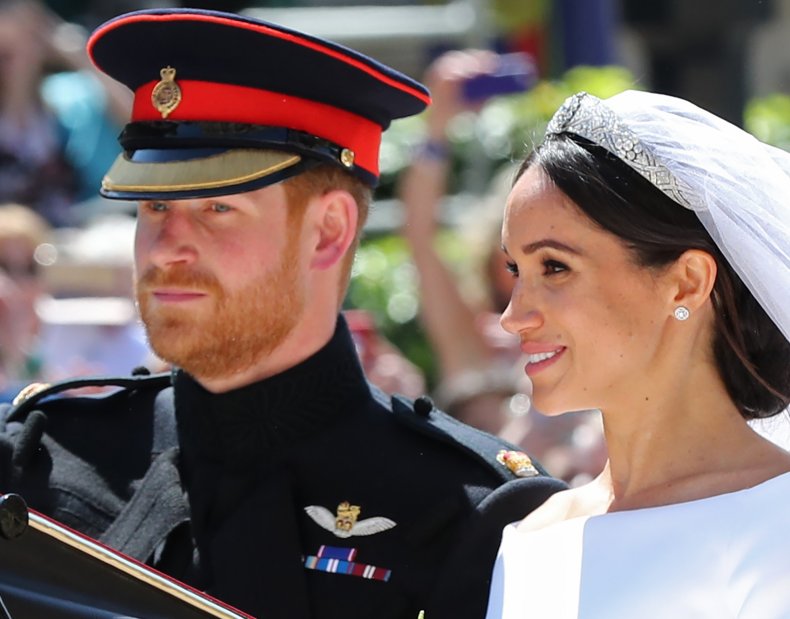 A text message dated May 14, 2018 from Harry to Markle Snr, disclosed to the court, read: "U do not need to apologize, we understand the circumstances but 'going public' will only make the situation worse.
"If u love Meg and want to make it right please call me as there are two other options which don't involve u having to speak to the media, who incidentally created this whole situation.
"So please call me so I can explain. Meg and I are not angry, we just need to speak to u. Thanks.
"Oh any speaking to the press WILL backfire, trust me Tom. Only we can help u, as we have been trying from day 1."
The following August, Meghan sent her father a letter begging him to stop talking to the media and saying he had broken her heart.
However, the duke and duchess would go on to launch their own attacks on Harry's family in their interview with Oprah.
The prince accused his father of cutting him off financially and said Prince Charles stopped taking his calls at one stage while he was trying to negotiate his exit.
Meghan said Kate Middleton made her cry following an argument about bridesmaids' dresses and accused an unnamed royal family member of expressing concern about how dark their unborn child's skin might be.
She also said she experienced suicidal thoughts while pregnant with Archie, but was told by palace staff that she could not go to a psychiatric ward because it would make the institution look bad.
However, the couple's approval ratings in the U.K. have fallen since the bombshell allegations, while in the immediate aftermath other royals appeared to get a boost.
Prince Harry told his Apple TV docuseries The Me You Can't See: "I like to think that we were able to speak truth in the most compassionate way possible, thereby leaving an opening for reconciliation and healing.
"The interview was about being real, being authentic and hopefully sharing an experience that we know is incredibly relatable to a lot of people around the world despite our unique, privileged position."
During the same series, he accused the royals of "total neglect" in response to his pleas for help dealing with the media.
Harry also told the Armchair Expert podcast in May he was experiencing "genetic pain" from the way he was brought up.