Prince Harry and Meghan Markle Covered More Positively in U.K. Media Than U.S. Last Month
Prince Harry and Meghan Markle got a greater percentage of positive coverage in British mainstream media than American in September, according to analysis for Newsweek by a data intelligence agency.
British mainstream media outlets from print to broadcast delivered 50 percent positive coverage, 16 percent neutral and 33 percent negative over the course of the month, research by Zignal Labs suggests.
Reporting by American mainstream media outlets was 44 percent positive, 28 percent neutral and 28 percent negative.
U.S. media had a greater degree of impartiality but negative mentions of the Duke and Duchess of Sussex lagged behind Britain's by only five points.
While there was not a big difference
—with more neutral coverage in the U.S.
—the findings appear to challenge the narrative created by the couple that they had to leave the U.K. because of relentless negativity that was specific to the country's media culture.
The mainstream media was more positive than social media in both countries, according to the research.
It comes after Prince Harry told Oprah Winfrey in March the couple left Britain in part because of racism, adding that "the UK press is very bigoted."
The analysis by Zignal Labs tracked 151,030 mentions of Harry and Meghan across both mainstream media and social media sources.
The company pooled mainstream media mentions from news and data mining platform LexisNexis, as well as digital platforms including Twitter, blogs and online forums.
Of the total, 12,540 mentions of Harry and Meghan were identifiably from the U.K. and 34,997 mentions were American, although some social media posts are not possible to geo track.
The month was dominated by two main stories about the couple, the first of which was their inclusion in the Time100 most influential people list and a joint cover shoot, when there was a spike of 13,000 on September 15.
The second was their recent tour of New York when they called for big pharmaceutical companies to put profit aside and allow the developing world to produce the coronavirus vaccine locally.
The first day of the tour on September 23 saw them visit the 9/11 memorial and meet New York mayor Bill de Blasio.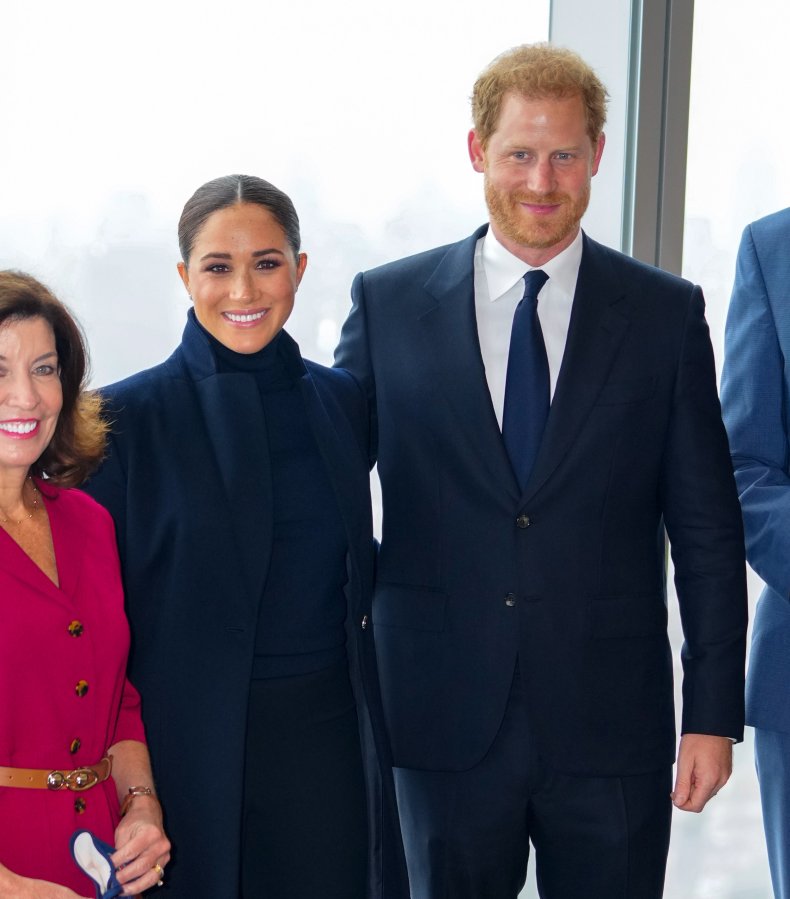 The same day there was a wave of 28,900 mentions of the couple, the biggest conversation about them during the month.
The two PR triumphs for the couple may have contributed to an unusually high degree of positive reporting in Britain.
However, the distinction between their treatment on either side of the Atlantic may not be as big as might be imagined from their past comments.
Oprah Winfrey asked Prince Harry whether the couple left Britain because of racism during their tell-all interview broadcast on March 7.
In response, the duke mentioned a conversation he had during an event for his HIV and Aids charity Sentebale in January 2020, shortly after the couple announced their decision to quit royal duties.
Harry told CBS: "It [racism] was a large part of it. I remember Sentebale fundraiser. And one of the people at that dinner said to me, 'please don't do this with the media. They will destroy your life.'
"This person is friends with a lot of editors and like that. I said, 'sorry, elaborate, what do you mean by that?'
"So I knew. He said, 'please understand that the UK is very bigoted.' And I stopped and I said, 'the UK is not bigoted. The UK press is very bigoted, specifically the tabloids. Is that what you mean?'
"He goes, 'no, the UK is bigoted.' And I said, 'I completely disagree. But unfortunately, if the source of the information is inherently corrupt or racist or biased, then that filters out to the rest of society'."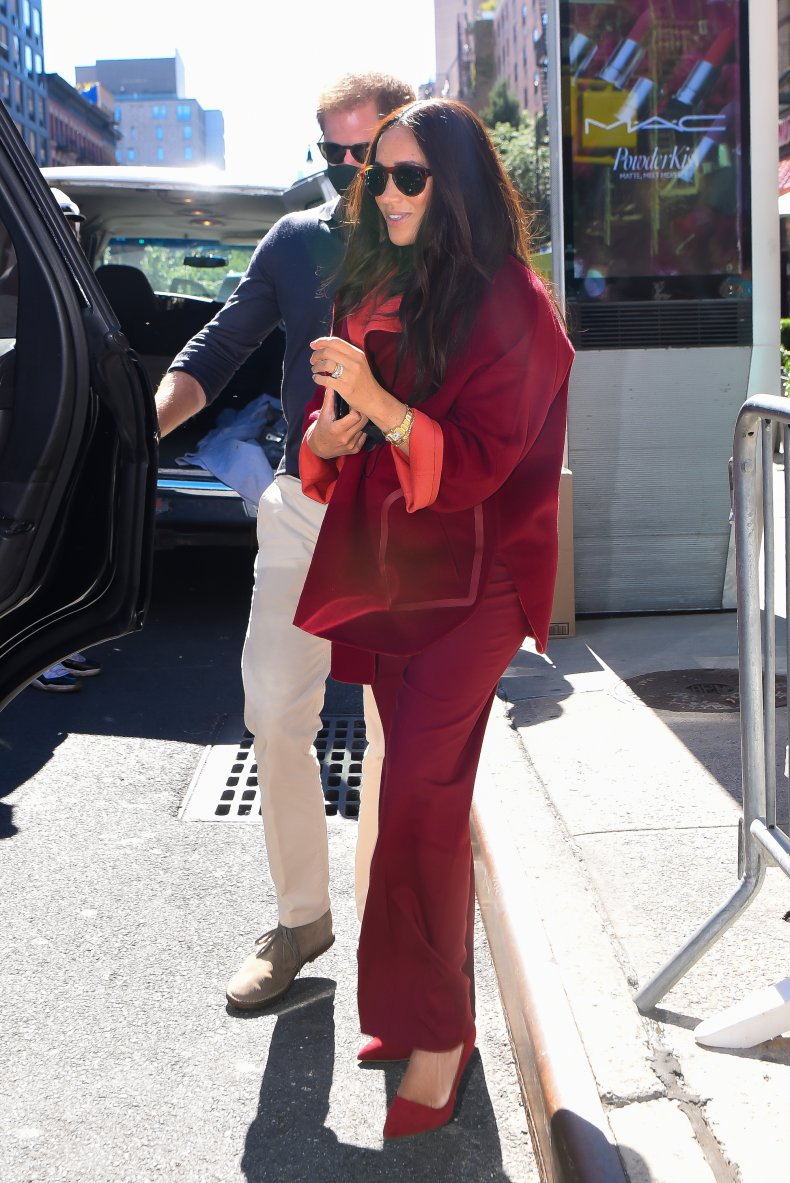 Meghan Markle made her first high-profile comments about her struggle with media attention during a tour of southern Africa, for the ITV documentary Harry & Meghan: An African Journey which was broadcast in October 2019.
Meghan said: "When I first met my now husband, my friends were really happy because I was so happy. But my British friends said to me: 'I'm sure he's great. But you shouldn't do it because the British tabloids will destroy your life.'
"And I very naively, I'm American, we don't have that there, 'What are you talking about. That doesn't make any sense. I'm not in the tabloids'."
She added: "I didn't get it. So, it's been complicated."
Harry and Meghan have received criticism in the U.S. media since moving to California, including when President Donald Trump told the media he was "not a fan" in the run-up to the November election.
Rupert Murdoch-owned tabloid The New York Post ran photos credited to a paparazzi agency of Meghan collecting Archie after his first day of pre-school.
And right-wing American commentators launched a barrage of criticism at Prince Harry after he told the Armchair Expert podcast in May that the First Amendment was "bonkers."
This month, The New York Post included a picture of the New York tour above the lead story on their front page with the headline: "Clueless California tourists visit NYC."
Columnist Kyle Smith wrote in the newspaper: "Meghan's brand—California New-Age I'm-Still-on-a-Journey-of-Self-Discovery-in-Middle-Age—and Harry's palace-born entitlement have intermingled to create the most appalling British-American monster since Madonna's 'Madge' period."
Elsewhere, Prince Harry and Meghan have been accused of hypocrisy for flying by private jet after attending Global Citizen Live, which had an environmental message.
Prince Harry and Meghan Markle's Coverage in Mainstream Media
| | | |
| --- | --- | --- |
| Sentiment | UnitedStates | United Kingdom |
| Positive | 44% | 50% |
| Neutral | 28% | 16% |
| Negative | 28% | 33% |
Prince Harry and Meghan Markle's Coverage on Social and Online Media
| | | |
| --- | --- | --- |
| Sentiment | UnitedStates | United Kingdom |
| Positive | 28% | 26% |
| Neutral | 49% | 41% |
| Negative | 23% | 33% |
Correction 10/6/21: This article was updated to clarify the sources used to gather data.