Prince Harry could become a royal "whipping boy" for Republican America through his comments on the U.S. Constitution, experts tell Newsweek.
The Duke of Sussex described the First Amendment as "bonkers," revealing that he did not fully understand it since he had only recently arrived in the U.S.
He told the Armchair Expert podcast: "I've got so much I want to say about the First Amendment as I sort of understand it, but it is bonkers."
However, his seemingly off-the-cuff remark triggered a furious backlash from right-wing commentators, including Sean Hannity.
The Fox News host said "it's time for you to move" for "attacking one of America's most sacred rights, the freedom of speech" while Meghan McCain, co-host of The View, tweeted: "We fought a war in 1776 so we don't have to care what you say or think."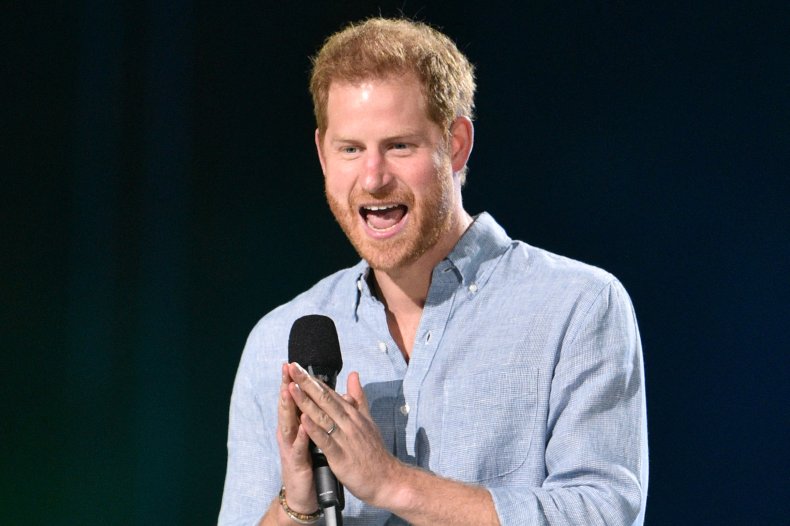 Eric Schiffer, chairman of Reputation Management Consultants, told Newsweek the standoff was not the first time Prince Harry and Meghan Markle have sparked the anger of the U.S. right wing.
He said: "We've seen the reaction in red America and it's raging mad, with many calling for a brutal backlash.
"The question is how and why would he take such a position knowing the carnage it may unleash on his own political reputation and that of his wife?
"He has now allowed himself to become part of this machinery that allows him to be the whipping boy for Republicans against elites, especially those who are trying to 'destroy America,' in the minds of Conservatives.
"This is, for many in middle America, an attempt to undermine the fabric of what has made America a free and open society."
Schiffer added: "When any foreigner comes into a different country and slams one of the core constitutional principles of that nation, they have in essence launched a reckless war on a large swathe of that country's citizens."
Prince Harry did not reveal what about the First Amendment had triggered his remark but in the same interview he talked at length about the paparazzi, revealing that his son Archie was photographed on his first day of school.
The pictures were published in "Page Six" of the New York Post and credited to the celebrity photo agency Backgrid.
After the couple launched six lawsuits in just over a year, the couple are likely to have taken legal advice over the pictures, according to Amber Melville-Brown, media lawyer as well as reputation and crisis manager.
She told Newsweek: "Harry's comments on the First Amendment are a little unclear to say the least, and he even confirms himself that he doesn't understand it.
"But it is highly likely in my view, given his and Meghan's fierce protection of the privacy of Archie and their attempts to protect their own privacy, that his limited knowledge of this important but rather complex constitutional requirement will have come from his having sought specialist media legal advice as to how he can secure greater privacy in the land of the free—and the land of free speech."
The global head of media and reputation at the Withers international law firm said U.S. law provides the basis for legal action where there is harassment or intrusive behavior, including the use of drones.
She said the couple would likely have been told of the protection the First Amendment affords the U.S. media from privacy and libel action in public places.
Melville-Brown said: "As a privacy and reputation protection lawyer myself, I spend my professional life seeking to protect my clients in a world where we need a fair balance between reputation and privacy and free speech.
"The First Amendment might be seen as bending over backwards in favor of the media when looked at through the eyes of a privacy-seeking plaintiff.
"But while I am myself partial to the odd sound bite, I don't think these two important words, expressing a valuable construct, can be wrapped up in any one single word, let alone the word 'bonkers.'"
During the podcast appearance, Harry said: "I don't want to start going down the First Amendment route because that's a huge subject and one which I don't understand because I've only been here a short time, but you can find a loophole in anything.
"You can capitalize or exploit what's not said rather than uphold what is said."
Melville-Brown said his comments were unclear but she suggested he may have meant that Britain, without a written constitution, has laws prohibiting unwanted behavior while the U.S. Constitution "prescribes what people are entitled to do."
She added that he may have been arguing the media "read too assiduously between the lines and consequently publish untruths."
However, Schiffer said the couple risked being in a position where the Conservative right maintain a "constant drumbeat" of criticism aimed at them.
He told Newsweek: "They have had a mixed set of results in America. With younger people, Gen Z and millennials on both sides of the coast I think they have done a nice job of presenting themselves as the protectors of the environment, the downtrodden and not taken the same type of hits they've taken in the U.K. for turning their back on their duties to the monarchy.
"The challenge is now that this is not the first time that either of them has assaulted the underbelly of Conservative America which represents close to 50 percent of the population.
"There were comments by the couple about the election prior and making overtures that people should be moving towards the left vs the right in their decision for president.
"These things chip away. The question is whether the machinery on the right maintains a constant drumbeat and Harry wants to speak out in ways that allow the drumbeat to keep momentum.
"But this is becoming a pattern. I don't think this is strategic, I think it was a slip."