Prince Harry Calls First Amendment 'Bonkers,' Sparks Conservative Backlash
Prince Harry faced a backlash over comments denouncing the First Amendment as "bonkers"—which led right-wing commentators to invoke Independence Day.
The Duke of Sussex said the constitutional right to free speech was "a huge subject and one which I don't understand" but also indicated he had a lot he wanted to say about it.
Harry and Meghan Markle have sparked debates about freedom of expression in Britain through lawsuits and complaints about privacy.
However, he did not outline why exactly the First Amendment had provoked his reaction.
The prince told the Armchair Expert podcast: "I've got so much I want to say about the First Amendment as I sort of understand it, but it is bonkers.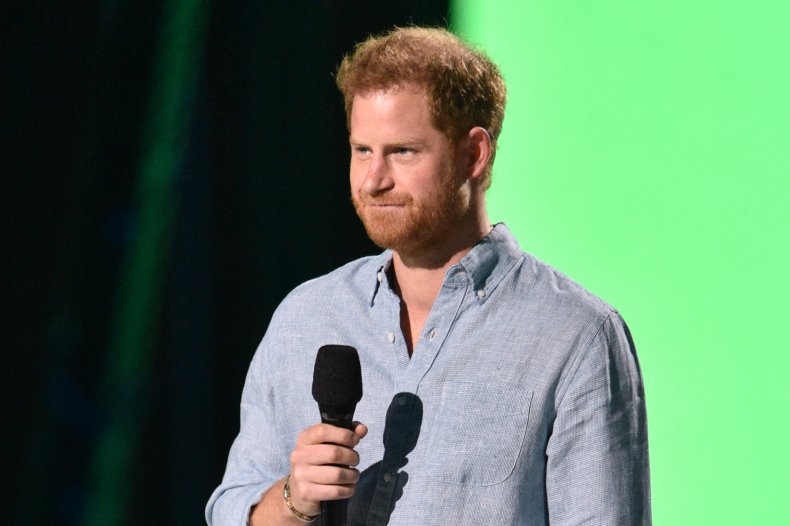 "I don't want to start going down the First Amendment route because that's a huge subject and one which I don't understand because I've only been here a short time, but you can find a loophole in anything.
"You can capitalize or exploit what's not said rather than uphold what is said."
The comments were seized on over the weekend by various Conservative commentators, such as Fox News host Laura Ingraham saying: "Don't let the door knob hit you, Windsor."
Meghan McCain, co-host of The View, tweeted: "We fought a war in 1776 so we don't have to care what you say or think.
"That being said, you have chosen to seek refuge from your homeland here and thrive because all of what our country has to offer and one of the biggest things is the 1st amendment—show some utter respect."
Former Fox News and NBC host Megyn Kelly wrote: "'Better to remain silent and be thought a fool than to speak and remove all doubt.' (Lincoln or Twain or someone smarter than Prince Harry.)"
Republican Senator Ted Cruz posted: "Nice that he can say that." And Texas GOP Congressman Dan Crenshaw tweeted: "Well I just doubled the size of my Independence Day party."
While it is not clear exactly what Harry meant, the duke and duchess have used the law in disputes with the media on multiple occasions in the U.K. but would likely face a more difficult terrain bringing similar cases to U.S. courts.
In the U.K., freedom of expression is balanced against other competing aspects of law, such as the right to privacy under the Human Rights Act.
Britain's libel laws are also considered tougher on publishers than in America where there is protection for claims made about public figures.
Between them, Harry and Meghan brought six lawsuits in around a year, predominantly through the U.K. courts.
Their action against paparazzi agency Splash News at the High Court in London forced the company to file for Chapter 11 bankruptcy even though the shots of Meghan and her son Archie had been taken in a public park.
The U.K. arm of Splash has already settled the case and gone into administration, while the U.S. branch has applied for Chapter 11 bankruptcy.
In contrast, when U.S. paparazzi agency X17 used a drone to photograph baby Archie playing in the private grounds of Tyler Perry's Los Angeles mansion, the consequences of the couple's U.S. lawsuit appeared less severe. The company was forced into an apology and to pay a portion of the family's costs but continued trading.
Meghan and Archie were photographed again recently by agency Backgrid as the pregnant duchess picked up her son from school.
The images were published on Page Six potentially creating a new legal headache for the couple who face trying to find a way to sue under U.S. law if they are to maintain the line in the sand they drew with the British media over privacy.