Prince Harry and Meghan Markle's Time Cover Is 'Stab in the Heart' for Monarchy—Expert
Prince Harry and Meghan Markle's Time100 cover is a "stab in the heart" for the royals after bombshell racism allegations, an expert has told Newsweek.
As the Duke and Duchess of Sussex celebrated Harry's 37th birthday, the couple announced they would be included in the magazine's 100 most influential people of 2021.
The Sussexes posed for their first ever joint magazine cover photo shoot and also nominated the director general of the World Trade Organization, Ngozi Okonjo-Iweala, for the top 100.
Eric Schiffer, chairman of Reputation Management Consultants, told Newsweek: "Meghan and Harry landing a cover spot of Time Magazine's 100 Most Influential People will be seen as a stab in the heart of the Monarchy's reputation because of the greater implicit credibility it affords them and their previous claims against the crown."
The couple's inclusion in the list comes six months after they leveled allegations of racism at a member of the royal family, who they refused to name, during their sit down interview with Oprah Winfrey.
During the CBS prime time tell-all, Meghan described feeling suicidal while a working royal and said attempts to reach out for help were dismissed by palace staff.
Meghan and Harry's popularity in the U.K. has crashed since their decision to step back from royal duties in January 2020, according to pollsters YouGov.
In the wake of their Oprah allegations in March they hit their lowest ever approval rating in Britain, sinking lower than Prince Charles in the year he divorced Diana.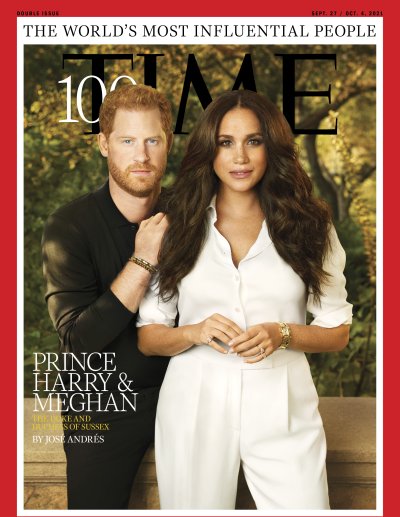 Schiffer told Newsweek: "The strategy Harry's built is to out gun William and to be seen as the authentic prince on a global stage and it's been beautifully executed.
"They're very disciplined at it," he continued. "The combination of the leaks and the framing of themselves in part as victims of certain behaviour and on top of that connecting in such authentic ways with global Gen Z and Millennial audiences and allowing them to actually feel what it's like to interact with a member of the royal family, that on a human level has been powerful."
Atima Omara, a political strategist for the Democrats who spent 15 years on youth engagement, said Harry and Meghan will make more of a "unique contribution" since they left royal life.
She wrote on Twitter: "Great photo. Harry and Meghan are a couple from the British Royal Family that will find a way to make a unique contribution more than they would have actually staying a member of 'the firm' as they call it."
The Time cover comes as the British royal family is gripped by the twin scandals of Prince Andrew's sex abuse lawsuit in New York and the cash-for-honors scandal which has claimed three scalps at Prince Charles' charity.
Britain's High Court this week accepted responsibility for serving Andrew, clearing the way for Virginia Giuffre's allegations to progress.
She says she was forced by Jeffrey Epstein and Ghislaine Maxwell to have sex with Andrew aged 17 in London, New York and the U.S. Virgin Islands, and feared injury or death if she refused. Andrew denies any wrongdoing.
Meanwhile, Charles faces claims the chief executive of his charity, the Prince's Foundation, offered to secure a knighthood and citizenship for a Saudi billionaire in exchange for charity donations.
Michael Fawcett resigned temporarily, charity chairman Douglas Connell quit too and Newsweek today revealed Chris Martin, executive director (development) was temporarily stepping aside.