Prince Harry and Meghan Markle Discussed More Negatively Online Than in Mainstream Media
Prince Harry and Meghan Markle were discussed more positively by mainstream media than online on both sides of the Atlantic last month, research for Newsweek suggests.
The Duke and Duchess of Sussex returned to the limelight with a tour of New York after several months off following the birth of daughter Lilibet Mountbatten-Windsor in June.
Research by data intelligence agency Zignal Labs for Newsweek shows 50 percent of mentions in British mainstream media outlets were positive compared to 26 percent among online posts analyzed.
There was the same proportion of negative references, 33 percent for each, while a greater share of online content was neutral, 41 percent compared to 16 percent for the mainstream media.
Harry told Oprah Winfrey in March how the couple left Britain to escape the racism of the tabloid press.
In America, 44 percent of mainstream media mentions of Harry and Meghan were positive compared to 28 percent of online references on Twitter, blogs, forums.
Almost half of online posts were neutral, 49 percent, compared to 28 percent for the mainstream media.
U.S. social and online media was more negative, 28 percent of posts, compared to established media references to Harry and Meghan, 23 percent of which were critical.
Harry and Meghan had their first joint tour since quitting royal duties, when they visited New York on September 23, the day that saw the greatest volume of references to them at 28,900 references.
They met New York mayor Bill de Blasio that day before visiting Harlem on September 24 and calling for vaccine equity at Global Citizen Live, in Central Park, on September 25.
The other significant spike in discussion about the couple came with the publication of a Time100 cover shoot and their inclusion on the most influential people of 2021 list, earning them 13,000 mentions on September 15.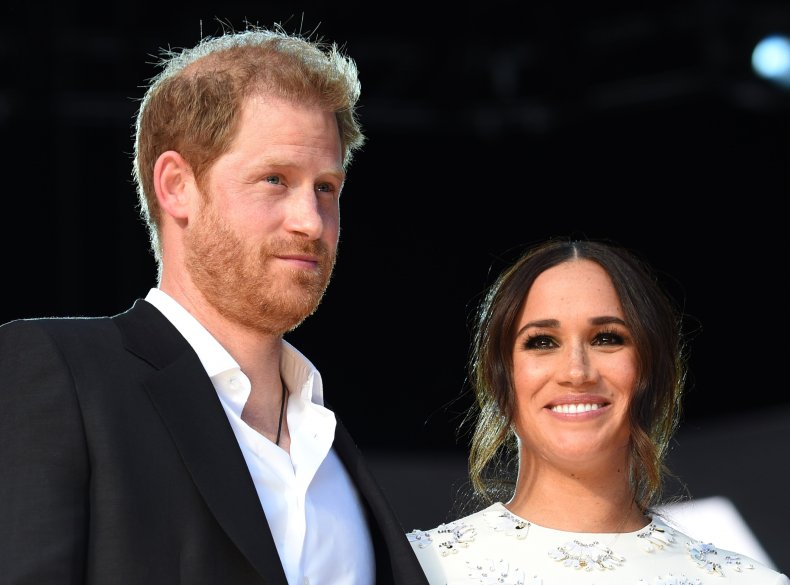 Data intelligence agency Zignal Labs picked up 151,030 mentions across the month from all sources, spanning news, data mining platform Lexis Nexis, Twitter, blogs, videos and forums.
Last October, Meghan told the Teenager Therapy podcast of her struggle with internet trolling that she said was "almost unsurvivable."
She said: "I'm told that in 2019 I was the most trolled person in the entire world, male or female. Now, eight months of that I wasn't even visible, I was on maternity leave or with a baby.
"But what was able to just be manufactured and churned out, it's almost unsurvivable, that's so big, you can't think of what that feels like, because I don't care if you're 15 or 25, if people are saying things about you that aren't true, what that does to your mental and emotional health is so damaging."
Harry and Meghan have struggled with the negativity of both traditional media and social media right from the beginning, with their former press secretary issuing a strongly worded statement around a week after their relationship was first announced.
Jason Knauf wrote in a November 8, 2016, statement: "His girlfriend, Meghan Markle, has been subject to a wave of abuse and harassment.
"Some of this has been very public—the smear on the front page of a national newspaper; the racial undertones of comment pieces; and the outright sexism and racism of social media trolls and web article comments."
Prince Harry and Meghan Markle's Online Mentions
| | | |
| --- | --- | --- |
| Sentiment | United States | United Kingdom |
| Positive | 28% | 26% |
| Neutral | 49% | 41% |
| Negative | 23% | 33% |
Prince Harry and Meghan Markle's Mainstream Media Mentions
| | | |
| --- | --- | --- |
| Sentiment | United States | United Kingdom |
| Positive | 44% | 50% |
| Neutral | 28% | 16% |
| Negative | 28% | 33% |
Correction 10/6/21: This article was updated to clarify the sources used to gather data.