Meghan Markle's Rift With Bullying Accusation Aide at Center of New Lawsuit
Meghan Markle is being sued by her half-sister in part over an email she sent to the same aide who separately accused her of bullying.
Samantha Markle's libel lawsuit talks of lies and attempts to denigrate her revolving around an email Meghan sent former staffer Jason Knauf while she was at Kensington Palace.
However, the message would never have been made public had the ex-communications secretary not handed it to a U.K. court as part of a lawsuit between Meghan and The Mail on Sunday.
It is not the only aspect to the case, which also references Meghan's Oprah Winfrey interview.
However, the references to the email mean the defamation case against Meghan could become the latest chapter in the ongoing saga of her relations with her former staff.
It all started when Knauf emailed a superior in October 2018 accusing the Duchess of Sussex of forcing two PAs out of Kensington Palace.
He wrote: "I am very concerned that the duchess was able to bully two PAs out of the household in the past year. The treatment of X [name redacted] was totally unacceptable."
The allegation remained private for years but was leaked to The Sunday Times days before Meghan's Oprah Winfrey interview in March 2021.
Meghan's spokesperson at the time suggested the timing was intended to smear her ahead of the bombshell tell-all.
However, that was not to be the last time Knauf's name resurfacing caused problems for the duchess.
The former staffer, who has since left the palace, handed a trove of Meghan's private messages to a Court of Appeal lawsuit between the royal and The Mail on Sunday over a letter she sent her father.
Knauf's disclosures forced her into apologizing to the court as they appeared to suggest past statements by her lawyers had been misleading.
The debacle related in part to hit biography Finding Freedom, which gave a glowing account of Meghan and Harry's life stories and was populated by quotes from anonymous friends, aides and confidantes.
Meghan's legal team had suggested she did not co-operate with the book but Jason supplied email evidence she had authorized him in December 2018 to brief the authors during a face-to-face meeting.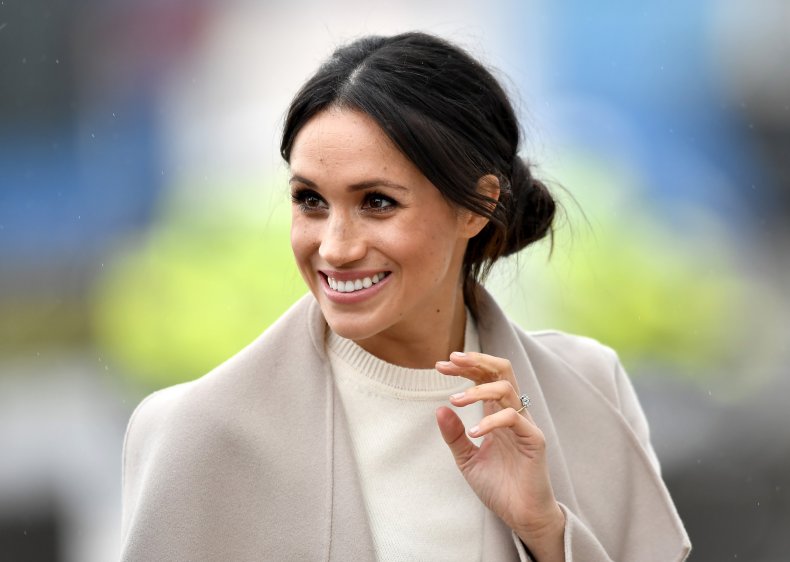 One message disclosed to the court showed she supplied notes, including allegations Samantha Markle had lost custody of her children, filings from the Court of Appeal case show.
A filing from Samantha Markle's libel action, seen by Newsweek, read: "After Finding Freedom was published in August 2020, [Meghan] falsely claimed in a British court proceeding that she and Prince Harry had nothing to do with the content of Finding Freedom, including the defamatory narrative about [Samantha] and her family prominently featured in the best-selling book.
"[Meghan] assumed that Mr. Knauf was her loyal servant and that her scheme to defame and denigrate [Samantha] and her family would remain a secret.
"However, Mr. Knauf's disclosure and dissemination of [Meghan's] email proved she had blatantly lied in the high-profile British lawsuit that [Meghan] filed against a prominent newspaper."
Elsewhere, the filing details the allegations in Meghan's email to Knauf and then refutes them: "Samantha had 'lost custody of all three of her children.' This is false. Samantha never lost custody of any of her children.
"This is Meghan trying to destroy Samantha's credibility and reputation because a mother must be doing something very wrong to lose custody of her children."
Meghan's lawyer, Michael Kump, responded dismissively to the lawsuit in a statement released to Newsweek: "This baseless and absurd lawsuit is just a continuation of a pattern of disturbing behavior. We will give it the minimum attention necessary,
which is all it deserves."
The strong wording suggests the duchess may seek to get the case thrown out at an early stage.
For more royal news and commentary check out Newsweek's The Royal Report podcast:
However, Amber Melville-Brown, of international law firm Withers, told Newsweek the case may not be quite so easy to dismiss.
She said: "Meghan's lawyers have referred to the claim as 'baseless and absurd,' announcing that they will 'give it the minimum attention necessary, which is all it deserves.'
"Appearing for some time to give minimal attention to the unequivocally denied claims brought by Virginia Giuffre did not do Prince Andrew any reputational favors.
"While this may be the preferred approach by Meghan's legal team to this claim, it is likely that in respect of yet another, high-profile, royal celebrity litigation, the public will be giving it considerably more than 'minimum attention'."
She added: "Meghan was only recently successful in her privacy and copyright claim against the Mail on Sunday over its publication of her 'Dear Daddy' letter to her father.
"But having found success in that litigation, and in the process finding freedom from the unattractive possibility of having to give evidence at trial, Meghan may be looking down the barrel of what could prove to be an equally high-profile claim."
Meghan's apology, delivered in a November witness statement to the Court of Appeal read: "I did not have the benefit of seeing these emails and I apologize to the Court for the fact that I had not remembered these exchanges at the time.
"I had absolutely no wish or intention to mislead [The Mail on Sunday] or the Court.
"In fact, had I been aware of these exchanges at the time of serving [a court filing], I would have been more than happy to refer to them as I feel they strongly support my case."