Meghan Markle's Sentimental Jewels Inherited From Princess Diana
Throughout her marriage to Prince Harry, Meghan Markle has found subtle and touching ways of keeping Princess Diana a part of their royal story. One of the most potent ways that Meghan has been able to do this is through the wearing of items of jewelry from Diana's collection.
After Diana's tragic death at the age of 36 in a 1997 Paris car crash, her jewelry was inherited by her two sons, Prince William and Prince Harry. The glittering pieces collected by Diana throughout her married life held enormous sentimental value to both the princess and the princes.
The jewels weren't seen publicly again until Prince William proposed to Kate Middleton in 2010 with the sapphire and diamond engagement ring belonging to his mother. According to news reports, following Diana's death each of her sons selected a particular inheritance from her jewelry collection.
Prince William reportedly chose his mother's Cartier watch and Prince Harry the sapphire engagement ring.
That Harry gave the ring to William to propose to Kate with, highlights the significance Harry himself places on his mother's jewels. It came as no surprise that when the time came for him to propose to Meghan that he did so with a ring he designed to incorporate two diamonds formerly worn by Diana.
Here are just five of the occasions that Meghan has kept Diana close to her and Harry through jewelry during their four years of marriage.
The Engagement Ring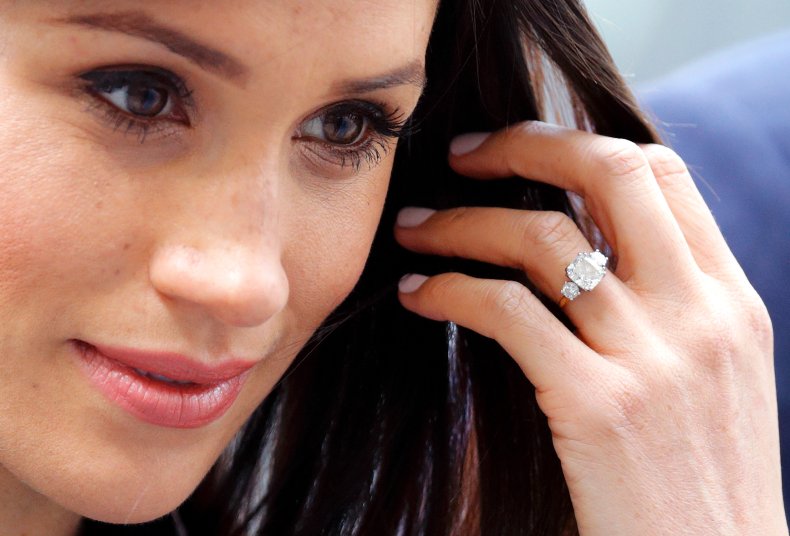 When Harry proposed to Meghan in 2018 at the couple's home, Nottingham Cottage at Kensington Palace, he did so with a very special ring. The design had been influenced by Harry himself and incorporated three very special diamonds. The central stone was sourced from Botswana, a country close to the prince's heart, and the other two diamonds were from his mother's collection.
Meghan, in her interview marking the engagement, called the ring "incredible" and said: "I think everything about Harry's thoughtfulness and obviously the inclusion of [Diana] and not being able to meet his mom. It's so important to me to know that she's a part of this with us."
Aquamarine Ring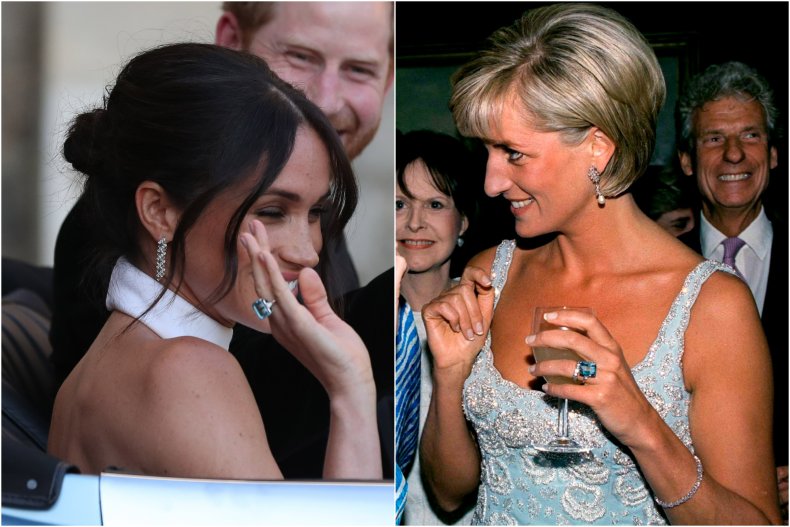 On the evening of Harry and Meghan's wedding, the bride was seen wearing an aquamarine cocktail ring which had formerly belonged to Diana. The touching tribute on their special day was highlighted by Meghan as she was seen being driven in an open-top car by Harry to the reception held at Frogmore House by Prince Charles.
Diana was known to love the combination of aquamarine and diamonds and wore the ring in the final years of her life. Most notably, Diana wore the ring to a preview of the 1997 Christie's auction of her dresses. Meghan later wore the ring again on a royal tour of Tonga in 2018.
Butterfly Earrings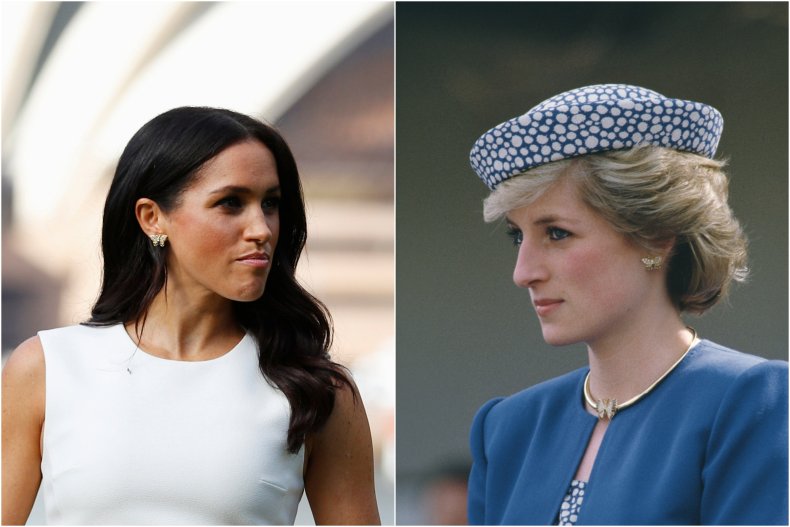 First worn by Diana in the 1980s, the diamond and sapphire butterfly earrings were symbolic of the princess' fun relationship with her jewels. On a royal visit to Australia in 2018, Meghan wore her mother-in-law's earrings which highlighted her stunning dress by Karen Gee. The tour was notable for many reasons, one of which being that it came directly after the announcement that Meghan was expecting her first child.
The provenance of the earrings is unknown but Princess Diana wore them frequently during the early years of her marriage.
Diamond Tennis Bracelet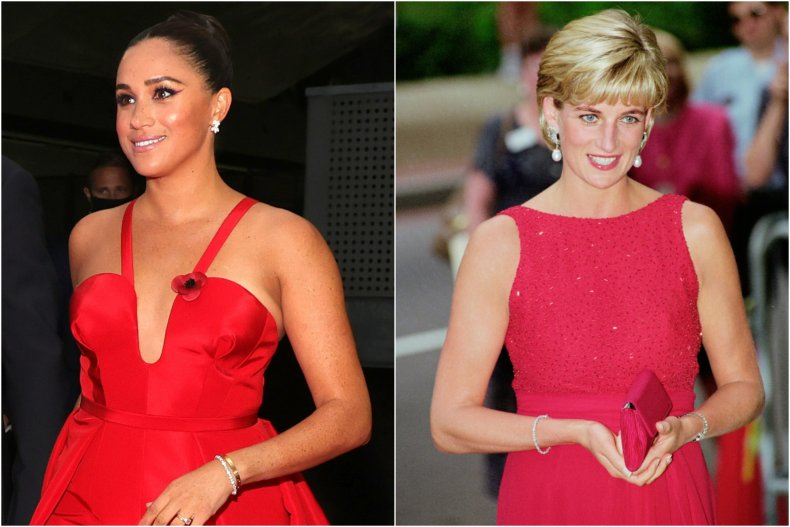 As Diana's taste in fashion matured into the 1990s so too did her taste in jewelry. Towards the end of her life Diana started wearing an elegant and very fashionable tennis bracelet consisting of a row of brilliant diamonds. Diana was photographed wearing the bracelet at a preview of her 1997 Christie's dress auction in London.
Meghan has worn this bracelet on a limited number of occasions and it has been speculated that the diamonds in her engagement ring were removed from links of the bracelet. Perhaps the most significant occasion that Meghan has worn this bracelet was during her 2021 interview with Oprah Winfrey in which allegations of racism and neglect towards her were lodged against members of the royal family and household.
Gold and Blue Stone Bracelet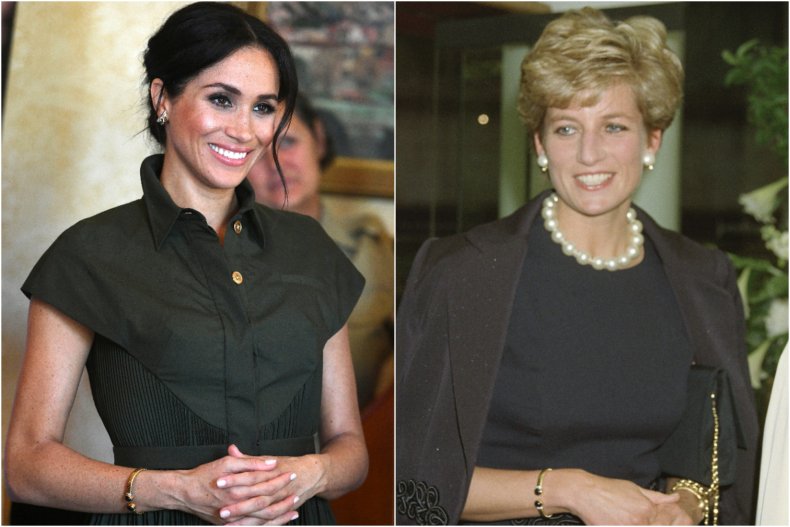 Diana's interest in jewelry existed beyond dazzling stones of great value and she collected many statement pieces of costume and commercial jewelry in the form of earrings and cuffs. There were, of course, exceptions to this with some of the princess' jewels being worth in the hundreds of thousands of pounds. One of Diana's favorite pieces was a gold broken bracelet with two large cabochon sapphires marking each end. The sapphires were bolstered by bars of small diamonds and Diana wore this throughout her marriage to Prince Charles.
Meghan has been seen wearing this bracelet on numerous occasions since her marriage and most recently it featured in a wider tribute to Diana's style. To accept the NAACP President's Award in February, Meghan wore a blue Christopher John Rogers evening gown in a silhouette reminiscent of a dress worn by Diana on a visit to Thailand in 1988. Meghan paired the blue Ombre gown with the sapphire and gold bracelet in a touching tribute to her mother-in-law.