Meghan Markle's Sister Ditched by Lawyer in Blow to Lawsuit Against Duchess
Meghan Markle's half-sister has lost her lawyer following "fundamental disagreements" in the strategy for a libel lawsuit against the duchess.
Samantha Markle is suing Meghan over a briefing allegedly framing her as a bad mother, which the duchess authorized Kensington Palace communications secretary Jason Knauf to pass on to journalists.
However, her case suffered a setback after attorney Douglas A. Kahle applied to the court in Florida for permission to withdraw from the case.
A court filing dated Monday April 25, seen by Newsweek, states: "The attorney and the client have irreconcilable differences and fundamental disagreements regarding various aspects of this case and the strategy moving forward."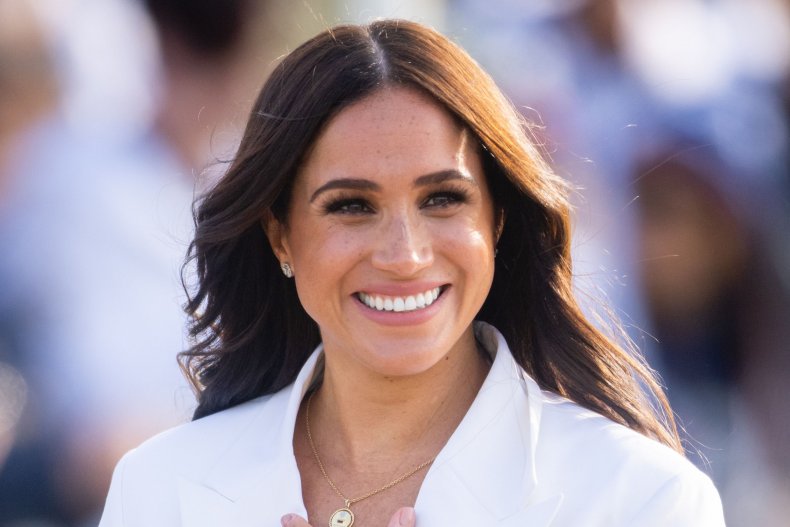 It added: "Kahle requests leave of Court to immediately withdraw as attorney for Samantha A. Markle; and, Kahle certifies to the Court that Samantha A. Markle is aware of this Motion and consents to the withdrawal."
The document added that Samantha Markle has yet to hire a new lawyer to continue with the litigation, which was first announced publicly via TMZ on March 3, and dismissed as "baseless" by Meghan's legal team.
The lawsuit was launched with a storm of publicity accusing Meghan of misleading viewers about her relationship with her sister during her interview with Oprah Winfrey in March 2021.
Samantha's complaint also revolves around an email Meghan sent Knauf in 2018 giving him permission to give background information to Omid Scobie and Carolyn Durand for their bestselling biography Finding Freedom.
The duchess attached what she described as "background reminders," including information about her sister.
Samantha's court filing noted Meghan had told her aide: "Samantha had three children from three different fathers."
It added: "This is false. Samantha has been married twice and has three children.
"As one reporter noted, this is Meghan's attempt to 'slut-shame' Samantha
and further destroy her credibility and reputation."
The filing added that Meghan had said: "Samantha had 'lost custody of all three of her children.'"
It added: "This is false. Samantha never lost custody of any of her children.
"This is Meghan trying to destroy Samantha's credibility and reputation because a mother must be doing something very wrong to lose custody of her children."
The case could be awkward for Meghan if it gets off the ground as her father Thomas Markle has already offered to testify against her.
However, the fact Samantha has fallen out with her lawyer at such an early stage will likely be interpreted as a positive sign for Meghan, who will be hoping the action disintegrates before it gets as far as disclosure of evidence.
Meghan's own privacy and copyright lawsuit against U.K. tabloid The Mail on Sunday, while it ended in victory, saw her private messages revealed to the Court of Appeal.
And she was forced to apologize after it emerged she had cooperated with the authors of Finding Freedom.
She said in a court filing in November 2021: "I did not have the benefit of seeing these emails and I apologize to the Court for the fact that I had not remembered these exchanges at the time.
"I had absolutely no wish or intention to mislead [The Mail on Sunday] or the Court."
The duchess will likely be hoping there is no requirement for further private correspondence to be disclosed for her sister's case.
Meghan issued a statement condemning the way the newspaper forced more of her information into the public domain through the case when she first won at the High Court in February 2021, prior to an appeal.
She said: "We now know, and hope it creates legal precedent, that you cannot take somebody's privacy and exploit it in a privacy case, as the defendant has blatantly done over the past two years."
She will likely not welcome any move by the courts to further open up her inbox and text message history to scrutiny.
A statement from Michael Kump, Meghan's lawyer, on March 3 read: "This baseless and absurd lawsuit is just a continuation of a pattern of disturbing behavior. We will give it the minimum attention necessary, which is all it deserves."
Kump waived the requirement for service in person later that month in his only engagement with the case so far.
Kahle's motion read: "Kahle informs the Court that counsel for Defendant, Meghan Markle, has not yet technically entered an appearance in this case."
For more royal news and commentary check out Newsweek's The Royal Report podcast: