Meghan 'Tiara-Gate' Potential Root of Harry's Comments on Protecting Queen
An incident involving Meghan Markle, Prince Harry, a diamond tiara, and one of the queen's closest aides could be one of the potential root causes of Harry's recent commentary on wanting to see that his grandmother is "protected and has the right people around her," Newsweek's The Royal Report podcast has discussed.
In an examination of Harry's comment about his grandmother's protection and people surrounding her, made during the 2022 Invictus Games, chief royal correspondent Jack Royston and royal commentator Kristen Meinzer discussed a 2018 incident between the Sussexes and veteran royal staffer Angela Kelly as a potential root cause.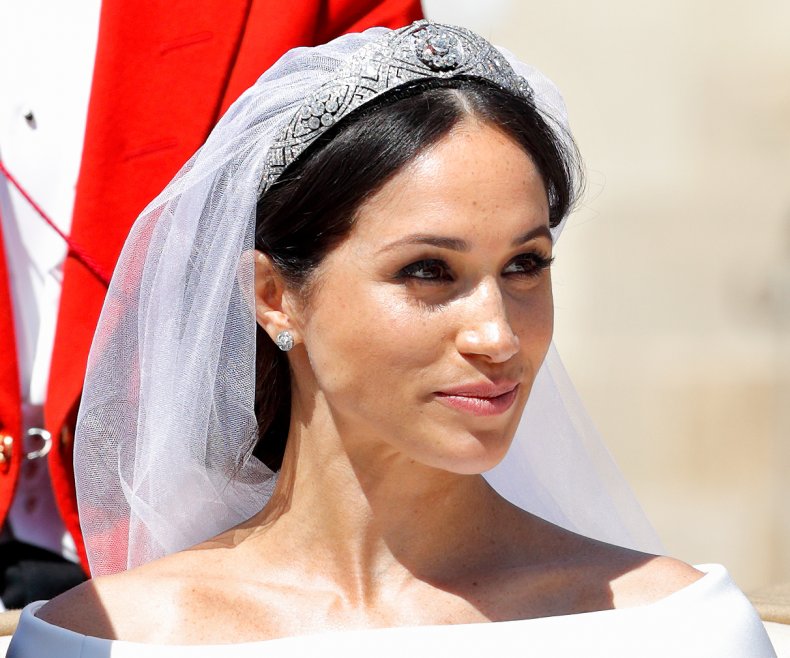 Harry made his comments in an on camera interview with NBC's Today show host Hoda Kotb during which he discussed a meeting with the queen he had had a few days prior. The meeting marked Harry and Meghan's first joint trip to Britain since stepping down as full-time working royals in 2020.
"Being with her, it was great. It was just so nice to see her. She's on great form," the prince told Kotb.
"She's always got a great sense of humor with me and I'm just making sure that she's, you know, protected and got the right people around her."
The comments sparked criticism online with social media users calling Harry "delusional" and "lacking respect."
The "tiara-gate" episode was one of the first major clashes between Harry, Meghan and the old-guard palace staff that surround the queen and was highlighted by Finding Freedom co-author Omid Scobie in an article for Yahoo News, shortly after the comments by Harry were made.
"Omid talks about [a] famous argument that occurred between the Sussexes and Angela Kelly, who is the queen's dresser, about the tiara that Meghan was going to wear on her wedding day," Royston told Meinzer.
"Basically the suggestion is that Meghan brought her New York stylist to London, and they wanted to have a hair trial with the tiara on to see how everything was going to look and Angela Kelly basically stood them up."
"Why did she do that, do you think?" Meinzer asked.
Royston offered that the explanation made by Scobie and co-author of Finding Freedom Carolyn Durand that it might have been an attempt by Kelly to "put [the Sussexes] in their place a little bit."
"I think perhaps it's possible that flying in a hair stylist from New York for a hair trial with a tiara is not something that traditionally a royal family member would do," Royston continued.
Meinzer then reiterated a long held view of the commentator's that "the palace staff didn't really like Harry and Meghan."
The account given in Finding Freedom by Scobie and Durand for what happened next states that when a response to requests for access to the tiara for a hair trial with hairdresser Serge Normant was not forthcoming, Harry had a "heated exchange" with Kelly and asked the queen to intervene.
"It's slightly less clear what the queen's response was," Royston told Meinzer.
"One account from The Sun back in 2018 was that the queen put Harry in his place. Others would probably characterize it slightly differently and probably we will never know definitively what was really said."
"Even with the Tina Browns and Omid Scobies of the world, we'll never actually know everything for sure," Meinzer concluded.
Other examples of Sussex run-ins with palace staff have been presented as potential contributions to Harry's concern over the people surrounding the queen. One of these was a scheduled meeting between the prince and the queen which Harry claims was canceled during the critical Christmas period of 2020 where the couple were considering a move away from royal life.
2022 marks the queen's Platinum Jubilee year which is being celebrated with a series of royal celebrations that the Sussexes would usually, as members of the royal family, have been expected to attend.
During his interview with Kotb, Harry admitted that a jubilee visit may not be possible as the issue of security allocated to himself and his family in the U.K. is still a subject being debated in a lawsuit the prince has filed against the Home Office.