'Melania Trump' Refutes 'Fire and Fury' Troubled Marriage Claims, Says White House Code Name is 'Flight Risk' in Colbert Parody
First Lady Melania Trump's marriage to President Donald Trump is depicted as rather hollow in the new White House tell-all Fire and Fury: Inside the Trump White House.
The couple apparently sleep in separate rooms, did not spend much time together before the 2016 presidential election, and Trump, claims author Michael Wolff, is "chronically unfaithful" to his wife.
To get to the bottom of the allegations in the book, Stephen Colbert went straight to the source—Melania Trump herself. Or, rather, actor Laura Benanti with her winning pouty impersonation of the first lady.
"Is anything in this book true?" Colbert asked the fake Trump, who 'appeared live via satellite from the White House.'
"Absolutely not, Stephen. It is pure fiction. Fake book. Every single word is lie," the first lady responded.
So, she didn't cry on election night, as the book claims ? "Oh, no, no. That is true," Melania said. "But they were tears of happiness—you know, like you do at your wedding, or every morning in the mirror."
Benanti's Trump parody went on to refute a few more claims Wolff's book:
No, not everybody in the White House calls President Trump an idiot. "Not everybody...one of the grandchildren can't even talk yet," Trump quipped.
"The staff has all sorts of funny nicknames for us," Trump said later. "They call me 'Flight Risk.'"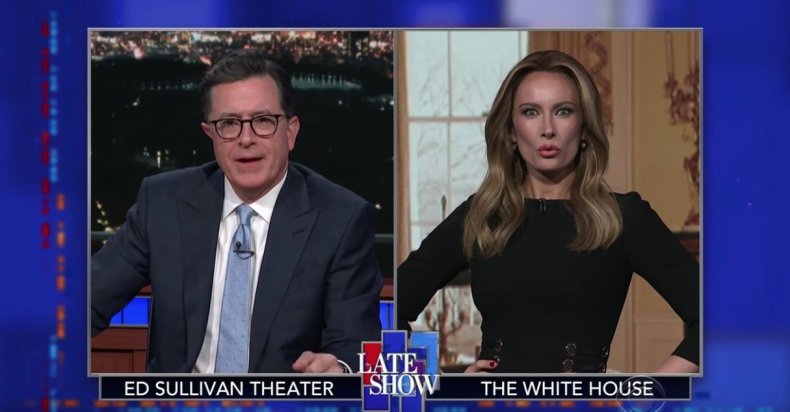 And, no, the Trumps don't sleep in separate bedrooms because "I haven't slept since the election."
As for that comical claim that the president is usually in bed by 6.30 p.m. with a cheeseburger, the first lady said, "Oh, it is true. That's why we don't share a room—there is no space for me with cheeseburger. That's why I always make sure there is cheeseburger."
Pulling out a ready prepared burger, presumably to ply her husband with later, Melania said: "Thank you for your service."
The questions continued as Colbert quizzed Benanti's Trump parody about Wolff's claim that the Trumps would go days without seeing each other while living in Trump Tower, prior to his election.
"Oh, Trump Tower," Trump reminisced. "So many good hiding places. Did you know I can fit my entire body in a wine fridge? Yes, it's true. You can make room by moving the wine into your stomach."