Merkel Calls for 'a Real True European Army' as Trump Slams Macron Over Plan for Continental Force
German Chancellor Angela Merkel has thrown her full support behind French President Emmanuel Macron's goal to create a united continental military force, calling for "a real true European army."
Speaking before the European Parliament on Tuesday, Merkel said that "a common European army would show the world that there will never be war again in Europe. We can be a good supplement to NATO." Her remarks were reportedly greeted by applause within the legislative body in Brussels.
"We can defend our interests when we work together. Only a stronger Europe can defend its values and interests worldwide," she added. "The times we could rely on others are over."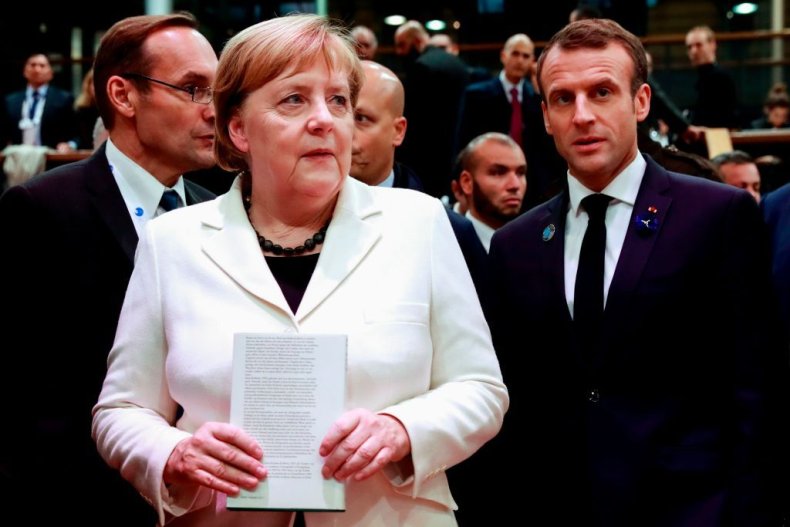 The comments come after a row developed between President Donald Trump and Macron over the French leader's suggestion that Europe needed an army to counter potential threats posed by the United States.
"We have to protect ourselves with respect to China, Russia and even the United States of America," Macron told Europe 1 radio last Tuesday, calling for the formation of a "true, European army."
Trump called the remarks "very insulting" in a Friday tweet sent out as he arrived in Paris for the centenarian celebration of the end of World War I. "Perhaps Europe should first pay its fair share of NATO, which the U.S. subsidizes greatly!" the president added.
Despite a display of friendship in a face-to-face meeting over the weekend, Trump returned to Twitter to criticize Macron and Europe on Tuesday.
"Emmanuel Macron suggests building its own army to protect Europe against the U.S., China and Russia. But it was Germany in World Wars One & Two - How did that work out for France? They were starting to learn German in Paris before the U.S. came along. Pay for NATO or not!" the president tweeted.
In follow-up tweets, Trump also took a jab at France's internationally renowned wine industry and pointed to Macron's low approval rating as well as relatively high unemployment in France. He also appeared to back French nationalists, commonly associated with far-right politician Marine Le Pen, who placed second in last year's presidential election against Macron, and her party National Rally (formerly the National Front).
"There is no country more Nationalist than France, very proud people-and rightfully so!" the president said, ending his string of tweets with "MAKE FRANCE GREAT AGAIN!"
Merkel has previously warned that Europe cannot depend on the U.S., particularly under the leadership of the Trump administration. "It's no longer the case that the United States will simply just protect us," she said in May. She added that Europe must "take its destiny into its own hands."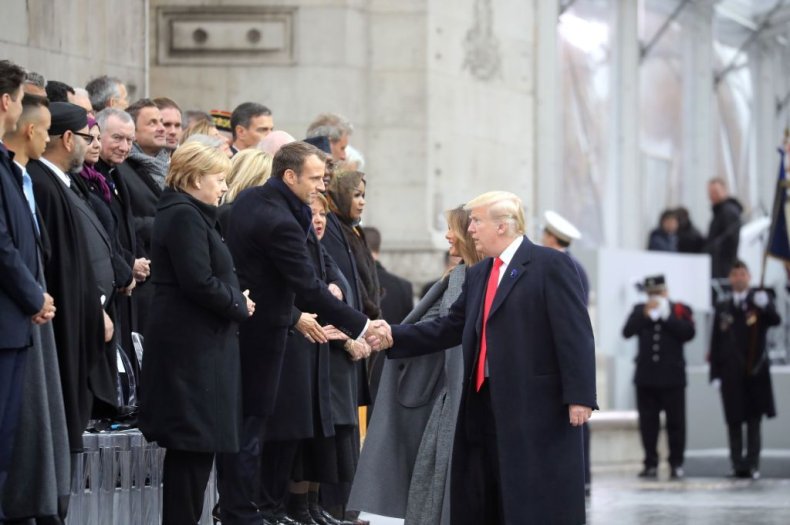 European leaders have found themselves at odds with the Trump administration over numerous issues, including environmental concerns, the Iran nuclear deal and bilateral trade.
In June 2017, Trump announced the U.S.'s withdrawal from the Paris Climate Accords. As of last November, every nation in the world had signed the agreement, isolating the U.S. entirely. In May, the Trump administration also stepped away from the Iran nuclear agreement and moved to implement waves of sanctions in August and then again last week. European leaders have scrambled to salvage the agreement, working with Iran as well as Russia and China.
Germany's Foreign Minister Heiko Maas said last week that Europe should respond to President Donald Trump's "America First" policy with "Europe United," while expressing his hopes that the continent can work with Democrats after they take control of the House of Representatives next year.
However, Merkel's and Macron's calls for greater European unity come at a time of growing nationalist sentiments throughout the continent—and both leaders also face significant political challenges within their respective countries. Macron's approval rating dropped to just 26 percent last month, and a recent poll showed that the majority of Germans believe Merkel should step down as chancellor next year.