Every year the Met Gala challenges its fashion-forward guests to get creative in their interpretations of the event's theme.
For this year's theme, "In America: A Lexicon of Fashion," we're expecting some show-stopping Americana-inspired looks, celebrating classic U.S. designers.
But every year there are a handful of guests who, although look stunning on the red carpet, leave us wanting more with their safer styling choices, choosing not to go as big - or just outright ignoring the theme.
These are all the times celebrities didn't understand the assignment over the past five galas.
2015 - China: Through the Looking Glass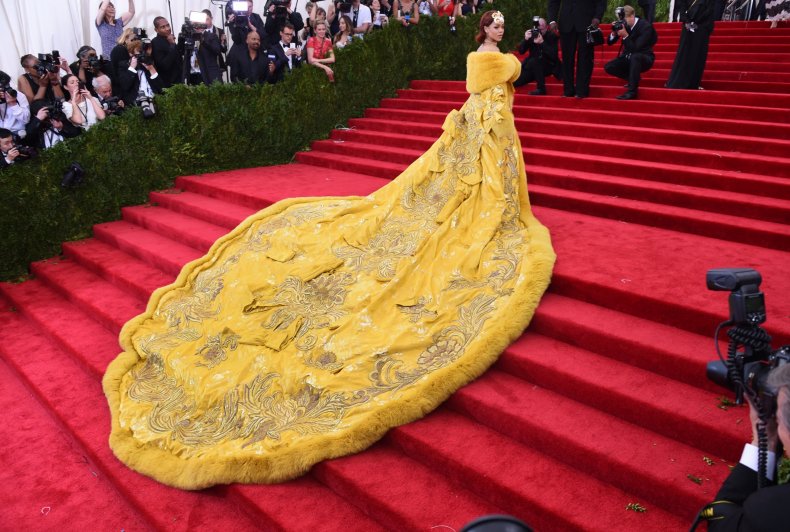 This was the night that belonged to Rihanna, who was a vision in this striking yellow gown by Chinese couturier, Guo Pei.
Others did not share the singer's commitment to the theme "China: Through the Looking Glass" though.
While Kim Kardashian looked stunning in a nearly-naked dress by Roberto Cavalli, which she later revealed was inspired by Cher's 1974 Met Gala look, it wasn't exactly on theme.
Younger sister Kendall Jenner also eschewed a more outlandish outfit for an understated look, in a green crystal Calvin Klein gown with lace up sides.
Despite being a co-chair of the event along with Chinese actress Gong Li, businesswoman Marissa Mayer and entrepreneur Wendi Murdoch, Jennifer Lawrence didn't go bold on the red carpet.
The Oscar winner instead opted for a floral Christian Dior Couture gown with an embellished neck piece and wore her hair in a bun.
Attending in matching Moschino outfits with the brand's creative director Jeremy Scott, Katy Perry's graffiti-print outfit scored points for risk-taking, but, again, was not really in line with the evening's theme.
The dress was later subject of a copyright infringement claim as Brooklyn-based street artist Rimes accused Scott of using his graffiti tag in the garment's design.
2016 - Manus x Machina: Fashion in an Age of Technology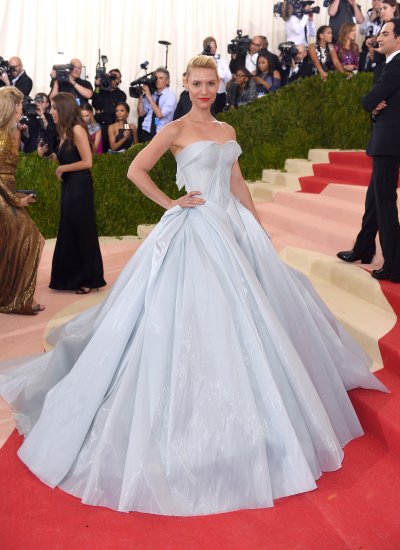 Among the more creative interpretations of the 2016 theme "Manus x Machina: Fashion in an Age of Technology" were Clare Danes in her fibre optic Zac Posen gown, Lupita Nyong'o who wore a sustainably-made Calvin Klein creation, and Emma Watson, who also opted for a dress made of recycled bottles by the same label.
Meanwhile, Orlando Bloom could have done more to raise the stakes with his outfit. The actor simply added a Tamagotchi to the lapel of his Prada suit.
Tom Hiddleston looked dapper as he attended his first Met Gala in a Ralph Lauren Purple Label tuxedo, but it wasn't overtly on theme.
Amber Heard radiated old Hollywood glamour in a gold silky gown also by Ralph Lauren, but as stunning as she looked, it didn't feel quite right for this theme.
Rosie Huntington-Whiteley also kept things simple in a white Ralph Lauren Collection gown and while it's a beautiful outfit, it's not quite obvious what the link to technology is.
While it's undoubtedly better than his mouse costume in that promotional Cinderella flash mob, James Corden's tuxedo left a lot to be desired when it came to adhering to the theme.
2017 - Rei Kawakubo/Comme des Garçons: Art of the In-Between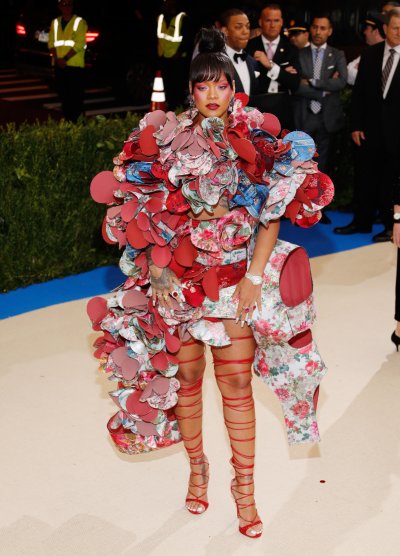 The Met Gala in 2017 paid tribute to Japanese fashion designer Rei Kawakubo, founder of luxury label Comme des Garçons.
Known for her avant-garde creations, this year's dress code could have arguably been one of the event's most challenging.
Once again Rihanna shone on the red carpet, wearing a dress by the label - as did Helen Lasichanh, wife of that year's co-chair Pharrell Williams, who looked a theme-purist in a Comme Des Garçons look without armholes.
Kim Kardashian shied away from a more experimental outfit in a white Vivienne Westwood creation, while Jennifer Lopez and then-partner Alex Rodriguez looked beautiful but not exactly avant-garde in a blue Valentino gown and a Tom Ford tuxedo, respectively.
Elle Fanning, too, opted for a more glamorous look in a Miu Miu strapless dress, and while Kendall Jenner's La Perla look certainly turned heads, it wasn't for its alignment to the evening's theme.
One couple whose outfits could have gone further was Blake Lively and Ryan Reynolds.
While they sweetly matched the color of the bow tie on Reynolds' tuxedo to the feathered train on Lively's Atelier Versace gown, they didn't quite match the theme.
Debuting their relationship on the Met Gala red carpet, Selena Gomez and The Weeknd avoided taking any sartorial risks, as she wore a feminine gown by Coach and he wore a simple tuxedo.
His ex, Bella Hadid, stole the show in a glittering catsuit by Alexander Wang, though the rock-and-roll look didn't really fit the theme.
2018 - Heavenly Bodies: Fashion and the Catholic Imagination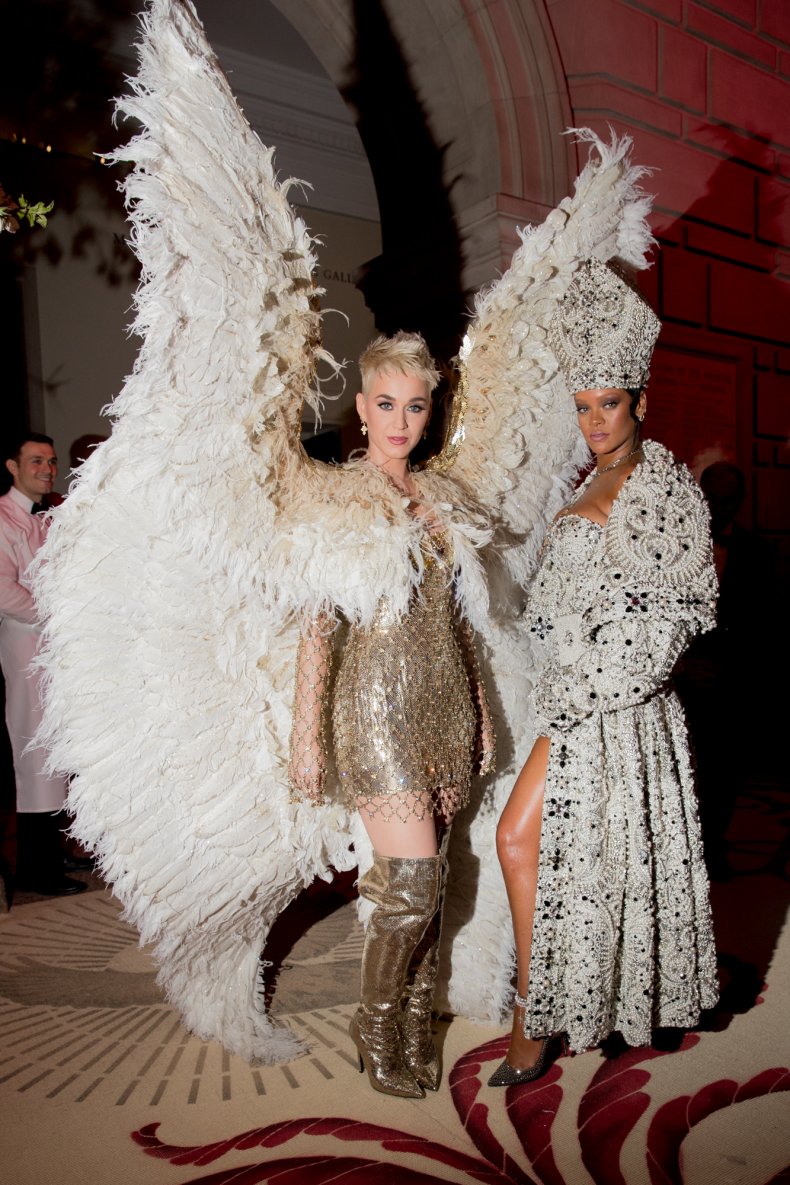 One fashion editor lauded the 2018 Met Gala for delivering its "best dress code of all time."
The exhibition's curator, Andrew Bolton, reportedly had seven years of discussions with the Vatican before finally getting its blessing to go ahead - and the looks did not disappoint.
Once again Rihanna, this time a co-chair, stunned in a papal-inspired creation by John Galliano for Maison Margiela, while Katy Perry was an angelic triumph in Versace.
Kendall Jenner again opted to play it safe in a white pantsuit by Off-White. While it's a fantastic outfit, it lacked some of the religious symbolism and iconography that connected other looks worn on the red carpet to the evening's theme.
Younger sister Kylie also lacked connection to the theme while she turned heads in a black velvet Alexander Wang gown, complete with tiny studded glasses just three months after giving birth to daughter Stormi.
Zoe Kravitz oozed sultriness in a lace beaded one-sleeve Saint Laurent gown, though it was hard to see any references to the theme.
Met Gala veteran Gisele Bündchen wore a sustainably-made Versace gown, though, again, it lacked any obvious links to Catholicism.
2019 Camp: Notes on Fashion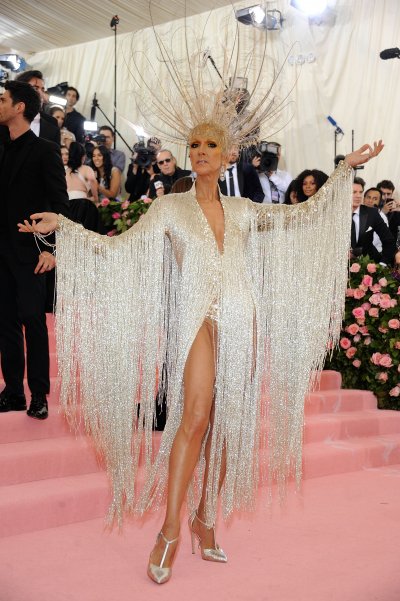 The most recent Met Gala presented an opportunity for stars to get creative with the theme "Camp: Notes on Fashion."
While Celine Dion and Lady Gaga shone wearing Oscar de la Renta and Brandon Maxwell respectively, others left us wondering if they understood what "camp" means.
Karlie Kloss wrote on Instagram before the event that she was "looking camp right in the eye," before arriving in a gold mini dress with balloon sleeves by Harlem couturier Dapper Dan, leaving many feel she had over-promised and under-delivered on her look.
Frank Ocean became the subject of memes thanks to his Prada hoodie, with many likening him to a nightclub doorman.
His plain look was similar to Kanye West, who accompanied his wife Kim Kardashian - a camp vision in Thierry Mugler - wearing a Dickies jacket and plain black trousers.
Emma Stone's Louis Vuitton sequinned jumpsuit was also outshined by camper looks, as was Hailey Bieber in a custom pink Alexander Wang gown complete with whale tail.