Michael Cohen Issues Warning to Donald Trump's New Attorney
Michael Cohen has warned Donald Trump's new attorney about public statements regarding his client's cases, or risk ending up in the same position as "a whole slew of other attorneys that have found themselves in trouble thanks to dear old Donald."
Trump's former lawyer and long-term confidant—who spent time in federal prison after pleading guilty to campaign finance violations and tax evasion—called Joe Tacopina a "disgrace to the profession of law," following a series of interviews this week.
Trump is being investigated by the Manhattan district attorney, Alvin Bragg, over his alleged involvement in hush money payments made to adult film star Stormy Daniels by Trump's then-lawyer Cohen.
Daniels, whose real name is Stephanie Clifford, was allegedly paid $130,000 by Cohen in 2016 to stay quiet about her supposed involvement with Trump while the presidential campaign was ongoing. Cohen has said under oath and in print that he was reimbursed by Trump.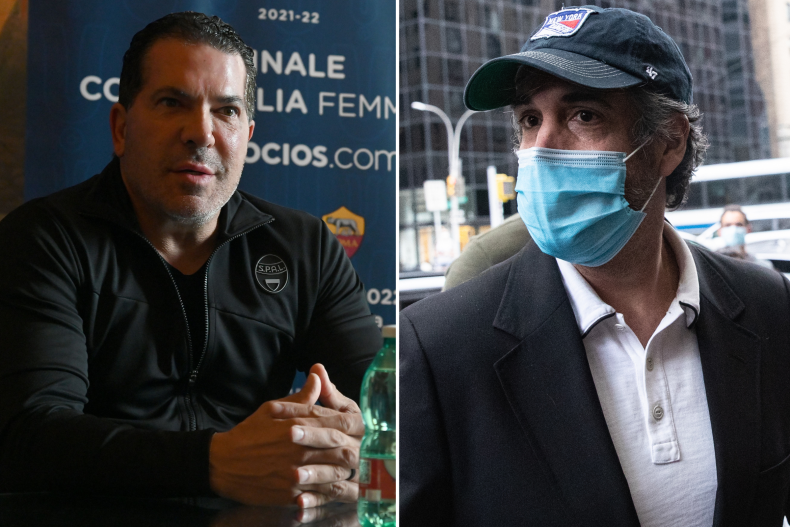 Trump was invited the testify in front of a grand jury this week, which legal experts described as the "last stop" before an indictment in most cases like it. In a statement, Trump described it as a "fake case" and a "political witch-hunt."
If charges are brought, it would make Trump the first former president to be indicted and could have a detrimental impact on his hopes of retaking the presidency in the 2024 race, where he remains the only big name to have declared his candidacy in the Republican primaries so far.
Tacopina reiterated the sentiments of his client, telling the Associated Press the case was "just another example of them weaponizing the justice system against [Trump]." The former president is facing another, separate special grand jury investigation in Georgia over allegations of election meddling in 2020.
On Monday, Tacopina appeared on Fox News, arguing that Trump had been the "victim of extortion" in reference to the hush money claims. Reacting to the statement, George Conway, a lawyer and separated husband of former Trump adviser Kellyanne Conway, said the payment "would still have been... illegal" and so it would "not constitute a defense."
On Tuesday, Tacopina was asked by MSNBC's Ari Melber about Trump stating in April 2018 that he knew nothing about the hush money payment to Daniels. The lawyer said it was "not a lie" as to tell the truth would "be violating the confidential settlement."
"What I will tell you emphatically is what Joe is doing right now is he's playing to a party of one, and that's Donald Trump," Cohen told the news channel on Wednesday. "He will say the most ludicrous nonsense that you can say because that's what Donald wants to hear."
The former lawyer, who has been critical of his ex-employer since being imprisoned, drew a comparison between right-leaning networks "that actually prefer you to say these things" and the likes of Melber who were "hitting back at your statements with facts."
"That does not benefit Donald; it doesn't benefit Tacopina," Cohen added. "And if he doesn't watch himself, he may find himself like the rest of us."
When asked to comment, Tacopina told Newsweek he "can only laugh" at being "critiqued as a lawyer by Cohen, a disbarred felon who was convicted of being a liar and did a federal prison term."
"While I have actually won some of the most high-profile cases in the country, Cohen, before he became a disbarred felon, never saw the inside of a courtroom," he added. "His existence was based on going on television to tell everyone how amazing Donald Trump was."
Newsweek has contacted Trump's campaign via email for comment.
Daniels met with prosecutors investigating the payment on Wednesday, her lawyer confirmed. He said Daniels has "agreed to make herself available as a witness," in a further sign the Manhattan district attorney's office is gearing up to bring charges.
It emerged as Cohen was giving a second day of testimony to a grand jury looking into the matter.
At least five witnesses testified in front of a grand jury over the issue in January: Jeffrey McConney and Deborah Tarasoff, Trump company employees; David Pecker and Dylan Howard, two former leaders of the National Enquirer who helped arrange the alleged deal; and Keith Davidson, a former lawyer for Daniels.
Emerging from the hearing on Wednesday, Cohen stressed that despite his estrangement from Trump, he was not out for revenge, telling AP: "This is not about him. This is about holding accountability, truth to power, and everything else in between."
Update 03/16/23, 11:23 a.m. ET: This article was updated to include comment from Tacopina.