Donald Trump Has Reached 'Last Stop' Before Indictment: Kirschner
Donald Trump is at the "last stop before an indictment" in the investigation into his election affairs in the 2016 presidential campaign by the Manhattan district attorney, Glenn Kirschner has said.
The former federal prosecutor turned legal analyst said that being invited to testify in front of a grand jury is the final step before charges are brought in the overwhelming majority of cases. Trump's attorney confirmed on Thursday that such an invitation had been extended, but didn't say whether his client would accept it.
The former president is being investigated by the Manhattan district attorney, Alvin Bragg, over his alleged involvement in hush money payments made to adult film star Stormy Daniels by Trump's then-lawyer Michael Cohen.
If charges are brought, it would make Trump the first former president to be indicted, and could have a detrimental impact on his hopes of retaking the presidency in the 2024 race, where he remains the only big name to have declared his candidacy in the Republican primaries so far.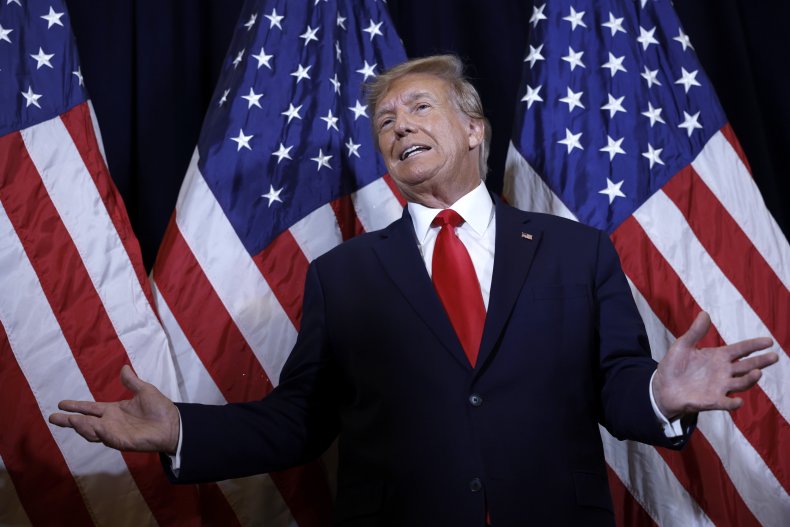 Joseph Tacopina, a Trump attorney, confirmed that the Manhattan district attorney had offered an invitation his client to testify next week.
"To me, it's much ado about nothing," Tacopina told the Associated Press, noting that he felt there was no legal basis for the case. "It's just another example of them weaponizing the justice system against him. And it's sort of unfair," he added.
After the New York Times first published news of the invitation to testify, Trump laid into Bragg on his Truth Social media platform, claiming the investigation was "a political witch-hunt."
Speaking to MSNBC on Thursday night, Kirschner—who spent 24 years in the U.S. Attorney's Office—said: "The last step in any grand jury investigation is typically inviting a defendant to testify."
He noted this wasn't done in all cases, such as those involving violent crime, but that it was more common in white-collar crime cases, adding: "99 times out of 100, this is the last stop before an indictment."
"Of course, Trump has proven himself to be a one-in-a-hundred kind of guy when it comes to avoiding accountability, so I don't think anyone is counting the indictment chickens yet," Kirschner commented.
Newsweek has reached out to Trump via email for comment.
Daniels, whose real name is Stephanie Clifford, was allegedly paid by Cohen in 2016 to stay quiet about her supposed involvement with Trump while the presidential campaign was ongoing. Cohen has said under oath and in print that he was reimbursed by Trump.
In 2018, Daniels' defamation lawsuit against Trump was dismissed and led to her paying him $300,000 in legal fees.
Meanwhile, the district attorney for Atlanta, Georgia, signaled a decision on a two-year investigation into Trump and his allies' efforts to overturn the 2020 election was imminent. A Department of Justice special counsel is also investigating those efforts, as well as the handling of classified documents in his Mar-a-Lago, Florida, residence.
Kirschner explained that prosecutors at this stage don't subpoena the soon-to-be defendant as it would be "a hollow exercise" as they could plead the fifth amendment, which gives U.S. citizens the right against self-incrimination—something he believed Trump would do.
"We often will invite somebody to testify before we ask the grand jury to vote out an indictment because we give the target of the investigation the opportunity to explain why maybe the prosecutors have it wrong; [why] he didn't do anything wrong; [why] he didn't commit any crimes."