Michigan Republicans Call Mike Lindell Election Claims Beyond 'Reasonable Credulity'
A report released by a Republican-led committee in the Michigan Senate dismissed baseless conspiracy theories about the 2020 election promoted by MyPillow CEO Mike Lindell, saying the conservative businessman's claims were beyond "reasonable credulity."
The 55-page report released Wednesday was authored by three Republican state senators and one Democrat on the Michigan Senate Oversight Committee. It laid out and debunked a series of baseless claims about the 2020 election that have been promoted by former President Donald Trump and his allies, such as Lindell, in a bid to discredit President Joe Biden's win.
"In summary, Mr. Lindell claims that attacks by foreign and domestic enemies were successful in obtaining access to the computers containing results at local and county clerks' offices, as well as the secretary of state. In some cases, the supposed access included the actual tabulators," the report explained.
The committee went on to say that Lindell's "narrative is ignorant of multiple levels of the actual election process." It went on to explain the tabulation process, where the election data is uploaded and stored, and how his claims can easily be debunked by understanding how the procedures work.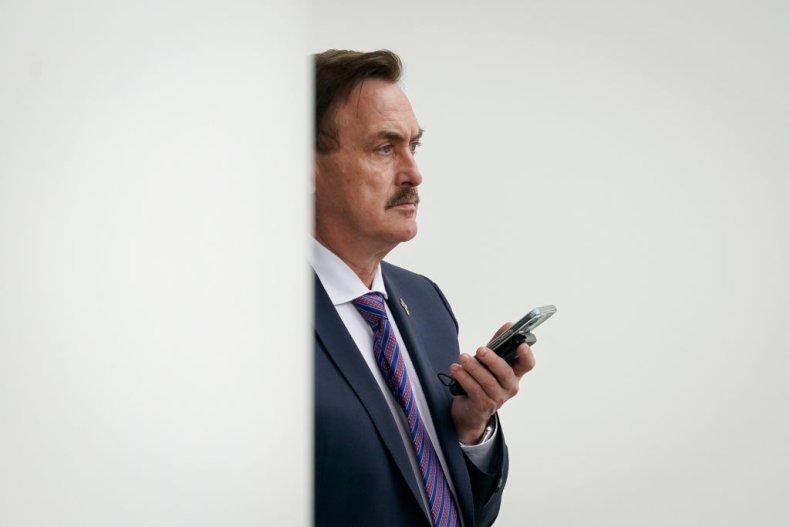 The lawmakers take aim at Lindell's allegation that votes were flipped by hackers, noting that this simply did not occur and there is no evidence to support the claim. "No such activities took place at any of these locations with which the Committee had contact," they wrote. The report goes on to explain how election officials throughout Michigan have already double-checked and audited the results of the 2020 election, finding no substantial irregularities.
"Moreover, clerks in these counties performed random hand recounts in various precincts or townships and found zero change to the official, canvass results. Other clerks did full county re-tabulations and found zero change. For these actions to not contradict Mr. Lindell's allegations would mean all the clerks surreptitiously or incidentally chose precincts or townships that were not involved with the hack his experts claim occurred or allowed their tabulators to be compromised. The Committee finds this is beyond any statistical or reasonable credulity," the lawmakers wrote.
The document was written by state Senators Edward McBroom, a Republican who chairs the committee; Lana Theis, a Republican and the majority vice chair of the committee; Senator John Bizon, a Republican; and Jeff Irwin, a Democrat and the minority vice chair of the committee. Michigan's Democratic Party welcomed the report but called out Republicans for giving credence to Trump's and Lindell's falsehoods about the election.
"Don't expect any applause from us on 'uncovering' the obvious for the nth time. This endless pursuit of sham audits, committees and reports stopped being legitimate fact-finding actions months ago," Lavora Barnes, chair of the Michigan Democratic Party, told Newsweek.
"Irresponsible legislators know the findings will never change but remain fixated on the Big Lie to justify stripping Michiganders of their ability to freely participate in democracy. Unlike Governor Whitmer, Republicans continue to display that they lack both the leadership and accountability to focus on the issues working families care about as we exit this pandemic and reopen our economy," Barnes said.
Lindell, along with pro-Trump attorney Sidney Powell, former Trump national security adviser Michael Flynn and other allies of the former president, continues to push falsehoods and conspiracy theories about the 2020 election. There is no evidence to support these claims, and the allegations have been thoroughly litigated and debunked.
Dozens of election challenge lawsuits filed by Trump and his supporters failed in state and federal courts. Even judges appointed by the former president and other Republicans rejected the allegations. Audits and recounts, including in places where elections were overseen by pro-Trump Republicans, have reaffirmed Biden's victory.
Former Attorney General William Barr, who was widely viewed as one of Trump's most loyal Cabinet members, said in December that there was "no evidence" to substantiate claims of widespread fraud. The Cybersecurity and Infrastructure Security Agency at the Department of Homeland Security described the 2020 election as the "most secure in American history." The agency asserted that there was "no evidence that any voting system deleted or lost votes, changed votes, or was in any way compromised."
Nonetheless, Lindell continues to travel to rallies around the country and claim that Trump will be "reinstated" as president. Last Friday, Lindell told a crowd in Florida that Trump will return to the White House "by fall, for sure."
Newsweek reached out to Trump's press office for comment but did not immediately receive a response.