A Republican lawmaker from Michigan has proposed a resolution that would declare January 6 as "Remembrance Day" while suggesting the violence at the Capitol that day was merely committed by a "few rogue and malicious agitators."
State Representative Steve Carra, who had previously been endorsed by former President Donald Trump, submitted the proposal in a resolution riddled with conspiracy theories and outlandish claims.
As well as proposing making the day of the insurrection a day of remembrance in Michigan, Carra also suggested that COVID-19 was a "man-made" virus and claimed that racism was on "life support" until it was "revived by the Marxist Black Lives Matter movement" during the protests and disorder which broke out in the wake of the murder of George Floyd in May 2020.
Discussing January 6, Carra said it should be recognized as Remembrance Day due to the "heinous and tyrannical actions levied on society by an unhinged and politically motivated ruling elite."
"We condemn the tyrannical actions of the government over the past two years," the resolution from Carra begins.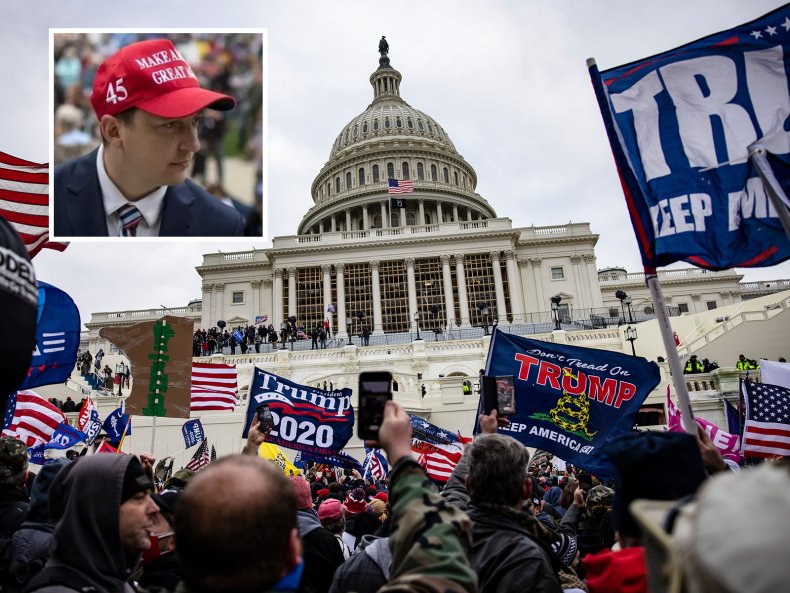 Cara's proposed resolution also said he wanted to see "all elected officials wittingly complicit in the misinformation scheme resign and apologize for the disgrace they have been to our country."
The resolution blames the violence on January 6 on a "few rogue and malicious agitators" which Carra described as a "small fraction of passionate individuals" who were attending election protest in D.C. that day "who got caught up in the moment."
The resolution also attempts to blame the lack of security at the Capitol on January 6 for the subsequent violence.
Trump has repeatedly attempted to blame Nancy Pelosi for not making use of the National Guard at the Capitol on January 6, despite there being no evidence that Pelosi was made aware of any request for National Guard assistance. Additionally, Pelosi had no responsibility to implement security at the building.
Democratic state Representative Joe Tate described the main claims in the resolution as "blatantly not true," reported The Detroit News.
Other claims suggested by Carra's resolution include that the FBI was responsible for "orchestrating and entrapping" suspects accused of plotting to kidnap Michigan Governor Gretchen Whitmer.
In April, the trial against those accused of planning to kidnap Whitmer ended with no convictions, with the defense arguing there was never a plot to target the Democrat.
The resolution also suggests the FBI "improperly" raided Republican Michigan gubernatorial candidate Ryan Kelley's house in connection to the January 6 attack.
Kelly was arrested earlier in June on suspicion of four charges relating to the Capitol attack, including disorderly conduct.
Even if the resolution passes in the GOP-controlled House, it would almost certainly be vetoed by Whitmer, the Detroit Metro Times reported.
Newsweek has reached out to Carra for comment.