Mike Flynn Likens Pelosi to Roman Governor Who Executed Jesus: 'Modern-Day Pontius Pilate'
Retired Lt. General Michael Flynn compared House Speaker Nancy Pelosi, a California Democrat, to the Roman governor who ordered the execution of Jesus—accusing the government of persecuting supporters of former President Donald Trump.
Flynn briefly served as Trump's national security adviser in early 2017 but was quickly fired after revelations came to light regarding his communications with Russia's ambassador before the former president took office. The retired military leader went on to plead guilty to charges of lying to the FBI, but he later changed his plea and stopped cooperating with investigators. Flynn was formally pardoned by Trump in November 2020.
During a Wednesday interview with Lindell TV, Flynn criticized Democratic leadership and the House select committee investigating the attack against the U.S. Capitol by a mob of pro-Trump supporters on January 6, 2021.
Flynn said the select committee was "crazy" and described it as the "insurrection persecution by Nancy Pelosi." Continuing, he said Pelosi is "the modern-day Pontius Pilate, you know, of this era."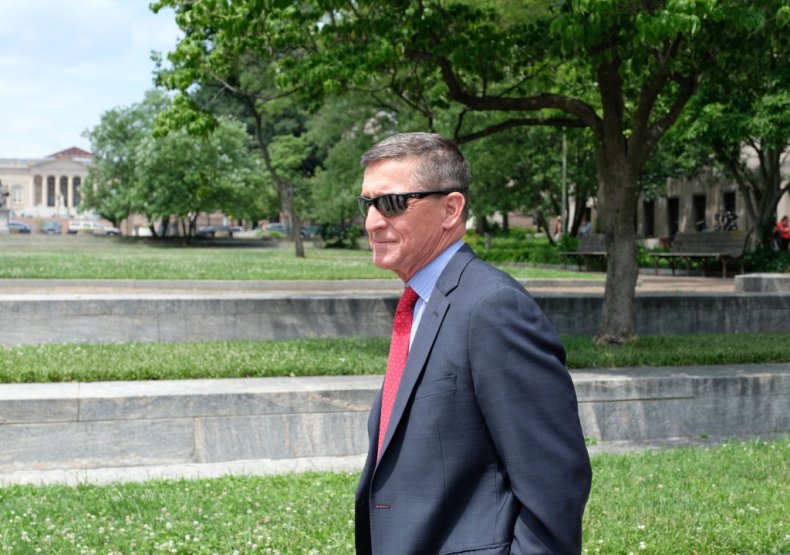 Flynn said that the country is "persecuting people who are expressing" their distrust in the government. He clarified that he was not referring to the people who carried out violence on January 6 a year ago, but was referring to the millions that have expressed frustration.
"The people this country have lost trust and faith in it," he said.
Pontius Pilate served as the governor of Judea from 26 A.D. to 36 A.D. According to the book of Matthew in the New Testament of the Bible, Jewish religious leaders brought Jesus before the Roman official and asked for him to be executed. Although Pilate suggested he was reluctant to do so, he ultimately ordered the execution of Jesus to proceed.
Newsweek reached out to a Pelosi spokesperson for comment but did not immediately receive a response.
Flynn previously claimed that Jesus would be considered a "domestic terrorist today," suggesting Trump supporters were being persecuted in a similar way to the biblical figure.
"Biblically speaking, at the age of 13, Jesus Christ went into the temple and he ransacked it. They would call him a domestic terrorist today," the retired general said at an event earlier this month.
Notably, Flynn's story about Jesus was inaccurate, according to the biblical narrative. While Jesus did visit the temple in Jerusalem with his parents as a child, he did not ransack it at that time.
Decades later, after Jesus had launched his ministry, he visited the temple a few days before his execution. In that visit, Jesus "drove out all who were buying and selling there. He overturned the tables of the money changers and the benches of those selling doves," the book of Matthew says. He accused those doing business there of transforming the temple into "a den of robbers."
Flynn remains staunchly supportive of Trump and has been a key promoter of the former president's conspiracy theories about the 2020 election. Trump and his allies continue to falsely claim that President Joe Biden won due to widespread voter fraud. This extraordinary allegation has not been substantiated by evidence.
Along with MyPillow founder Mike Lindell, pro-Trump attorney Sidney Powell and a number of others, Flynn has spent much of the past year traveling around the country to various events in support of the former president. These events prominently featured conspiracy theories and misinformation—with those in attendance regularly expressing disbelief that Biden legitimately won the 2020 election.
In June, Flynn was presented with a rifle as a gift as he spoke at a church in California. After receiving the gun, Flynn quipped: "Maybe I'll find someone in Washington, D.C."
Later in November, Flynn said that the U.S. should only have "one religion"—which is a viewpoint counter to the Constitution. The First Amendment states: "Congress shall make no law respecting an establishment of religion, or prohibiting the free exercise thereof..."
Regardless, Flynn insisted during a conservative conference in Texas: "If we are going to have one nation under God, which we must, we have to have one religion. One nation under God and one religion under God."