Mike Lindell's Lawyer Leaves Law Firm After Suit Against Dominion Filed Without Authorization
Alec Beck, the lawyer representing MyPillow CEO Mike Lindell in a newly filed lawsuit against Smartmatic and Dominion Voting Systems, has left the law firm where he worked as a partner after he allegedly filed Lindell's suit without the firm's approval.
The new lawsuit accuses the voting machine companies of using the court system to "silence Lindell's and others' political speech about election fraud and the role of electronic voting machines in it."
Both companies have sued right-wing figures who baselessly claimed that they flipped votes and altered vote tallies to help rig the 2020 election against Republican former President Donald Trump.
Beck once worked for Barnes & Thornburg, a Minneapolis-based law firm that represented Lindell. However, the firm has said that Beck filed the lawsuit "without receiving firm authorization pursuant to internal firm approval procedures."
"The firm is immediately taking the requisite steps to withdraw as local counsel in this matter and end the client relationship," Barnes & Thornburg wrote in a statement. "The attorney representing the client in this matter is no longer with the firm."
Beck's personal page on the firm's website has since been deactivated. Beck's contact information on Lindell's lawsuit now lists a PO box rather than his former law firm's address.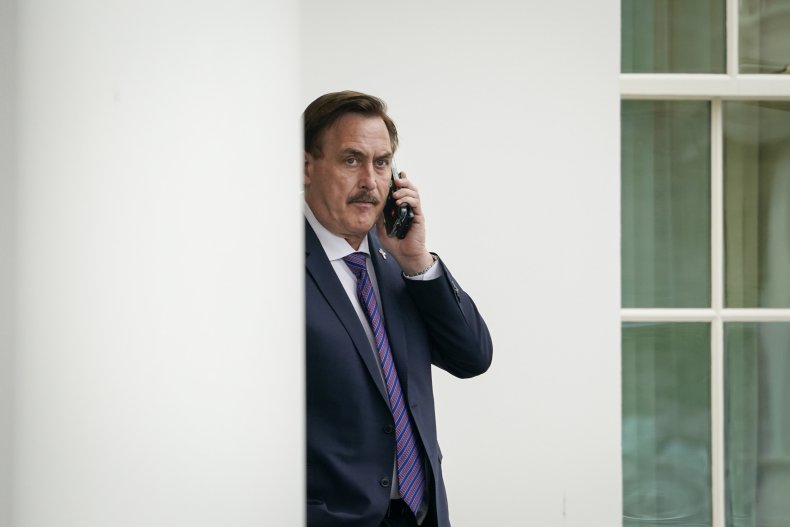 Lindell's claims about voting machines rigging the election compelled Dominion Voting Systems to file a $1.3 billion defamation lawsuit against him in February. Lindell countersued the company for $1.6 billion in April, claiming it violated his Constitutional rights to free speech.
Lindell's new lawsuit, unrelated to the two lawsuits mentioned directly above, says that the companies are "waging lawsuit warfare on private citizens...under the auspices of 'defending election integrity'...[rather than] fixing their notoriously and demonstrably insecure voting machines."
The suit further alleges that the companies have "embarked on a concerted, collective enterprise to extort silence from their dissenters or bring financial ruin on any and all who persist in speaking their minds."
Lindell's suit claims that the companies violated a 1970 law known as the Racketeer Influenced and Corrupt Organization (RICO) Act. The law was passed to help people pursue criminal and civil suits against organized crime schemes. Lindell's suit says that the companies' claims against him could personally cost him $2 billion in damages.
In the past, Lindell has falsely claimed that former President Donald Trump won the 2020 election with 80 million votes. Trump lost with just over 74.2 million votes. Trump's own attorney general and head of election security have both said there was no evidence of fraud in the election.
Earlier this week, Lindell claimed that Trump will return as president in August. Lindell said this would occur either through Supreme Court rulings or "two other bonus pathways" involving vote audits in states that Trump lost in 2020. One such audit is currently underway in Maricopa County, Arizona.
Lindell said that once the Supreme Court considers his evidence of voter fraud, the justices will unanimously rule 9-0 in favor of allowing Trump to become president once again.
Constitutional law doesn't support Lindell's prediction, according to Business Insider. The August deadline also falls during the court's three-month recess, the publication noted, calling Lindell's claim a "demonstrably false conspiracy theory."
Newsweek contacted Lindell's office for comment.