Mike Pence Will 'Put Up a Formidable Fight' Against Trump in 2024, Former Adviser Predicts
An ex-adviser to Mike Pence believes the former vice president will run against Donald Trump in 2024, predicting that Pence will "put up a formidable fight."
Alyssa Farah, who served as Pence's press secretary from October 2017 to September 2019 and the White House director of strategic communications from April 2020 to December 2020, has become highly critical of Trump in the wake of his response to the last presidential election. Farah has blamed Trump for inciting the January 6 attack against the U.S. Capitol.
In a Saturday interview with CNN, Farah was asked about Pence's 2024 plans as many speculate he could mount a GOP presidential primary bid. However, Trump—his former boss—is seen as the clear frontrunner despite not officially announcing his intention to run.
"I think he [Pence] will run," Farah asserted, however she explained that this was just her personal speculation and not based on firsthand knowledge of his plans.
"There's this belief that people are just going to clear the field for Trump. I actually think some folks are teeing up to run. I think Pence could be one of them," she said.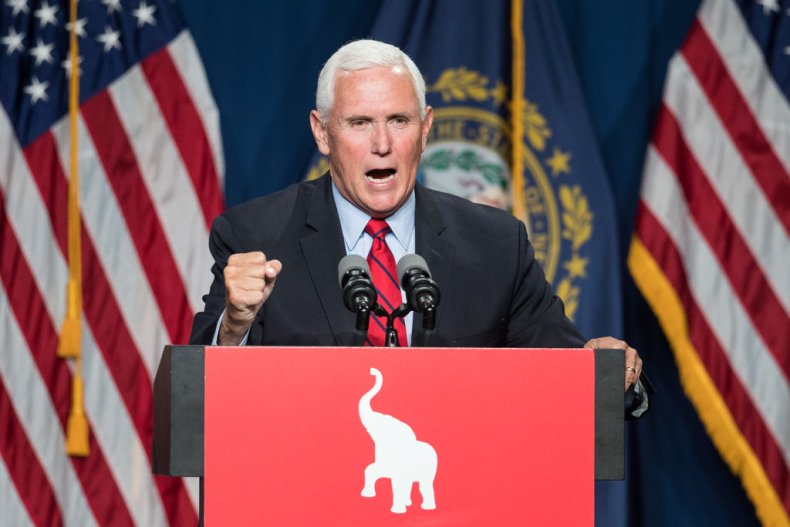 Farah suggested that Florida Republican Governor Ron DeSantis and former Secretary of State Mike Pompeo may be planning to run in 2024 as well.
"It's a good thing for the [Republican] Party," she said.
"The coronation of Donald Trump would be the worst thing both for the party, but more importantly the country," Farah warned.
She said GOP challengers to Trump need to push back against his false claims that the 2020 election was "stolen."
"I would love to see some folks run who are going to acknowledge the truth and actually just try to win over more voters," she said.
Farah also argued that Pence would be a good contender against Trump.
"I think Pence knows that he's uniquely positioned in that he can tout the record of things that so many Americans are still—still wish he were in office. The 74 million people who voted for Trump but without a lot of the downside," she said.
Farah admitted, however, that there would be a faction of pro-Trump Republicans who may never support Pence. She also predicted that Pence could reach a lot of voters who were "alienated" by Trump.
"So I think Pence is gonna do it," she said. "That's just based on my knowledge of him and I think he could put up a formidable fight."
Newsweek reached out to Pence's press office for comment but did not immediately receive a response.
While Trump has not announced his 2024 plans, he has repeatedly teased the possibility of another presidential run. A number of his close allies have also said publicly that they believe he will run.
"He [Trump] has not said the magical words to me, but if you talk to him for a few minutes, it's pretty clear that he's running," former Trump adviser Jason Miller said during an early September interview with Cheddar News.
Trump spokesperson Liz Harrington also told Newsweek in September that the former president is "keeping all of his options open."
Polling conducted from October 8 to 11 by Morning Consult showed that just over two-thirds (67 percent) of Republican voters believe Trump should "definitely" or "probably" run again in 2024. Meanwhile, only 13 percent of Republicans said they would vote for Pence in a hypothetical 2024 GOP primary compared to 47 percent who would back the former president.
Farah has previously warned that she believes Trump would "absolutely" attempt to implement some form of autocracy if he's elected as president in 2024.
"There were things that he wanted to do when he was in power the first time that were well beyond the scope of what the U.S. president should be able to do, but oftentimes it was simply the motivation of hoping to win reelection that kept him from doing things. It's very different in the second term and I think that's what scares me the most," she told CNN earlier this month.