Senate Minority Leader Mitch McConnell, a Kentucky Republican, called MLB and companies such as Coca-Cola and Delta Air Lines that have come out in opposition to newly approved voter restrictions in Georgia "quite stupid."
Georgia's Legislature, which is controlled by Republicans, last month passed a package significantly changing the state's election laws. Democrats, activists and a growing number of companies have come out against the legislation, which was signed into law by Georgia's Republican Governor Brian Kemp. Critics argue that it makes it harder for people to vote. Similar legislation has been passed in the Texas Senate, while GOP-controlled Legislatures across the country are considering related election laws.
"It's quite stupid to jump in the middle of a highly controversial issue," McConnell told reporters in Kentucky on Tuesday. "Republicans drink Coca-Cola too, and we fly and we like baseball," he added. "It's irritating one hell of a lot of Republican fans."
Although McConnell said that corporations have "the right to participate in the political process," he cautioned that they should "stay out of politics."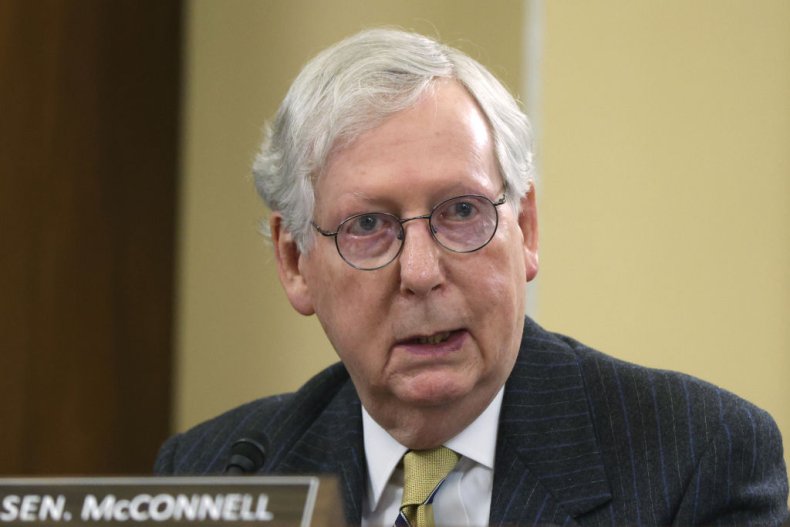 His remarks came after he issued related criticism of corporations' opposition to the voting restrictions on Monday.
"Our private sector must stop taking cues from the Outrage-Industrial Complex. Americans do not need or want big business to amplify disinformation or react to every manufactured controversy with frantic left-wing signaling," the McConnell said.
"From election law to environmentalism to radical social agendas to the Second Amendment, parts of the private sector keep dabbling in behaving like a woke parallel government," he continued. "Corporations will invite serious consequences if they become a vehicle for far-left mobs to hijack our country from outside the constitutional order. Businesses must not use economic blackmail to spread disinformation and push bad ideas that citizens reject at the ballot box."
Coca-Cola and Delta have both expressed concern and opposition to changes in Georgia's election law. MLB responded to the passage of the legislation by moving its 2021 All-Star Game from Atlanta to Denver, which will cost Georgia millions in revenue.
A spokesperson for Coca-Cola referred Newsweek to a previous statement when reached for comment on McConnell's remarks. "We welcome the opportunity to continue meeting with any Georgia lawmakers who are interested in a productive dialogue about our concerns regarding the recently enacted election laws in our home state," the spokesperson previously told Newsweek.
A spokesperson for Delta referred Newsweek to a March 31 public memo from the company's CEO, Ed Bastian. "I need to make it crystal clear that the final bill is unacceptable and does not match Delta's values," he said. "The right to vote is sacred. It is fundamental to our democracy and those rights not only need to be protected, but easily facilitated in a safe and secure manner."
The MLB did not immediately respond to Newsweek's request for comment
Among a number of changes, the new Georgia voting law puts in place strict voter ID requirements, shortens the time voters have to request absentee ballots, makes it illegal for election officials to mail out absentee ballot applications, lowers the number of ballot drop boxes, and makes it a crime to provide water and food to people waiting in lines to vote. Republicans argue that the law makes it easier to vote and helps secure elections, but there is no evidence to suggest Georgia's elections were previously insecure.
GOP lawmakers in Georgia, and across the country, have used former President Donald Trump's baseless conspiracy theory that the 2020 election was "rigged" or "stolen" by Democrats and President Joe Biden to justify their efforts to reform elections. But the Cybersecurity and Infrastructure Security Agency at the Department of Homeland Security—which was led by a Trump appointee—asserted in mid-November that the 2020 election was the "most secure in American history." The agency explained that "there is no evidence that any voting system deleted or lost votes, changed votes, or was in any way compromised."
Following the 2020 election, dozens of election lawsuits brought by Trump and his supporters were rejected by state and federal courts, with judges appointed by Trump and other Republicans dismissing the allegations. Former Attorney General William Barr, who was widely seen as one of Trump's most loyal Cabinet members, said in early December that there was "no evidence" of widespread fraud that would change the election's outcome.
Furthermore, recounts and audits in battleground states—including Georgia—reaffirmed Biden's victory. The election and subsequent recounts were overseen by Georgia's Republican secretary of state, Brad Raffensperger, who voted for and donated to Trump.
This story has been updated with comments from Coca-Cola and Delta.