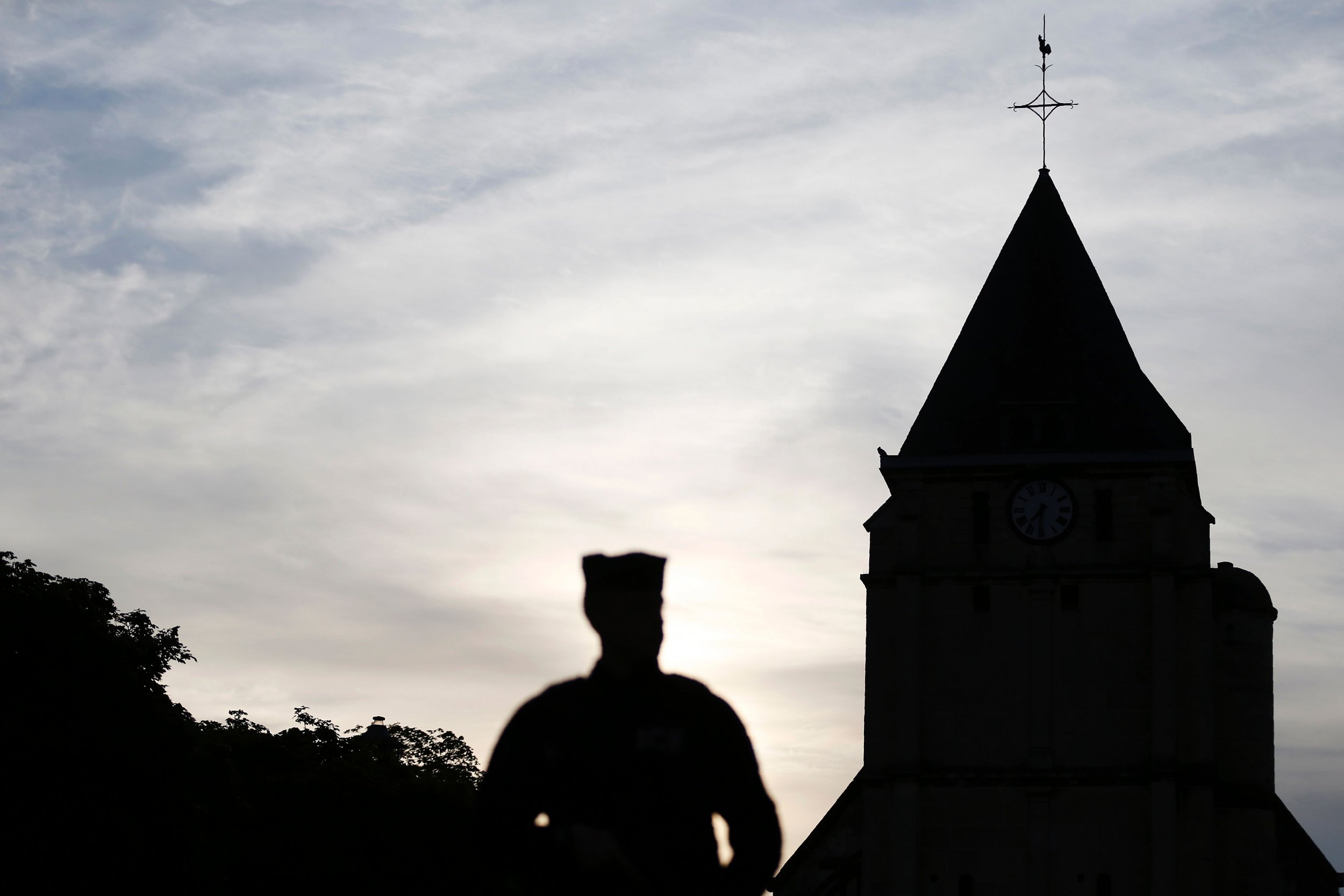 The mosque in the French town where two radical Islamists slit the throat of a Catholic priest was opened on land donated by his church, it was revealed on Thursday.
The gesture, made in 2000, is a symbol of the strong ties between the two communities at a high level. However, after the attack, which was claimed by the Islamic State militant group (ISIS), others have warned that the town has a growing problem of radicalization.
In Saint-Etienne-du-Rouvray, located near the northern city of Rouen, the two men stormed the 17th-century Église St Étienne church and took five people hostage, before killing the priest and leaving a worshipper in critical condition.
Police shot dead the the two attackers after surrounding the church. French media have identified one of the attackers as 19-year-old Adel Kermiche, who had attempted to enter Syria last year and who French security services had under electronic monitoring using a tag since March.
Mohammed Karabila, the imam of Saint-Etienne-du-Rouvray's mosque, said he was "stunned" by the execution of Jacques Hamel, and called him a friend who he spoke with about inter-faith relations in the town.
"I don't understand, all of our prayers go to his family and the Catholic community," said Karabila, as quoted by German news site Deutsche-Welle. "He was someone who gave his life to others. We are dumbfounded at the mosque."
"We talked about religion and how to live together. It has been 18 months that civilians have been attacked; now they are attacking religious symbols, using our religion as a pretext. It is no longer possible," he said, adding that the pair had sat on an interfaith committee together.
The mosque in question held a funeral for the slain Muslim paratrooper that Mohamed Merah killed in the southern city of Toulouse in 2012, 30-year-old Imad Ibn Ziaten. He also killed three Jewish children and a rabbi.
In addition to those who said that the southern city of Nice has a serious problem with radicalization following Mohamed Bouhlel's truck attack two weeks ago that left 84 people dead, experts have warned that the town near the northern city of Rouen faces similar issues.
The mother of Ibn Ziaten, Latifa, set up an association to fight Islamist radicalization after Merah's murder and warned of brewing extremism in the suburbs of Rouen. "There are a lot of families that come and see me because their children are radicalizing," she said, as quoted by The Times of Israel.
France remains on high alert after a spate of attacks in the last 18 months linked to radical Islamism. Jihadis have carried out seven successful attacks across the country, with November's Paris attacks being the most deadly, leaving France under a state of emergency for nine months.