Most GOP Senators Would Convict Trump Via Secret Ballot, Hawaii Sen. Mazie Hirono Says
Senator Mazie Hirono, a Hawaii Democrat, said that "most" Republican senators would vote to convict former President Donald Trump of inciting the attack on the U.S. Capitol if they were given the opportunity to use a secret ballot.
In a vote forced by Senator Rand Paul, a Kentucky Republican, on January 26, a great majority of GOP senators voted to say they view the second impeachment trial of Trump as "unconstitutional" because he is no longer in office. Just five Republicans voted along with the Democrats to affirm the trial's constitutionality, far below the 17 GOP votes necessary for a conviction of the former president.
In a Tuesday interview with CNN, Hirono suggested Republicans were making their decisions out of "fear."
"If the Republicans could vote by secret ballot...most of them would vote to convict," Hirono told CNN. "So again, that shows that they are hiding behind an unconstitutional claim."
Hirono said "not much" can be done to change Republican minds to her point of view. "Because fear has been motivating them—the Republicans for the entire four years of the Trump presidency," she said, accusing the former president of bringing out support from white supremacists, the Proud Boys and other far-right groups. "They feel quite emboldened," she said.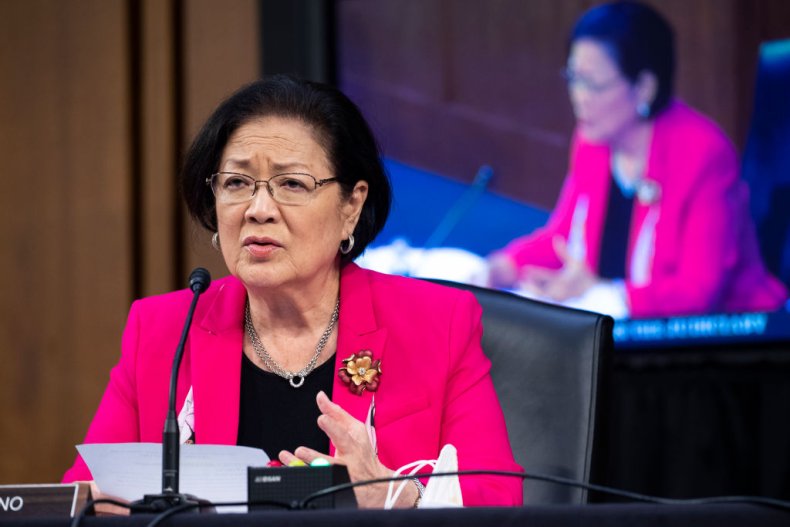 The Hawaii lawmaker said she personally doesn't have many questions she needs answers to during the impeachment trial. "All of us were witnesses to the horrific events of January 6th," she pointed out.
Newsweek reached out to Hirono's press secretary for further comment but did not immediately receive a response.
Notably, similar claims were made by Democratic lawmakers and former GOP Senator Jeff Flake of Arizona ahead of Trump's first impeachment trial. During the 2019 Texas Tribune Festival, Flake was asked about remarks by Republican consultant Mike Murphy, who had recently said that 30 GOP senators would vote to convict and remove Trump if they could vote in secret.
"That's not true. There would be at least 35," Flake responded. The former Republican lawmaker served in the Senate until January 2019. He did not seek reelection in 2018, following public clashes with Trump.
In the end, just one Republican—Senator Mitt Romney of Utah—voted along with Democrats to convict Trump in his first impeachment trial. There are signs that more GOP senators are willing to convict Trump during this second trial, with a number strongly criticizing the former president. But with 45 already signaling they view the entire process as unconstitutional, it appears highly unlikely that enough will vote against Trump to meet the two-thirds bar required for a conviction.
Polls of Republicans show that the vast majority of the party's voters support Trump and oppose GOP lawmakers holding the former president accountable. A survey published Tuesday morning by CBS News/YouGov showed that 71 percent of GOP voters view Republican lawmakers backing impeachment or voting to convict as "disloyal."