MSNBC Host Mocks Trump Supporters as 'Reinstatement Day' Passes With Biden Still in WH
MSNBC host Mehdi Hasan took aim at supporters of Donald Trump who believed that the former president would be reinstated in office on August 13, saying they must be "shocked" that President Joe Biden remains in the White House.
Hasan, who was filling in for fellow MSNBC host Chris Hayes, mocked the bizarre conspiracy theory, as well as its chief proponent, MyPillow CEO Mike Lindell, during a Friday evening segment. The MSNBC host explained that Lindell and other allies of the former president had put forward August 13 as the date when Trump would be reinstated as president, touting groundless claims of widespread fraud in the 2020 election.
"For most of you, today's significance probably does not go beyond a warm summer Friday. But for the 1-in-3 Republicans who believe Donald Trump will be installed as their rightful president, today is a very significant day indeed," Hasan said.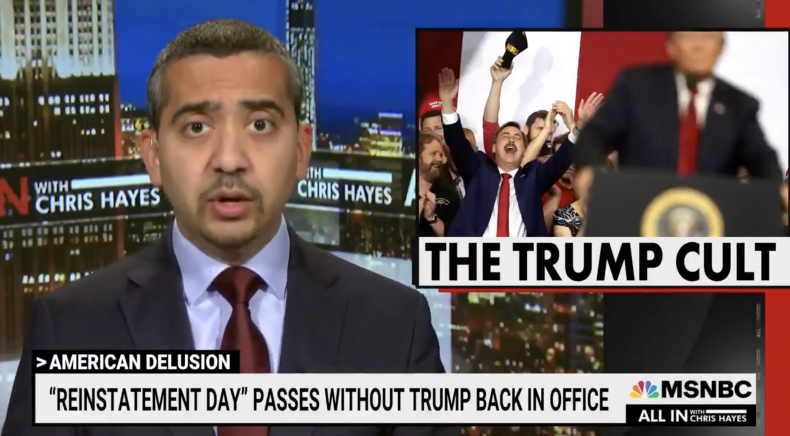 "It's reinstatement day," the MSNBC host explained.
Hasan said that the conspiracy theory that Trump would return to the White House was largely driven by Lindell and his baseless claims that the 2020 election was "hacked" or "stolen" in favor of Biden by China.
"It's past 8 p.m. Eastern on the 13th of August and you will be shocked to hear that Joe Biden is still the president of the United States," Hasan said.
"Now, we can laugh at this craziness, but it's dangerous craziness," he warned, saying it is a "perilous moment" for American democracy. "A man who sells pillows on cable television has convinced tens of millions of Americans that a safe, secure, democratic election was stolen."
Trump and his allies continue to falsely allege that Biden won the presidential election through widespread fraud. This extraordinary claim has already been thoroughly litigated in state and federal courts. It has been wholling discredited, but polling has consistently shown that a sizable number of GOP voters believe the lies and misinformation.
Polling by Morning Consult and Politico in June showed that nearly 30 percent of Republican voters believed it was "very likely" or "somewhat likely" that Trump would be reinstated as president before the end of 2021. A separate Monmouth University poll from June found that nearly one-third (32 percent) of Americans believed Biden won the 2020 election due to fraud. That poll showed that 63 percent of Republicans and GOP-leaning voters said Biden was not legitimately elected.
Despite the widely-held belief of many Trump supporters, no evidence has emerged or been brought forward corroborating the extraordinary allegation. Dozens of election challenge lawsuits filed by Trump and his allies have failed in state and federal courts. Even judges appointed by Trump and other Republicans have rejected the challenges.
Recounts and audits in key battleground states—including in places where the election was managed by pro-Trump Republicans—have reaffirmed Biden's victory.
Former U.S. Attorney General William Barr, who was widely viewed as one of Trump's most loyal Cabinet members, said last December that there was "no evidence" to support the claims of widespread fraud being behind Biden's win.
Additionally, the Cybersecurity and Infrastructure Security Agency at the Department of Homeland Security described the 2020 election as the "most secure in American history." The agency, which was led by a Trump appointee at the time, asserted that there was "no evidence that any voting system deleted or lost votes, changed votes, or was in any way compromised."
Newsweek reached out to Trump's press office for comment, but did not immediately receive a response