MyPillow CEO Mike Lindell To Launch Social Media Platform To Post Voter Fraud 'Evidence'
MyPillow CEO Mike Lindell says he is launching a social media platform in the coming weeks where "people will be able to talk and not walk on eggshells." Lindell said he would use the platform to share his supposed evidence on voter fraud in the 2020 election.
Lindell, a Republican donor and supporter of former President Donald Trump, was being interviewed on The Charlie Kirk Show on Friday where he discussed the 2020 election and unproven voter fraud claims, among other subjects.
The episode was described with the following caption: "In a landscape where so many platforms, shows, and retailers are trying to silence or cancel Mike, we give Mike a chance to speak his mind total free from censorship."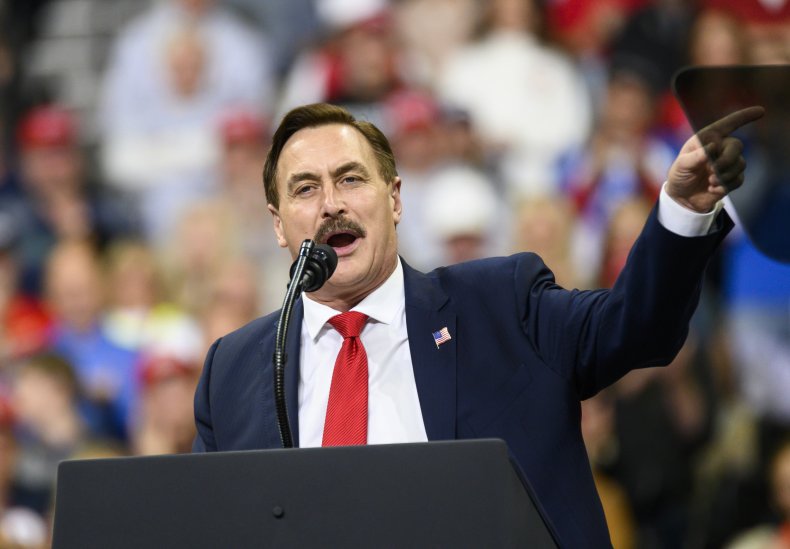 During the interview, Lindell told Kirk about his new platform: "It's going to take probably four or five weeks, I have a platform coming out where all the influencers in this country will be able to go to and not worry about YouTube and actually be able to talk without losing YouTube. That's very important, that's how they're canceling us all out.
"People will be able to talk and not walk on eggshells—like [comedian] Terrence Williams lost his Facebook for two months. That's his livelihood. People have lost their livelihoods that are broadcasters, that are journalists."
Lindell was permanently suspended from Twitter in January for repeatedly violating the misinformation policy. Twitter did not confirm which of Lindell's posts had resulted in the ban, but Lindell had been sharing disproven conspiracy theories surrounding the 2020 election.
Major retailers like Bed Bath and Beyond stopped stocking Lindell's MyPillow products around this time, but said it was due to poor sales rather than political reasons.
In his interview with Kirk, Lindell also said that his new platform will be used to share his supposed evidence about the alleged voter fraud: "So we're going to have this spot and we're going to put out all the evidence so people can talk about it.
"That absolute proof was seen by 140 million people so far, this will be seen by everyone around the world for three or four weeks going forward."
He also detailed how he would then share this evidence beyond the platform and said: "Then we're going to do a couple more shorter documentaries and show all the new evidence. When you see this, 100 percent you're all in."
Lindell also said he would take the evidence to the Supreme Court. He went on to make other outlandish claims like suggesting that the voting for the 2020 election was done by other countries including China and that the U.S. can never use voting machines again.