Naomi Osaka: Boyfriend, Parents, and Lifestyle of Japanese Olympic Tennis Player
At just 23 years of age, Naomi Osaka has already clinched four Grand Slams and a slew of loyal and admiring fans.
The women's world No. 2–ranked star made headlines when she dropped out of three tournaments in 2021, sparking discussions about athletes' mental health amid increasing media scrutiny.
With the Tokyo Olympics just days away, the shy and perhaps misunderstood tennis star is sure to turn heads on and off the court.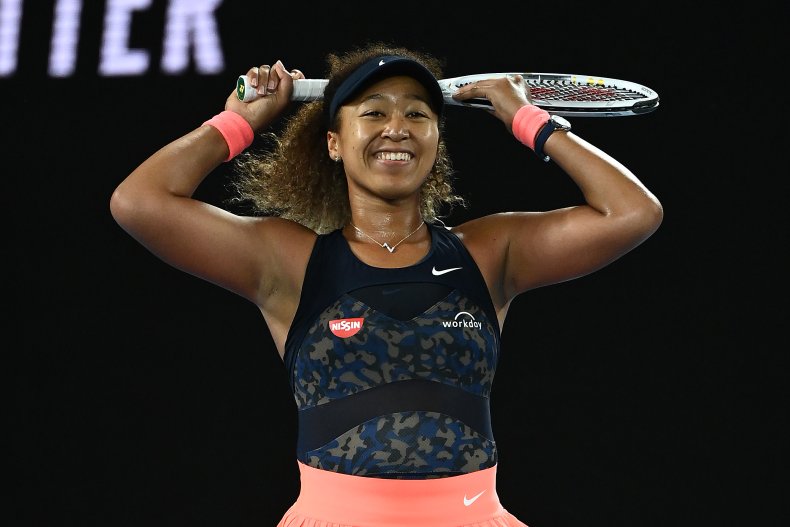 Who is Naomi Osaka?
Naomi Osaka was born in Chūō-ku in the city of Osaka, Japan. Her mother, Tamaki Osaka, is Japanese, while her father, Leonard Francois, hails from Haiti. She was raised in the U.S. after moving to New York when she was just three years old, later settling with her family in Florida.
As a child, Osaka was brought up in a household of both Japanese and Haitian culture. She and her elder sister, Mari, practiced tennis with their father from a young age while the pair were schooled at home.
Up until 2019, she held dual Japanese and U.S. citizenship but chose to compete for Japan in the upcoming Olympic Games.
"My name is Naomi Osaka. As long as I can remember, people have struggled to define me," the tennis champion wrote in an op-ed for Esquire in July 2020. "I've never really fit into one description—but people are so fast to give me a label. Is she Japanese? American? Haitian? Black? Asian? Well, I'm all of these things together at the same time."
Citizenship
The Olympian discussed the reason behind her decision to compete for Japan in a 2021 Netflix docuseries.
"I've been playing under the Japan flag since I was 14. It was never even a secret that I'm going to play for Japan for the Olympics," Osaka said. "I don't choose America and suddenly people are like, 'Your black card is revoked.' And it's like, African American isn't the only Black, you know?"
Naomi Osaka's mother, Tamaki Osaka, also spoke to The Wall Street Journal in 2018 about her daughter playing for the country of her birth.
"We made the decision that Naomi would represent Japan at an early age," she explained. "She was born in Osaka and was brought up in a household of Japanese and Haitian culture. Quite simply, Naomi and her sister Mari have always felt Japanese so that was our only rationale. It was never a financially motivated decision nor were we ever swayed either way by any national federation."
Osaka officially announced that she would be relinquishing her American citizenship in 2019. The tennis star previously held dual American and Japanese citizenship, but under Japan's Nationality Act, those who hold dual citizenship must choose one before their 22nd birthday.
At the time, Osaka told the Japanese broadcaster NHK that she had a "special desire" to represent her country of birth at the Olympic Games. "It is a special feeling to aim for the Olympics as a representative of Japan," she said. "I think that playing with the pride of the country will make me feel more emotional."
Osaka is currently ranked world number two in women's tennis singles, according to the Women's Tennis Association (WTA). In January 2019, she was ranked number one and became the first Asian player to do so.
Boyfriend
Osaka has been dating 23-year-old American rapper Cordae Amari Dunston, also known as YBN Cordae or Entendre, for the past two years.
Cordae initially rose to fame by releasing remixes of popular songs, such as "My Name Is" by Eminem. His debut studio album, The Lost Boy, was released in July 2019 to widespread acclaim, reaching number six on Billboard's Top Rap Albums chart and receiving nominations for best rap album and best rap song at the 2020 Grammys.
He and Osaka met at a Los Angeles Clippers basketball game and returned for their first date in April 2019.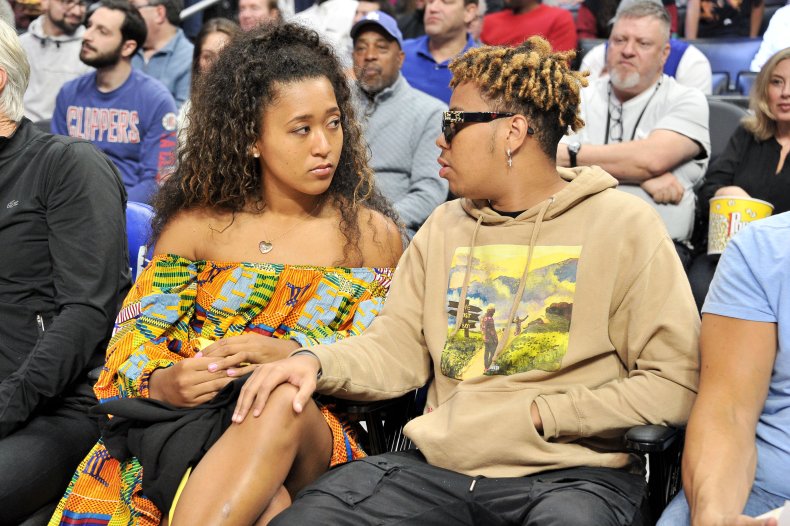 Cordae admitted he "didn't even know who she was" at first in an interview with the Ebro in the Morning radio show on station Hot 97 in July 2019.
"We were on FaceTime trying to find each other because the arena was so big," Osaka recalled of their first date in an interview with GQ in 2021. "And I just remember seeing that there were so many people who wanted to take a picture with him. And I just thought it was really cool how friendly and welcoming he was with everyone."
The pair have since appeared on each other's social media feeds and have publicly thrown their support behind causes such as the Black Lives Matter movement.
Cordae often supports Osaka from the stands during her matches on court, despite previously describing tennis as "not my sport." Likewise, Osaka has accompanied the rapper on tour and described her singer-songwriter boyfriend as "quite a romantic dude."
In a video uploaded to TikTok in June 2020, Osaka joked about her boyfriend's tennis ability, or lack thereof.
"When your bf thinks he can beat you in tennis but he can't even hit the ball over the net," she wrote alongside the clip.
Speaking about his relationship with the tennis pro to GQ, Cordae said he admired Osaka's "worldly perspective."
"I can't really be with someone who doesn't have any substance or doesn't act or think on the same frequency and wavelength as I do," he said. "Like, you know, Naomi was born in Japan. So she has a very worldly perspective. My perspective has always been being a young Black man in America. But she thinks more worldly. I've only been traveling the world the last two years," he said. "We'd be recommending each other books and movies all the time. So, you know, just always feeding the brain."
In a Facebook tribute for Cordae's birthday in 2020, Osaka wrote: "I always feel so lucky to be in your life and to be continuously learning from you. I'm so grateful that I can talk to you about anything and ask for advice (cause you know I need all the help I can get lol)."
However, for the most part the couple are decidedly low-key.
"We kind of move very reclusively. We don't really post intimate moments, because I feel as though they're sacred," Cordae told GQ. "A relationship is really a sacred thing. Once you let outside influences get into it, it becomes less sacred."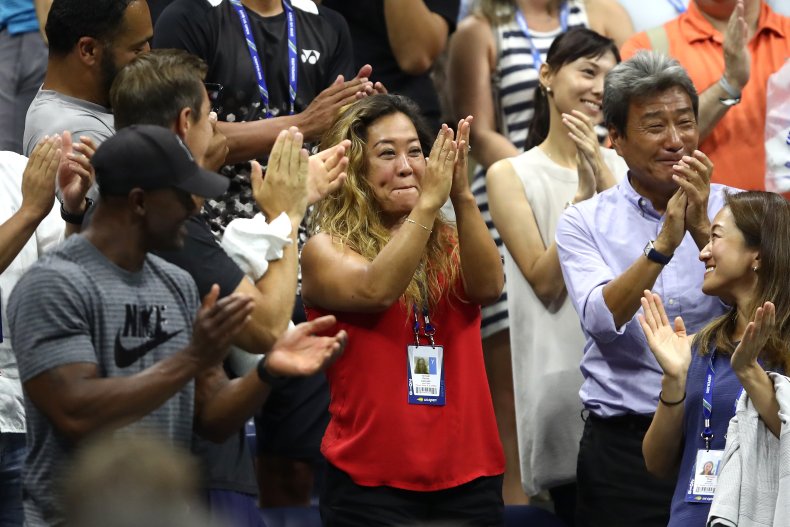 Family
Naomi Osaka's mother is Japanese, while her father is Haitian.
The pair met when Francois was in college in Japan while Tamaki Osaka was still in high school.
The two reportedly kept their relationship secret from Tamaki Osaka's parents for years until they decided to marry.
"The truth then spilled out: Tamaki was already seeing someone—a foreigner who also happened to be Black. Her father erupted in outrage, excoriating her for bringing disgrace on the family," the New York Times reported.
Sister
Naomi Osaka and her older sister, Mari, were given their mother's family name, reportedly for practical reasons when the children lived in Japan.
The family relocated to Long Island, New York, when Osaka was three years old to live with her father's parents. Osaka's maternal grandparents reportedly did not speak to the family for nearly a decade.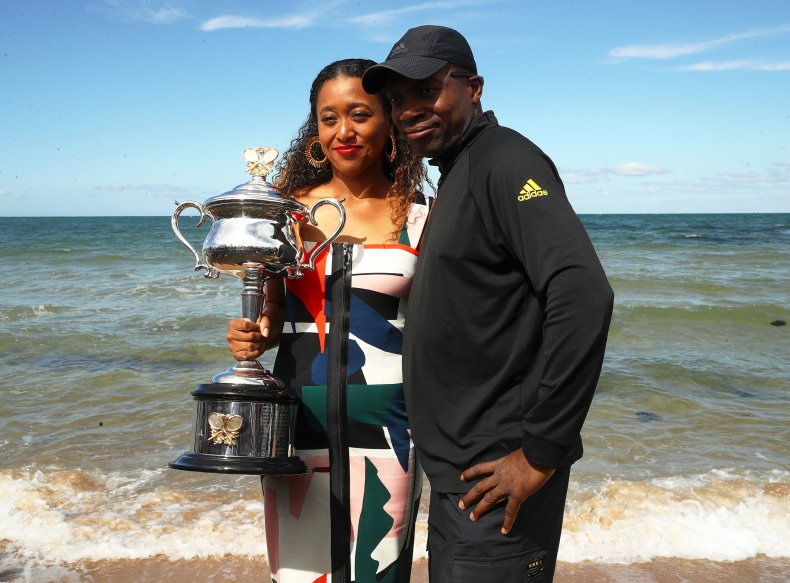 "My dad's Haitian, so I grew up in a Haitian household in New York. I lived with my grandma," she said at a 2018 press conference. "And my mom's Japanese and I grew up with the Japanese culture too, and if you're saying American, I guess because I lived in America, I also have that too."
Osaka's older sister is a former tennis player who announced her retirement from the sport over Instagram in March 2021, according to People magazine. The athletic pair practiced tennis together with their father, Leonard Francois, by day and were homeschooled by night, Osaka's official website reads.
Father
Francois, a "recreational player" with "no knowledge about technique," initially taught Osaka how to play tennis by taking her and her sister to public courts near their home.
He studied what Serena Williams's father, Richard, had done in coaching his own daughter, and then copied that approach. "The blueprint was already there. I just had to follow it," he told the New York Times.
Osaka has credited her father as "the guy that keeps me calm," in an interview with GQ.
"I love my dad so much and I'm grateful for everything I learn from him on and off the court," the athlete tweeted in 2019. "I feel extremely lucky to be his kid cause he just drops knowledge."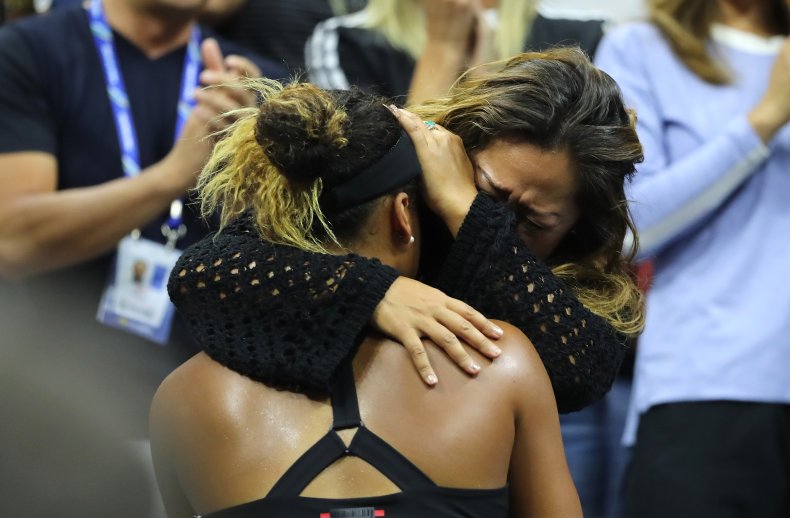 Mother
She has also credited her mother for supporting her passion for her sport.
"Growing up, I saw my mother work incredibly hard to support me and my passion for play. She always put others first and encouraged me to embrace my diversity," Osaka said in a statement about her tennis academy.
Her parents are often photographed supporting their daughter from the stands during her tournaments.
In 2018, when Osaka beat Serena Williams, she celebrated her victory by rushing straight to her mother in an emotional and tearful embrace.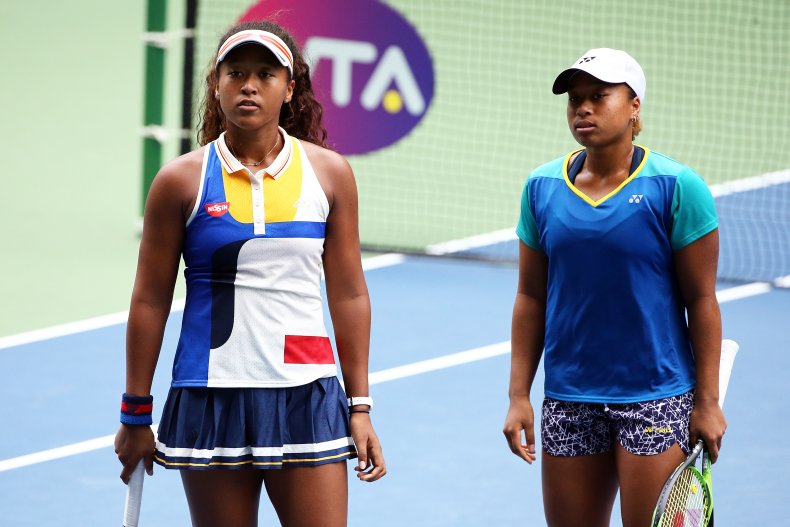 Mental Health
Osaka withdrew from the French Open in May, following a controversy caused by her refusal to participate in pre-tournament media interviews because of the negative impact it had on her mental health.
She later announced she was "taking some time away from the court" after struggling with anxiety and depression since winning her first Grand Slam title at the U.S. Open back in 2018. The athlete added she would not be participating in mandatory press conferences because there is "no regard for athlete mental health."
"I think now the best thing for the tournament, the other players and my well-being is that I withdraw so that everyone can get back to focusing on the tennis going on in Paris," Naomi Osaka said in a public statement released on Twitter. "I never wanted to be a distraction and I accept that my timing was not ideal and message could have been clearer.
"More importantly I would never trivialize mental health or use the term lightly," she continued. "The truth is that I have suffered long bouts of depression since the US Open in 2018 and I have had a really hard time coping with that."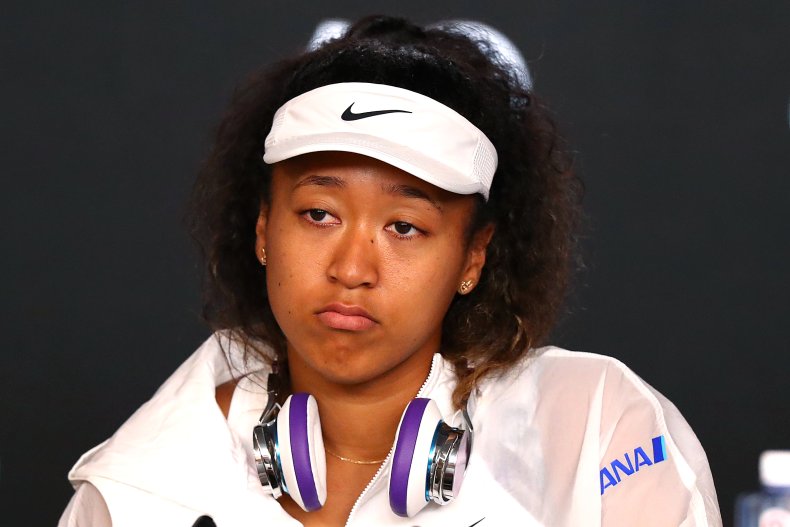 The 23-year-old explained she suffers from "huge waves of anxiety" before press events and often wears headphones during tournaments to ease social anxiety.
In June, Osaka announced she would also be withdrawing from Wimbledon.
"I always try to push myself to speak up for what I believe to be right, but that often comes at a cost of great anxiety," she later wrote in an op-ed for Time. "I feel uncomfortable being the spokesperson or face of athlete mental health as it's still so new to me and I don't have all the answers. I do hope that people can relate and understand it's O.K. to not be O.K., and it's O.K. to talk about it."
In the piece, Osaka thanked friends and family who supported her including Grand Slam champion Michael Phelps, former first lady Michelle Obama, NBA player Steph Curry, fellow tennis player Novak Djokovic, and Duchess of Sussex, Meghan Markle.
Lifestyle
While keeping up an active lifestyle dedicated to training, Osaka also supports a range of social and racial justice causes and has publicly thrown her support behind the Black Lives Matter movement.
Following the death of George Floyd, she flew to Minneapolis to participate in the protests against police brutality.
In an essay addressing racial injustice for Esquire, Osaka wrote: "I signed petitions, I protested, and I donated, like many of us. But I kept asking myself what can I do to make this world a better place for my children? I decided it was time to speak up about systemic racism and police brutality."
Osaka also said she supported the movement to defund the police, but clarified it did not "necessarily mean to eradicate them altogether."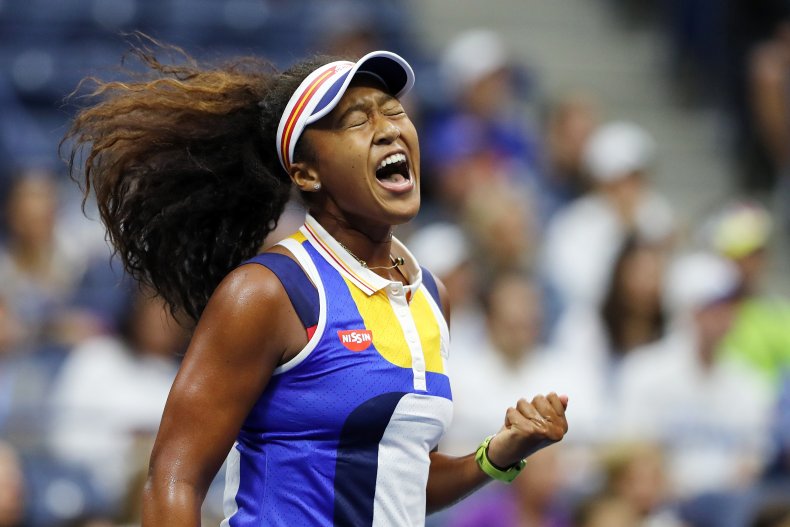 Tennis Career & Net Worth
In February, Osaka defeated veteran player and tennis legend Serena Williams in 6-3, 6-4 straight sets in the semi-final of the Australian Open. She then went on to defeat Jennifer Brady in the final, taking home the 2021 Australian Open champion title. Osaka also took out the 2019 Australian Open women's championship.
It wasn't the first time Osaka beat Serena Williams, having defeated the American tennis champion at the 2018 U.S. Open and claiming a $3.8 million victory. Osaka would go on to claim victory of the U.S Open again in 2020.
According to Forbes, Osaka was worth $60 million as of April 2021. After signing a slew of lucrative endorsement deals with new partners like Nike, Workday, Louis Vuitton and Airbnb, the tennis player earned more than $50 million off the court, according to Forbes' estimates.
"To those outside the tennis world, Osaka is a relatively fresh face with a great back story," David Carter, a sports business professor at USC's Marshall School of Business, told the publication. "Combine that with being youthful and bicultural, two attributes that help her resonate with younger, global audiences, and the result is the emergence of a global sports marketing icon."