National Association of Police Organizations Gives Donald Trump Endorsement
On Wednesday, the National Association of Police Organizations (NAPO) officially endorsed the re-election campaign of Republican U.S. President Donald Trump.
"Our endorsement recognizes your steadfast and very public support for our men and women on the front lines, especially during this time of unfair and inaccurate opprobrium being directed at our members by so many," NAPO President Michael McHale wrote in a statement.
The statement also praises Trump for directing Attorney General Bill Barr to prosecute people who attack police officers; signing into law the Law Enforcement Mental Health and Wellness Act; Trump's help authorizing funds for first-responders during the September 11, 2011 terrorist attacks; and his support of the Project Safe Neighborhoods program for reducing violent crime.
The NAPO claims to represent over 1,000 police unites and 241,000 law enforcement officers nationwide.
The NAPO issued its endorsement following nationwide protests against police brutality sparked by the May 25 murder of Black Minneapolis resident George Floyd by a white police officer.
Protesters have demanded greater transparency and accountability on police misconduct and a reallocation of police department budgets into other social services that could help reduce crime.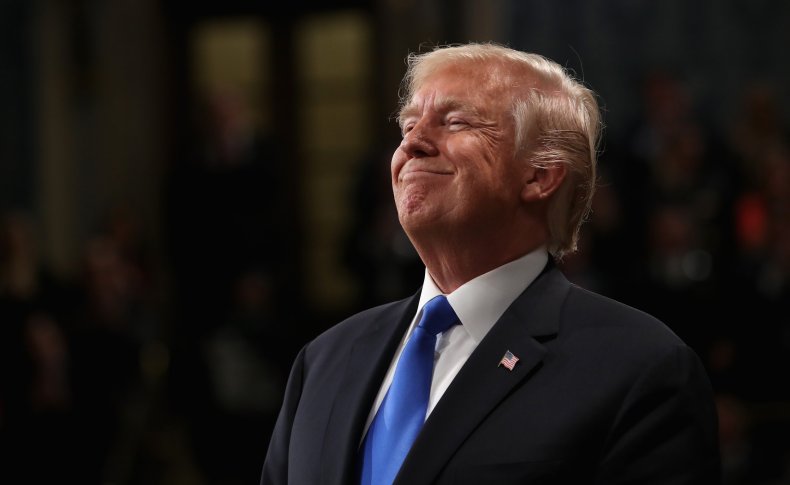 In the runup to the 2020 election, Trump and his campaign have tried to tout the president as the "law and order" candidate while painting former Vice President and Democratic presidential candidate Joe Biden as weak on crime and unsupportive of police.
Against the backdrop of the nationwide protests, Trump has voiced support for police while claiming that crime in Democrat-led, majority-Black cities is "like living in Hell."
"We must maintain law and order at the highest level, or we will cease to have a country—100 percent," Trump said in a June 6 speech.
That same weekend, Trump tweeted, "Sleepy Joe Biden and the Radical Left Democrats want to 'DEFUND THE POLICE'. I want great and well paid LAW ENFORCEMENT. I want LAW & ORDER!"
However, Biden's campaign has refuted Trump's claims, claiming that Biden is supportive of police reform but not of a complete defunding of law enforcement nationwide.
Four months away from the presidential election, it's unclear which candidate's message on police will resound more with voters.
In an early July poll, approximately 68 percent of American voters said they approve of the job the police are doing. However, that percentage dropped to 26 when only Black voters were counted and rose to 77 percent when white voters responded, revealing a racial divide on how police are perceived.
Despite that, a late June poll showed that 87 percent of Democrats and 58 percent of Republicans agreed with the ideas of Black Lives Matter, a movement to unite Black communities, oppose state-sanctioned violence and anti-Black racism worldwide.