'NCIS': Who Is New Cast Member Katrina Law?
NCIS is going into its 19th season with a new agent joining the ranks. The 15th episode of Season 18 began with a massive explosion, which killed all the members of an NCIS Regional Enforcement Action Capabilities Team except one. The survivor—Special Agent Jessica Knight, played by Katrina Law—then helped the NCIS regulars find out who was responsible for the deaths of her co-workers.
Who is new 'NCIS' cast member Katrina Law?
Viewers should get used to seeing Jessica Knight on the CBS show, as she is set to become a regular.
In March, it was announced that Law would appear in the final two episodes of Season 18 as Knight, described in a CBS character bio as "a formidable REACT Team agent who specializes in hostage negotiations and handles daily high-risk operations with skill and precision.
"Sharp, athletic and tough, she was raised by a single mother and had to fight for everything in life and is damn good at it. Fiercely tenacious and with a wry sense of humor, Jessica is married to a stay-at-home dad who is raising their infant son."
It was also announced that Law would join as a series regular in Season 19, so she will be back when the show returns in September.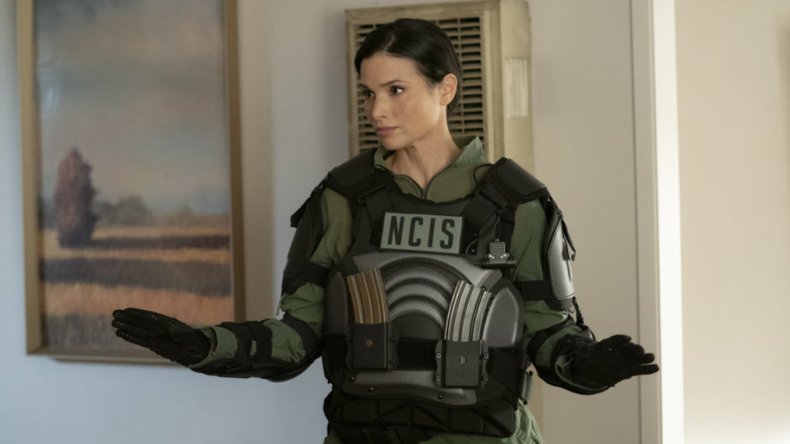 Before NCIS, Law was a regular on the final season of CBS' Hawaii Five-O. She also played the assassin Nyssa al Ghul in 20 episodes of The CW's Arrow and appeared in the TV series Spartacus, Training Day and The Oath.
NCIS star Wilmer Valderrama told TV Insider: "Her energy just fits right in and we're having a lot of fun. Both of our characters have a lot of interesting dynamics and energies and philosophies [in common], so I think these two characters are going to have fun in the field as well."
Law's promotion to the main cast comes weeks after the show lost Maria Bello as Jack Sloane, when the actor chose not to renew her contract. The showrunners said they were not planning to find an actor to fill the Sloane role as theteam's psychologist.
Law celebrated her debut on NCIS on Twitter after the episode aired, tweeting: "Hope everyone enjoyed tonight's episode of @NCIS_CBS! Thank you for all the love and support!"
She will return for the Season 18 finale, airing on CBS on May 25. The synopsis for the episode, titled "Rule 91," reads: "While pursuing a dangerous arms dealer, the team is shocked when Bishop [Emily Wickersham] is implicated in an old NSA leak. Also, Gibbs [Mark Harmon] and Marcie [Pam Dawber] realize that the killer they've been tracking may be onto them."
Valderrama said of the finale to TV Insider: "The writers did an incredible episode to pay tribute to all the questions that people had from Season 17 to 18 and then really kick off the 19th season."
NCIS Season 18 airs Tuesdays at 8 p.m. ET / 7 p.m. CT on CBS. All episodes so far are streaming now on CBS.