'NCIS' May Have Found Its Jack Sloane Replacement
NCIS will soon welcome its latest cast member, who is joining that show following the departure of Maria Bello. The CBS crime procedural has announced that Hawaii Five-O star Katrina Law will join the show at the end of its current season.
The actor, who also starred in Arrow and the TV reboot of Training Day, will play a character called Jessica Knight. CBS describes her as: "A formidable REACT Team agent who specializes in hostage negotiations and handles daily high-risk operations with skill and precision. Sharp, athletic and tough, she was raised by a single mother and had to fight for everything in life and is damn good at it. Fiercely tenacious and with a wry sense of humor, Jessica is married to a stay-at-home dad who is raising their infant son."
The character is set to appear in the final two episodes of Season 18 as a recurring cast member, though Deadline says she has a contract option to return as a series regular if the show is renewed—which it almost certainly will be.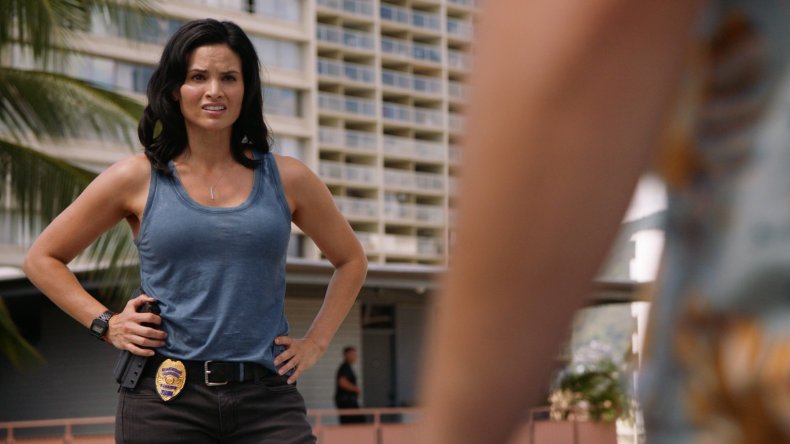 This casting news comes weeks after Maria Bello's final episode as Jack Sloane, which came after the actor decided not to renew her three-year contract for the show.
Previously, NCIS co-showrunner Steven D. Binder had told TVLine that there were no plans to quickly fill Sloane's specific role on the NCIS team. He said: "We have a core team, and I think it was a function of Maria that we were able to find so much to give her to do ... If it's not Maria [playing the forensic psychologist role], then I don't know if we need to necessarily fill it right away."
Though the show has no plans to rush to find an NCIS psychologist, her departure left a gap in the main cast that looks set to be filled by this new character working in the NCIS hostage negotiation team—and as characters seem to get kidnapped with alarming regularity on the show, this is probably a good thing.
At one point, fans were sure that Katy Keene actor Zane Holtz was set to play the next forensic psychologist on NCIS after show star Wilmer Valderrama posted a picture of him on set with his former From Dusk Till Dawn: The Series co-star. The actor tweeted, "together again, ladies and gentlemen... meet Federal Agent Sawyer.. Zane Holtz, welcome to the #NCIS team... long way from Dusk and Vampires.."
However, this theory was debunked by TVLine's TV columnist Matt Webb Mitovich, who wrote: "Zane Holtz is simply guest-starring as Special Agent Dale Sawyer in an upcoming episode where the team has to 'play nice and work with other agents."
NCIS Season 18 continues Tuesdays at 8 p.m. ET / 7 p.m. CT on CBS. All previous episodes are streaming now on Paramount+.