CBS will start airing NCIS Season 19 this September, meaning viewers will finally get answers to their burning questions from last season's explosive cliffhanger.
In the new NCIS episodes, we will learn how the team copes with Ellie Bishop's (played by Emily Wickersham) exit, introduce new cast members...and of course learn what happened to Gibbs (Mark Harmon) after he faked his own death.
There is also big changes outside of the plot of the show. NCIS Season 19 is moving from Tuesdays to a new release night on CBS, where it will be joined by a new spin-off.
Here's everything we know about NCIS Season 19
When is NCIS Season 19 out?
For the 2021 to 2022 TV season, NCIS has a new date and time. After nearly two decades airing on Tuesdays at 8 p.m., the 19th season will air on Mondays at 9 p.m. ET / 8 p.m. CT.
The first episode of the new season, titled "Blood in the Water" will air on Monday, September 20, 2021.
Joining the show on Mondays nights will also be new spin-off NCIS: Hawaii, airing Mondays at 10 p.m. ET / 9 p.m. CT
Who is in the cast of NCIS Season 19?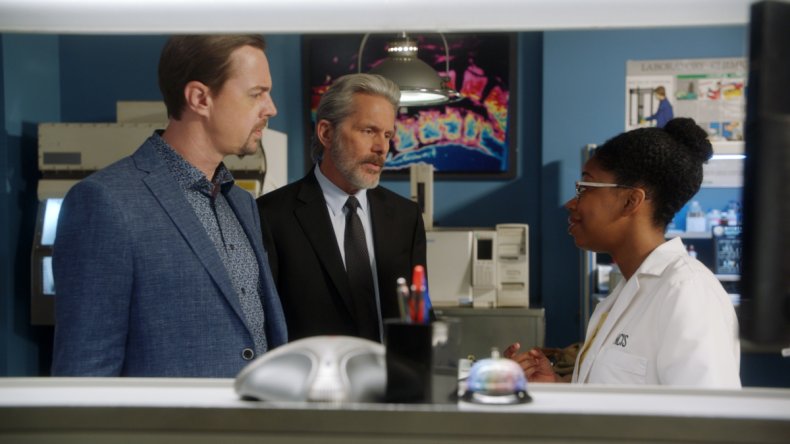 After last season saw both Wickersham and Jack Sloane star Maria Bello leave the show, NCIS is freshening up its cast with a new member.
In the upcoming season, Veep and The Good Fight star Gary Cole with join as series regular and FBI Special Agent Alden Park. CBS has not revealed any information about the character, leading to much fan speculation that he could be the serial killer the team spent much of the last season searching for.
Though the network has said that the character is not intended as a replacement for Gibbs, Mark Harmon is reportedly reducing his time on the show for Season 19 – though the synopsis for the first episode of the season still has him listed as a series regular.
A cast member introduced at the end of the last season is set to have a bigger role in the upcoming episodes. After being introduced as hostage negotiator Jessica Knight in Season 18, Hawaii Five-O actor Katrina Law is joining the show full-time for Season 19.
Also returning from the last season are the following:
Sean Murray (NCIS Special Agent Timothy McGee)
Wilmer Valderrama (NCIS Special Agent Nicholas "Nick" Torres)
Brian Dietzen (Medical Examiner Jimmy Palmer)
Diona Reasonover (Forensic Scientist Kasie Hines)
Rocky Carroll (NCIS Director Leon Vance)
David McCallum is also confirmed to recur as Dr. Donald "Ducky" Mallard.
What will happen in NCIS Season 19?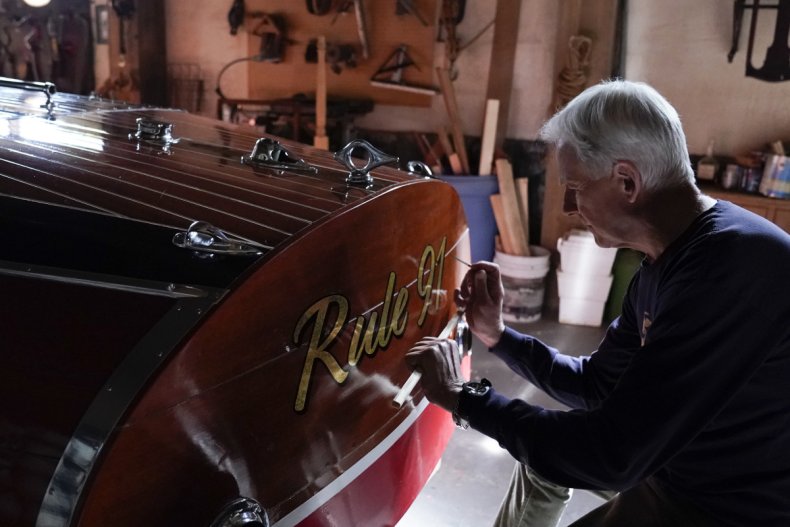 The synopsis for the first episode reveals that the show is picking up right where it left off last season. It reads: "As the NCIS team searches for Gibbs after wreckage from his boat is discovered, they find out he was tracking a serial killer with journalist Marcie Warren (Pam Dawber [Harmon's real-life wife]), who wrote an exposé on him."
In a TV Line interview, series co-showrunner Steven D. BInder said: "Gibbs has been hunting down this serial killer. He's cut off from his team... but in the beginning episodes, that's going to change."
In an interview during a Television Critics Association event, CBS Entertainment president Kelly Kahl said of the question of how much Mark Harmon will appear in the new season: "Mark's always been part of the show, Mark's always going to be part of the show. In terms of his on-air appearances, we're just going to have to see how it plays out going forward."
If there a trailer for NCIS Season 19?
In mid-September, CBS released a 30-second trailer for the new season.
In it, we see the NCIS team mourning what they think is their boss' death while also trying to find out who it was that exploded his boat.
Little do they know, however, that Gibbs has swum to safety. At the end of the trailer, we see him make it to shore, ready to hunt down the serial killer in secret.
NCIS Season 19 airs Mondays at 9 p.m. ET / 7 p.m. CT on CBS. Episode come to Paramount+ after airing.