Nearly Half of Republicans Think Non-Citizens Should Have Baby Formula—Poll
Most Americans say non-citizen babies in the custody of the U.S. government should be fed baby formula amid a nationwide shortage, including almost half of Republicans, according to a new poll.
Fifty-seven percent of Americans support the U.S. government providing formula for infants at the U.S.-Mexico border, while 19 percent do not, according to a new YouGov poll of 1,000 people.
Among Republicans, 46 percent said they thought non-citizen babies in U.S. custody should receive the nutrition, while 34 percent said they should not.
The results of the poll, conducted between May 13 and 16, comes after conservative lawmakers in recent days lashed out at President Joe Biden for providing scarce baby formula for babies crossing the border.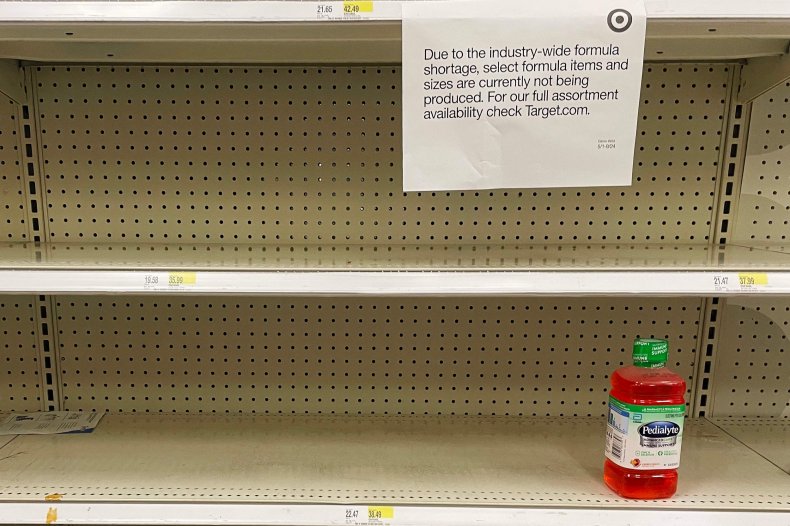 The White House defended the move, pointing to the Flores Settlement Agreement which requires children in federal custody to be provided access to adequate food, water and medical assistance. Jen Psaki, in her final briefing as White House press secretary last week, added: "We also think it's morally the right thing to do."
But a number of prominent Republicans accused the Biden administration of misplacing their priorities.
"The Biden administration is sending pallets of baby formula to the border for illegal aliens, while American mothers are crying in the grocery store searching for it," tweeted Rep. Marjorie Taylor Greene last Thursday. "We should Protect America First!"
Elise Stefanik, the third-ranking House Republican, wrote in a tweet on Friday: "Joe Biden continues to put America LAST by shipping pallets of baby formula to the southern border as American families face empty shelves. This is unacceptable."
On Wednesday, Greene and Stefanik were among 192 Republicans who voted against a $28 million emergency spending bill to address the shortage. The Infant Formula Supplemental Appropriations Act passed the House with the support of all House Democrats and 12 Republicans and now heads to the Senate.
Also on Wednesday, Biden invoked the Defense Production Act to boost the production of infant formula and authorized flights to import supply from overseas.
The YouGov survey found 11 percent of Americans have been affected by the shortage, which stems from the safety-related closure of the country's biggest formula manufacturing plant and has been compounded by supply chain disruptions.
According to the poll, many Americans place blame for the shortage on supply chain issues (76 percent), U.S. formula suppliers (74 percent) and the recent recall of formula products (71 percent).
However, 57 percent say the Biden administration bears some responsibility for the shortage.
Sixty-three percent placed blame on the U.S. Food and Drug Administration, while 57 percent cited U.S. trade policies and 51 percent assigned blame to parents who hoard an excessive amount of formula.