Trump Rally Coronavirus Risk Closes New Hampshire Restaurant for a Week
A restaurant in New Hampshire is closing its doors for a full week over safety concerns regarding President Donald Trump's upcoming rally.
The Country View Restaurant in Greenland confirmed that it shut on July 9 and won't reopen until the following Thursday, citing concerns from their employees. Trump is scheduled to hold an outdoor rally at the Portsmouth International Airport on Saturday evening.
"After many discussions here at CVR among our employees and in light of their personal concerns for their health and safety, we have decided that we will be closing the restaurant temporarily from Thursday 7/9 and will reopen on Thursday 7/16," the restaurant states on its website. "We hope you all understand and look forward to seeing you on 7/16 when we are back open."
Speaking to Seacoast Online, Country View owner Sandra Mackmann said the decision to close was "frankly was a very easy decision" due to potential COVID-19 health risks, despite the business being down 60 percent.
Mackmann said she asked her employees if they were comfortable serving patrons throughout the weekend of Trump's arrival and received a "unanimous no" within one hour.
"I have grave concerns about being open with so many out-of-state people in the area," Mackmann said. "We are on the major thoroughfare going into Pease [location of Trump's rally]. We're concerned about the community, as well, because whatever we get, they get."
The move to close the restaurant arrived after health experts in Oklahoma linked a rise of COVID-19 in the state to Trump's rally and counter protests in Tulsa in late June.
"In the past few days, we've seen almost 500 new cases, and we had several large events just over two weeks ago, so I guess we just connect the dots," Tulsa City-County Health Department Director Dr. Bruce Dart told the Associated Press.
Despite a lower-than expected turnout, more than 6,000 people still attended Trump's indoor campaign rally at the BOK Center arena.
Portsmouth's Health Department issued an advisory that all those attending Trump's rally at the airport should wear a mask.
Those going to the event will also be asked to sign a waiver declaring they understand an "inherent risk of exposure to COVID-19 exists in any public place where people are present" and will assume responsibility if they become infected.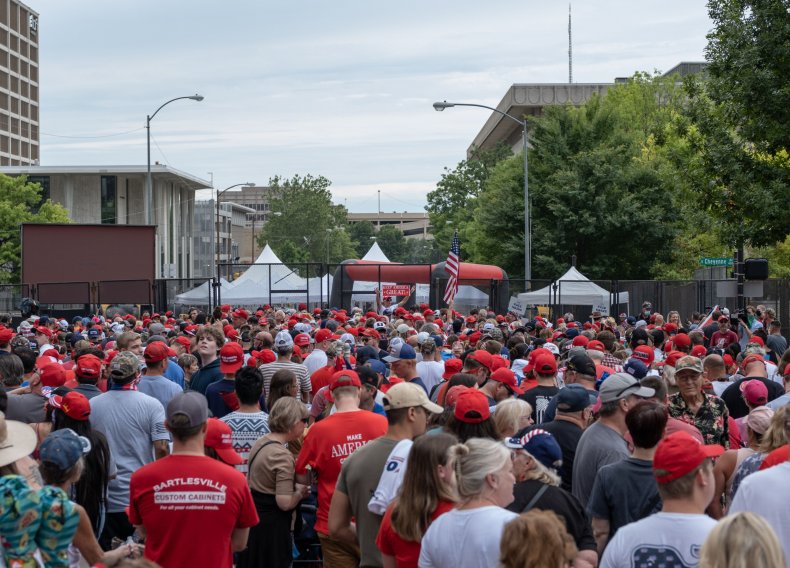 New Hampshire is seen as one of the key states in which Trump could flip as he seeks to defeat Joe Biden in November.
In 2016, Democratic candidate Hilary Clinton won New Hampshire by a margin of just 0.4 percent.
Previously speaking to Newsweek, Thomas Gift, a lecturer in political science at University College London, said events such as the one in Tulsa were more about Trump boosting his support base rather than trying to win over new voters.
"Not only does Trump clearly think that in-person events are more effective, but they also provide an opportunity for the president to showcase that the pandemic is being contained and that life in the US is back to normal-even if that's far from the reality," Gift said.
The White House has been contacted for comment.
There are more than 6,000 confirmed cases of COVID-19 in New Hampshire, with at least 387 deaths according to Johns Hopkins University. In total, 969,111 people have managed to recover from the virus across the U.S.
This graph, provided by Statista, shows the surge in COVID-19 cases in the U.S.