Patient With New Strain of Monkeypox Hospitalized in U.K.
Health officials in the U.K. have announced that they have found a new strain of monkeypox.
According to the UK Health Security Agency (UKHSA), it was discovered in an individual who has recently traveled to West Africa, from where monkeypox originated. The person's strain is genetically distinct from the one being spread across the world.
"Preliminary genomic sequencing conducted by UKHSA indicates that this case does not have the current outbreak strain circulating in the UK," said UKHSA in a statement.
Endemic to areas in West Africa, monkeypox has been spreading across the world rapidly during 2022. According to the CDC, 52,090 cases have now been reported worldwide, of which 19,465 have been found in the U.S.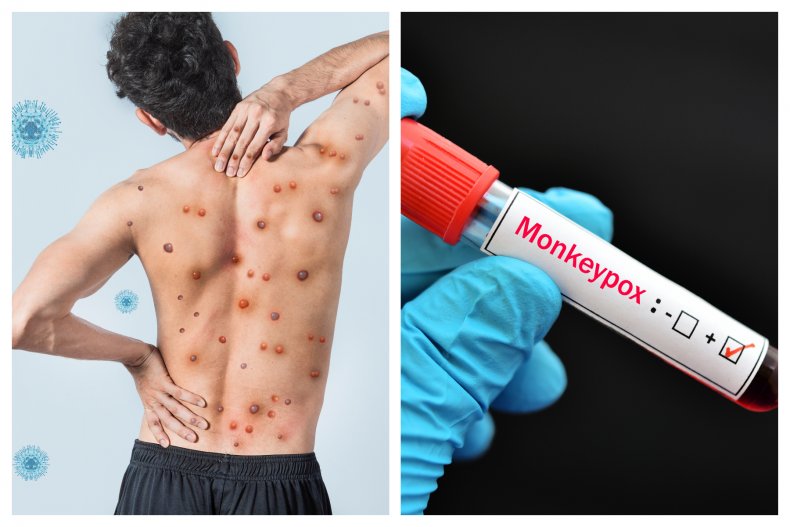 This discovery reveals a third category of monkeypox. Previously, monkeypox was known to have two variants, Clade I and Clade II, which were respectively known as the Congo Basin and West African clades.
Clade II has two-sub strains, Clade IIa and Clade IIb, with the latter being responsible for the worldwide outbreak of the infection throughout 2022.
According to The Telegraph, a British newspaper, while Clade II has a low mortality rate of one in 100, Clade I is more deadly, with a rate of one in 10. Whether this new case is a sub-clade of I or II, or a third distinct clade, is unknown.
"Given that the person caught the infection in West Africa, it is likely that it is the less- virulent Clade II West African variant, though I don't know for certain," Paul Hunter, a Professor in Medicine at the Norwich School of Medicine, University of East Anglia, told Newsweek.
Dr Sophia Maki, incident director at the UKHSA, said in a statement: "We are working to contact the individuals who have had close contact with the case prior to confirmation of their infection, to assess them as necessary and provide advice.
"UKHSA and the NHS have well established and robust infection-control procedures for dealing with cases of imported infectious disease, and these will be strictly followed and the risk to the general public is very low."
Monkeypox is a viral infection spread by close skin-to-skin contact, as well as skin-to-material contact. This includes, but is not limited to, sexual contact. The majority of infections so far have been contracted by men who have sex with men.
According to the WHO, symptoms include fever, headache, muscle aches, back pain, low energy and swollen lymph nodes. Monkeypox is characterized by the skin rash that occurs around three days after fever begins, and is usually concentrated on the face and extremities.
Vaccines for monkeypox have been prioritized for the most at-risk communities across the U.S., but there is still not enough to vaccinate everyone who needs it.
In August, the U.S. Food and Drug Administration issued an emergency-use authorization, allowing the injection of the vaccine intradermally, between the layers of the skin, rather than beneath the skin.
According to Robert Fenton, the White House monkeypox response coordinator, this method requires only one-fifth of the dosage, meaning that five times more vaccine doses will be available for use.
The U.K. individual with the new monkeypox strain has been admitted to the High Consequence Infectious Disease (HCID) unit at the Royal Liverpool University Hospital.
"We remind everyone who is planning to travel to West and Central Africa to be alert for the symptoms of monkeypox," said Dr. Maki.