For Broadway, its habitués and sons of habitués, the COVID-19 pandemic and ensuing shutdown were as much Beckett (Samuel) as Beckett (Thomas à) filled with more ennui than Anouilh. There was a lot of waiting and more than enough of tragedy to go around. The shutdown was bookended by the deaths of two theatrical greats: Terrence McNally and Stephen Sondheim. In between, however, there was a lot of hope, love and caring. And as Broadway makes its way back it's doing so in a big way.
Great Performances—Reopening: The Broadway Revival, which premieres Tuesday, January 18 at 9 p.m. on PBS, is a heartwarming love letter to the Great White Way and the people who work on it. On March 12, 2020, theater shut down for the longest period in its history, reopening slowly with Pass Over on August 4, 2021, and then big time on September 14, 2021 when some of the crown jewels of musical theater Wicked, Hamilton, Chicago and The Lion King raised their curtains again. Reopening, which was executive produced and hosted by Frank DiLella and directed by Cody Williams, tells this story.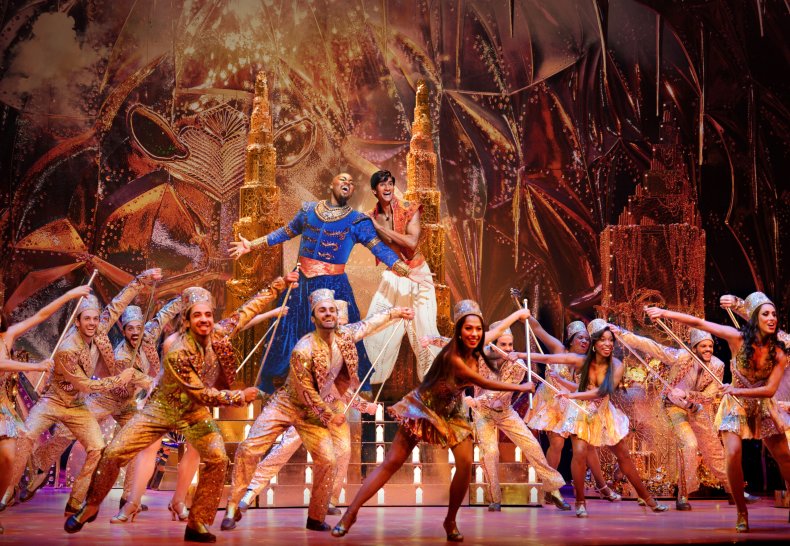 The genesis of Reopening really goes back to the first day of the shutdown. DiLella was preparing for his weekly show on NY1, "I was at my desk," he told Newsweek. "We were actually in the process of putting together a new show for that weekend. And I started getting texts that morning about this Broadway League meeting that was taking place involving people from the city and whatnot. And I was getting notifications from people saying: 'There's a league meeting happening.' 'Broadway shutting down.' 'Broadway shutting down.' 'We don't know how long.' All that stuff."
Almost immediately, he got a text message saying that Broadway was shutting down for a month. "And so," he told Newsweek, "I remember going back into the recording studio and saying to camera, 'Broadway in the performing arts community is the heartbeat of New York City. And we at NY1 Spectrum News are committed to following the story and to telling the stories of people in the industry, and we will be there for the entire ride until the lights finally, go back on—on Broadway and across the city.'"
DiLella then talked to Cheryl Wills, anchor of the 10 o'clock news, and asked, "Do you really think this can be a month?' And she said to me, 'This is going to be much longer than a month. This is bad. This is really bad. She was a veteran journalist, and I just thought to myself, You know what, she's seen things happen in this city," he said. "And I just knew then that this is gonna be a long time."
'How Can I Help the Industry?'
That set DiLella into motion "The first thing I thought was: How can I help the industry? And then next week, I called all my industry friends—everyone from Lin-Manuel Miranda, Debra Messing to Kristin Chenoweth, Sergio Trujillo and Jerry Mitchell—and I said, 'Guys, we're gonna do a special and raise awareness for the Actors Fund.'"
What followed was a series of specials that DiLella made on what was going on in the theater world and its professionals were coping.
"In April, May, June," he told Newsweek, "I started going out to the field. We would shoot these specials about what was happening in the community. I shot a whole Black Lives Matter special. And I talked to various members from the coalitions and I met with people throughout the city to see how the industry was reacting to this other thing that was happening alongside the pandemic."
And the episodes kept coming.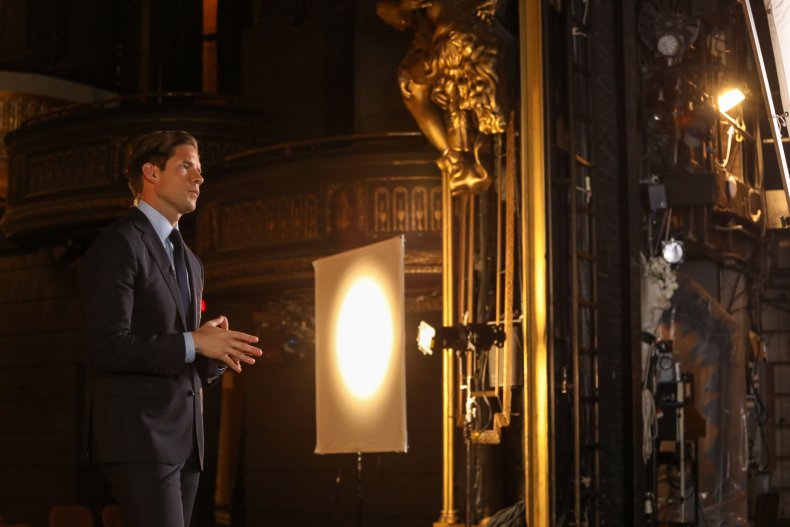 "We did a big episode in the fall about how artists are surviving. I met with dancer Robbie Fairchild and we did a whole story on boo•kay nyc, his flower shop run out of his Upper West Side home—how he was selling flowers and hiring chorus boys who he worked with over the years to deliver flowers. That's how they were making money."
In addition to the specials, DiLella had other theatrical projects on his agenda.
"[The producers] asked me to host the Drama Desk Awards. The awards were obviously canceled, but they wanted to go in with a ceremony. So we put together a whole special. I went out on the street, literally in front of all the marquees, and presented the awards. And I called on Patti LuPone, Lin and Adrienne Warren (of Tina). All these people helped me present via their iPhones.
"So, it's been nonstop for me."
Think Bigger Thoughts
As DiLella was working on all of these projects, the idea of a bigger project began to percolate in his mind.
"Along the way, I started to realize that there's something here about how resilient this community is and how strong this community is and how they're still creating, they're still coming up with ways to stay relevant and stay in the spotlight."
And people in the industry buoyed his spirits.
"Thank God that NY1 gave me a platform to cover the industry and to continue to check in with members of the community. I mean, the industry kept me optimistic with how they were just insisting that 'we are here, we are here to stay, we will be back. And we will do it safely.'
"Don't get me wrong," DiLella admits. "Certain days are harder than others. I craved sitting in a theater when I would walk into some of these spaces.
"To me theater is church. To me theater is temple. I'm not a religious person, but the theater is my home. The theater is my religion. So to be in these spaces. getting to check in with some of these spaces and the folks who run them even though there was no theater to be had on stage. That's what got me through."
Neither Plagues, Nor Pandemics…
History is on theater's side. The Elizabethans had the plague, and Shakespeare came out of it with King Lear. The 1918 flu epidemic ended, and the 1920s were the first Golden Age of serious theater in America. So theater has always come back.
Meanwhile, people took notice of the NY1 specials.
"In May of 2021, I got approached by Studio City a production company in L.A. saying, 'We've been we've been watching your stuff along the way. And do you have any ideas of something we could collaborate together on?' And Cody Williams and I said, "We have some ideas. One of them is a documentary about this reopening moment."
And they said. "We love it.'"
And right away, DiLella and Williams went to work, with Williams ultimately directing the film.
The Big Day
"So we started filming, we started just collecting ideas. And on September 14—the big day, when Broadway is back with Hamilton, Lion King, Chicago and Wicked reopening—NY1 said to me, 'We're going to run up to the Majestic Theatre [where The Phantom of the Opera is playing]. We want you to host the special from the Majestic.' I interviewed the governor. Lin-Manuel visited me, Kristin Chenoweth, Jesse Tyler Ferguson, Danny Burstein—all these stars came to me at the Majestic Theatre.
But, he backtracks a little, "four days before that, PBS called and said, 'We want to buy the documentary. You have the greenlight. Get going.'
"And so on September 14, we started. We had, I think, 15 people in the field following Kristin Chenoweth going from the Majestic where she was with me to [the Gershwin Theatre for] Wicked to make the curtain speech backstage.
"From September 14, through the end of December, I two full-time jobs."
Putting It Together
When asked if there was anyone he could not talk to for Reopening that he wanted, DiLella told Newsweek, "Honestly, putting it together was somewhat of an embarrassment of riches because we everyone we reached out to they said, 'Yes, we're on board.'
"There were hiccups along the way, and I think it is reflective of kind of what we're going through right now. [At the time of publication, due largely to the Omicron surge, several shows have paused production until spring]."
Reopening features a long list of the boldest-faced names in theater. A partial list aside from those already mentioned includes Laura Benanti, Jawan M. Jackson of Ain't Too Proud, Jeanna de Waal of Diana: The Musical, Rachel Tucker of Come From Away, Andrew Rannells, Chita Rivera, Michael James Scott and Elizabeth Stanley.
The stories of Scott and Stanley are especially touching.
"Michael James Scott, who plays the genie in Aladdin is one of our principal characters. And we followed him from his first day of rehearsal where they were literally starting from scratch, with getting the show back up and running. They did the whole rehearsal process, tech, all that good stuff; and we followed him along the way and then they open on September 28. Big celebration. And then the next night, they're dark because of breakthrough cases within the cast.
"He flew his entire family out from all over the country to see him do the genie. Yes, he's been with the show for a while, but they've never seen him do the genie on Broadway. He had his whole family here. And the show was canceled for 10 days because of those breakthrough cases. So they never got to see him.
"We also follow Elizabeth Stanley. She's one of our principal performers, and you see this actress who literally has worked her entire life to get this moment of being celebrated the way she is and hit the point of being a leading lady. When she took on Jagged Little Pill. Of course, that came to an early end. And when the show was announced to go back to Broadway, the other thing that she's always wanted in her life was to be a mother. So, she couldn't return to the show because she had to be with her baby.
Heroes of the Shutdown
When asked who the hero of this story is, DiLella quickly answered Andrew Lloyd Webber.
"I sat down with Andrew Lloyd Webber the night he brought back Phantom and kind of shadowing him that day. He was like a kid in the candy store. walking back into his theater, checking out everything, making sure everything looked right.
"He will come out as one of the heroes of this time because look what he was doing in the U.K. He immediately gathered information and said, 'Guys, we got to figure out how to get people back to theater and do it safely.' When everything happened for the Actors Fund, he said to me, 'Frank, I have people looking at research on how to create doorknobs that you touch, and they immediately disinfect as soon as the person touches them.'
"Remember, at the beginning of pandemic, we thought everyone had to wear gloves—before the masks. He was the first to gather people in a theater when he had a concert with Beverley Knight at the Palladium, and everyone was socially distanced. He put himself on the trial list for the vaccine very early on. And he was one of the first people to get the vaccine and say, 'Hey, this is something we all need to do.'
"So to be there with him—in my mind the grandfather of Broadway—on his opening night of The Phantom of the Opera was pretty epic. And you see after his opening, when we walk out to the street, and he is playing DJ, on this huge stand in front of Majestic Theatre you can't not smile he's just in his glory playing DJ to this huge crowd—the street shut down with the big dance party. He's cheeky, as the Brits would say. He's very cheeky."
Unsung Heroes
For DiLella, at the top of the list of unsung heroes of the reopening is Kristin Chenoweth. "You say her name, and people who aren't in the theater circles know exactly who she is. But in the documentary, you see she is a Broadway baby at heart. It was very important for her to be there on that big night when on the shows, reopen and when we were we were filming this I called her up and said, 'Hey, I'm doing this big special on NY1 on September 14, live from the Majestic Theatre, where I'm going to be visited by members of the community. Would you mind showing up?' And she said, 'Absolutely. I'm there for you, but I'm going to a show that night to show the world that Broadway is back.' And she was going to Lion King. And then I get a call from the producers over at Wicked saying. 'Hey, we know Kristin's with you on the 14th on NY1. Can you ask Kristin to come to our show after and do the intro speech for Wicked to welcome everyone back to the Gershwin Theatre? And I said absolutely. So I called Kristin and said, 'Would you mind if we filmed this moment of you getting in the car going to Wicked, hanging out with the cast and then welcoming the audience back to the theater for the first performance of Wicked? She said, 'Absolutely." She was like: I want people to know Broadway is back.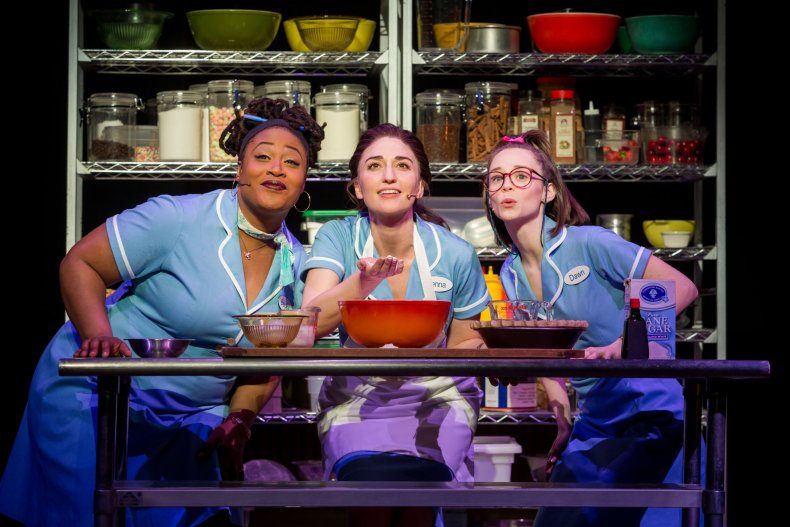 Another unsung hero of this time who stands out for DiLella is Sara Bareilles. He told Newsweek, "They pulled that the Waitress production basically out of storage and put it back up. And Sara said to me multiple times, 'I wanted to be a part of this moment. Frank, and I want to help get my friends and people in the industry back to work.'
"And it's no secret Sara Bareilles sells tickets, and Waitress did very well when she was in it. She's a Broadway baby. And as in the documentary, she says, 'This is my community. When I took on Waitress for the first time, I realized, these are my people. I'm here for my people. She said I there's no place I'd rather be. So, to me, she is also a hero. Waitress was one of the first book musicals to open on Broadway Waitress and Hadestown opened the same night—September 1."
What makes Bareilles' story particularly special is that Waitress was her first Broadway show. Yet, she has felt accepted by the community and vice versa. Her story of acceptance and unity is part of what gives Reopening an undercurrent of hope, when common sense might tell you that that is not wise.
Ultimately, Reopening is an early valentine to Broadway. People pull together, they do what it takes to get by. While Zoom plays (especially those of Irish Repertory Theatre and Richard Nelson) and streaming (the Mint and Red Bull) were some truly great highlights of that dark time, even those artists still craved the return of in-person events. And even with all Broadway's recent fits and starts, Reopening shows that that show people will not be denied. The love and acceptance that so many crave when they get involved in theater is on full display in every frame of this very moving documentary.
Great Performances—Reopening: The Broadway Revival premieres on Tuesday, January 18 at 9 p.m. on PBS. For more information, go to PBS.org.