Newsom, Elder Polling Strong in California Recall 1 Week Out From Election
California Governor Gavin Newsom is likely to defeat the effort to remove him from office through next week's recall election, polling results released over the last two weeks suggest.
If the Democrat is recalled, conservative radio host Larry Elder is the candidate most likely to replace him, according to several voter surveys conducted since Elder announced his campaign in July. Elder is one of 46 candidates who appear on the recall ballot.
If more than 50 percent of ballots returned in the September 14 special election are cast in favor of ousting Newsom, the recall candidate who receives the greatest number of votes will replace him.
Newsom is currently serving his first term as governor after winning California's 2018 gubernatorial election with nearly 62 percent of all votes cast. Despite the large margin with which Newsom won in 2018, he has faced criticism for his handling of the coronavirus pandemic and other key issues in the state, such as homelessness and wildfire management.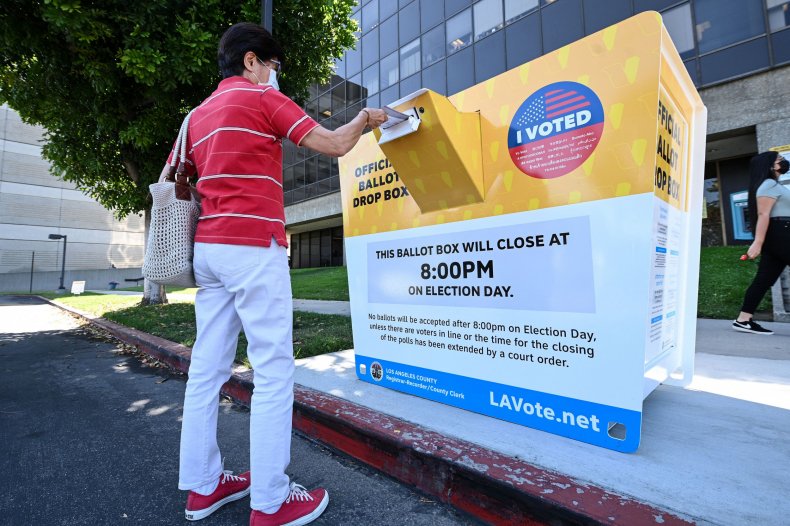 If Newsom is recalled, he would be the third U.S. governor and second in California to be removed from office through a recall election. The most recent recalled governor in California was Democrat Gray Davis, who was replaced by Republican Arnold Schwarzenegger in 2003.
Newsom has the California Democratic Party's backing in the recall and support from President Joe Biden, who encouraged Californians to vote against recalling Newsom in a tweet last month. Senators Elizabeth Warren of Massachusetts and Bernie Sanders of Vermont also appeared in ads supporting Newsom that the governor's campaign released in the weeks leading up to the special election.
Despite the support from Newsom's fellow Democrats, polling results released in July and early August suggested voters were split on the recall decision. But new polling results released at the end of August and in early September indicated support is rising for Newsom.
A Change Research poll released late last month said 57 percent of likely voters wanted to keep Newsom in office and 42 percent wanted him recalled. Subsequent polls released by SurveyUSA and the Trafalgar Group found voters against the recall polling just over 50 percent, and a Public Policy Institute of California (PPIC) survey released last week said 58 percent of respondents intended on voting to keep Newsom in office.
Though the recent polling seems positive for Newsom, his campaign has warned voters against taking the results for granted. Nathan Click, the communications director for Newsom's campaign, told Newsweek when contacted for comment about the Change Research poll last month that Democratic voters "shouldn't take a shred of comfort" in the results.
"There is no precedent for this election, and no one has a crystal ball," Click said.
While Newsom appeared to gain strength in recent polls, Elder continued to lead the field of Republican recall candidates. As Elder led by double-digits in recent polls by PPIC, SurveyUSA, Change Research and YouGov, fellow Republicans such as former San Diego Mayor Kevin Faulconer, businessman John Cox and state lawmaker Kevin Kiley polled between 2 and 10 percent. Television personality Caitlyn Jenner, who is also running as a Republican, polled between 1 and 4 points in August, and former Congressman Doug Ose dropped in the polls after a heart attack prompted him to end his campaign. Ose has since endorsed Kiley in the race.
Of the 46 recall candidates on the ballot, 24 are Republicans and nine are Democrats. Though most of the top-polling recall candidates are Republicans, Democrat Kevin Paffrath also emerged in August polls as a candidate whom some California voters said they were considering supporting. One SurveyUSA poll conducted in early August found Paffrath leading Elder, who has topped all other recall surveys since announcing his campaign. Paffrath has since polled between 6 and 22 percent, several points behind Elder but ahead of the other Democrats listed on the ballot.