Nick Cannon Reacts to Rumors He Died
Nick Cannon has reacted to erroneous rumors that he has passed away, by posting on Twitter to declare that he is very much alive.
On Friday, a tweet was shared by Nigerian outlet Idoma Voice that featured the headline: "Fact Check: Is Nick Cannon dead or alive? What happened to Nick Cannon?"
The corresponding article reported that Google searches had produced results claiming The Masked Singer host Cannon passed away on March 12, 2023.
It also cited a Facebook page, titled "R.I.P. Nick Cannon," that has garnered almost 1 million likes from users of the popular platform. The page lists Cannon's purported date of death as March 15, 2023.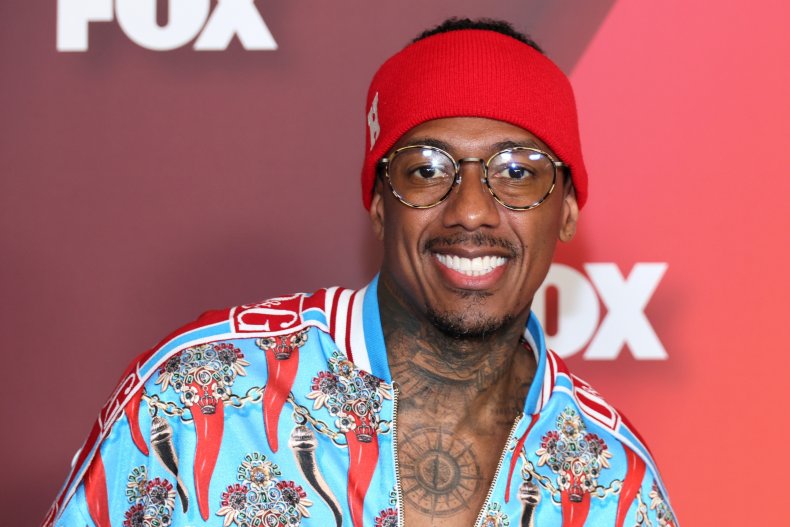 However, the same article cites parody website Media Mass as quoting a representative of Cannon shooting down the rumor.
"He joins the long list of celebrities who have been victimized by this hoax," reads the purported quote. "He's still alive and well, stop believing what you see on the Internet."
Newsweek has reached out to a representative of Cannon for comment.
An apparently amused Cannon took to Twitter on Friday morning to address the hoax.
"Though I walk through the valley of the shadow of Death... They been trying to kill me off for years!!!" Cannon wrote alongside a laughing emoji. "What else you got!?"
The post attracted a host of comments from Twitter users, including one from musician Perré Aye, who commented: "Tell them you not done populating the earth."
Cannon's sizable brood has grown significantly over the past year, with the father of 12 welcoming five children with five women in the space of five months. His 2022 baby boom concluded with the birth of his daughter, Halo, with Alyssa Scott on December 14.
The TV personality's large family has seen him become the focus of numerous jokes in recent years, with Cannon himself often publicly laughing along.
Things were stepped up a notch on March 8, when Cannon and fellow comedian Kevin Hart took to their respective social media accounts to share what was styled as the trailer for a show on E!, where contestants put themselves forward to have his next baby.
"You're going to get some contestants that wanna have your baby," host Hart told Cannon in the trailer, as a number of excited women stepped out onto a stage before a cheering audience.
It was later revealed that the mock trailer was a part of the comedians' upcoming E! competition series Celebrity Prank Wars, which is to debut on April 6.
Hart has previously joked about Cannon's rapidly expanding family in the past, renting a Los Angeles billboard in December 2020 to share a banner that read: "For any advice on fatherhood? Call my best friend Nick Cannon."
On December 14, Cannon and model Scott announced the birth of their daughter, Halo. The pair also had a son, Zen, who was born in June 2021. Zen died in December 2021 from a brain tumor caused by hydrocephalus, an abnormal increase in fluid in the brain.
Weeks before Halo's arrival, Cannon and radio personality Abby De La Rosa welcomed a daughter called Beautiful Zeppelin on November 11. This is the third child for Cannon and De La Rosa, as their twins Zion Mixolydian and Zillion Heir were born in June 2021.
Cannon announced via Instagram on September 14 that he and former The Price Is Right model Lanisha Cole had welcomed a girl named Onyx Ice Cole.
Nine days later, on September 23, Wild 'n Out host Cannon had a son, Rise Messiah Cannon, with former Miss Universe contestant Brittany Bell, the pair's third child together.
Amid his busy year, Cannon had a son, Legendary Love, in July with model Bre Tiesi.
Cannon is also the father of 11-year-old twins, Monroe and Moroccan, with his ex-wife Mariah Carey. He shares a son, Golden Sagon, 5, and a daughter, Powerful Queen, who turned 2 in December, with Bell.
In November, Cannon poked fun at himself after a meme predicting what the United States will look like by 2050 started making the rounds on social media.
"National Geographic determined what Americans will look like in 2050, and it's beautiful," the post read, which showed a slew of people with varying hairstyles but all with Cannon's face.
"Wow! Everybody got jokes!" he wrote on Instagram at the time.
Update 03/17/23, 8:43 a.m. ET: This article was updated with additional information.