Nigeria Budget 2017: Abuja to Spend Its Way Out of Recession With Record $23.7 Billion Plan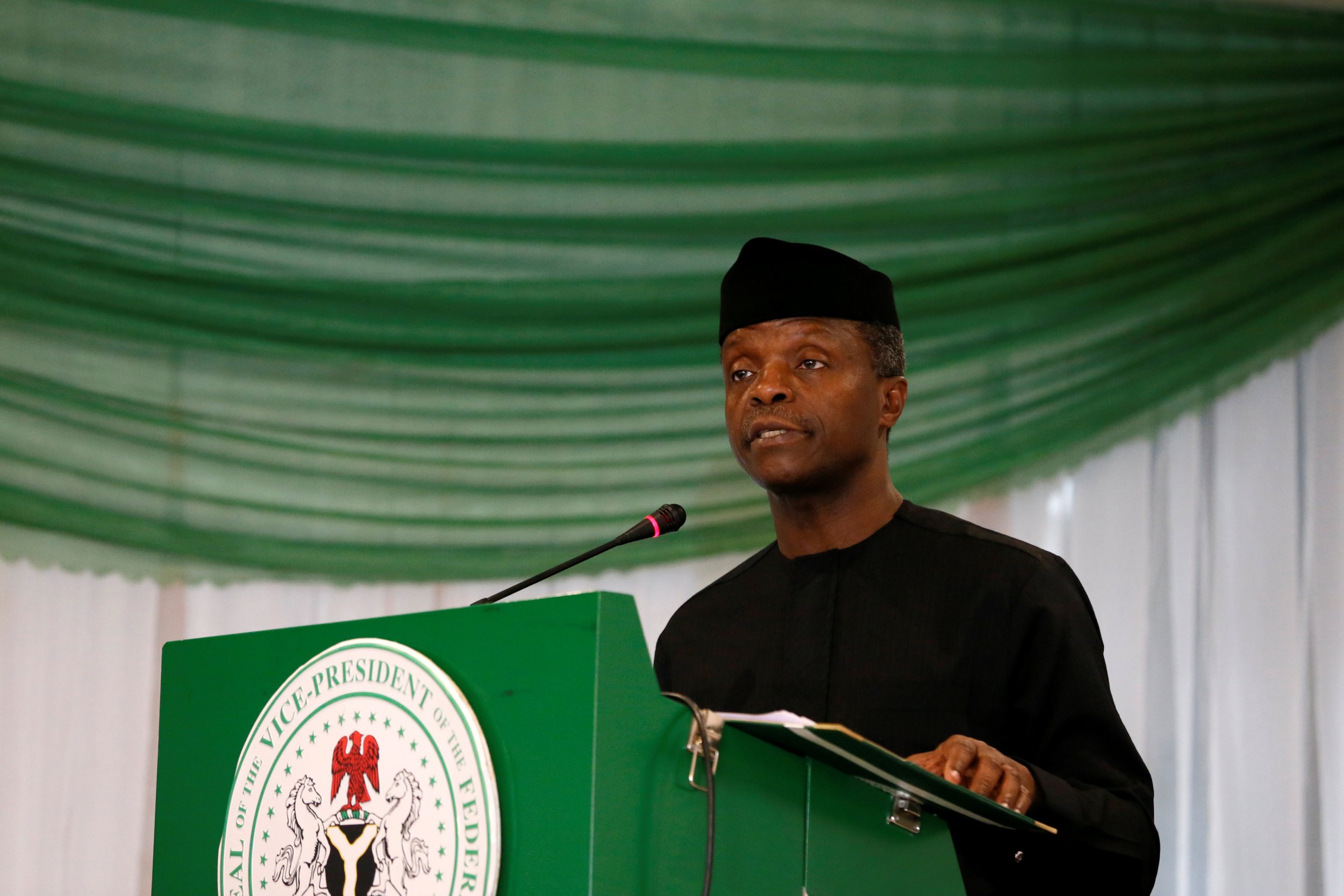 Nigeria's "path to progress and abundance is clear" according to the country's vice-president Yemi Osinbajo, who signed a record 7.44 trillion naira ($23.7 billion) budget on Monday aimed at dragging the African giant out of recession.
Osinbajo, Nigeria's acting president while President Muhammadu Buhari is in the U.K. on medical leave, signed off the 2017 spending plan after a five-month delay, caused partially by wrangling over budgets for proposed infrastructure projects in the West African country.
One of Africa's biggest economies, Nigeria has been mired in recession since mid-2016, when a global fall in commodity prices and the decimation of oil production by militants in the southern Niger Delta perpetuated the country's economic malaise. Nigeria is heavily dependent on oil.
Osinbajo said that the budget would focus on spending Nigeria's way out of recession. Two trillion naira ($6.4 billion) has been set aside for expenditure on long-term infrastructure projects, while over 500 billion naira ($1.6 billion) will be spent on roads, power and housing in the country, which has a population of 180 million. The budget is to be largely financed by borrowing.
"The tools are in place and the resilient, resourceful and hardworking Nigerian people are set to go. I have no doubt that by the grace of God, the bleakness of recession is about to witness the uplifting dawn of abundance," said Osinbajo after signing the budget on Monday.
Read more: Who is the man running Nigeria while President Buhari is absent?
Osinbajo also pledged that the 2018 budget would not suffer the same delays as its 2017 equivalent. The government will put forward the 2018 budget by October 2017 for passing into law before the end of the year by lawmakers.
The signing of the budget is the latest achievement for Osinbajo while standing in for Buhari, who has been absent since May 7 in what is his second extended period of medical leave in 2017. The vice-president has also made several trips to the Niger Delta in a bid to calm tensions that saw militants attack oil pipelines in 2016. Last week, Osinbajo visited the northeastern city of Maiduguri—where Boko Haram launched its Islamist uprising in 2009— just hours after a Boko Haram attack to launch a food distribution program aimed at assisting 1.8 million people affected by the insurgency.
Buhari's absence has prompted concern among Nigerians and questions remain about the 74-year-old president's long-term health. The Nigerian government's failure to explain Buhari's illness has sparked comparisons with the late Nigerian president Umaru Musa Yar'Adua, who left Nigeria in 2009 for medical treatment in Saudi Arabia and did not return for three months. Yar'Adua eventually returned in 2010, only to die three months later in office.