In Nigeria, Planting a Future Amid War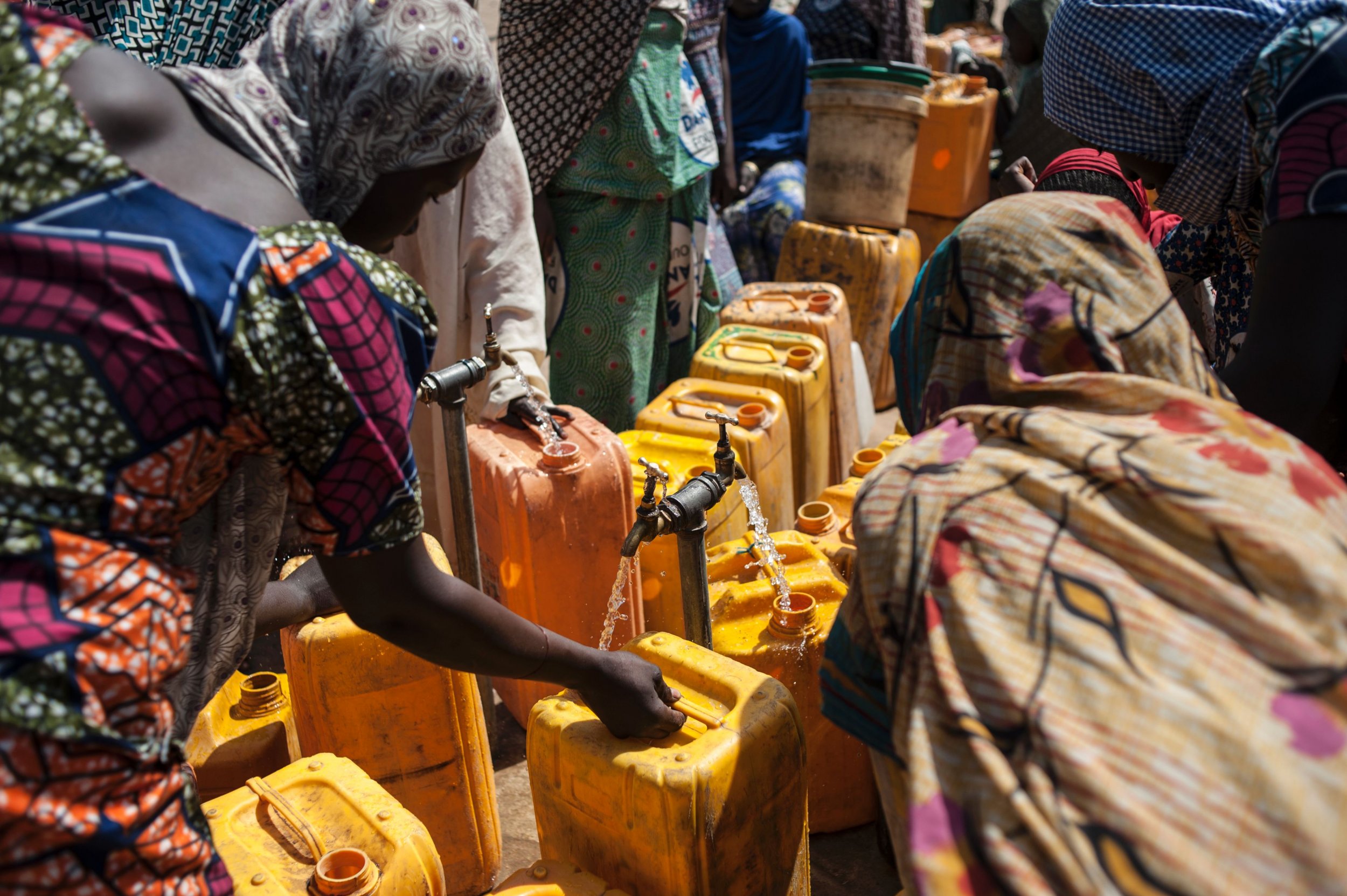 This week's military airstrike on a community of displaced people in Nigeria killed at least 70 civilians and aid workers and injured more than 100 others, according to aid groups. It was a gut-wrenching reminder that the years-long conflict and desperate humanitarian situation here is far from over.
Across the northeast part of the country, 8.5 million people are in urgent need of humanitarian assistance and 1.6 million people are still internally displaced. More than 5 million are unsure where their next meal will come from, while 450,000 children—and counting—are severely malnourished.
This week, I visited Dikwa and Ngala, two outlying districts in the northeastern Borno state— the epicenter of Boko Haram's insurgency —where Mercy Corps plans to expand our response to the crisis. None of the displaced families we spoke to have any immediate plans to return home. Dikwa and Ngala are hosting up to 70,000 displaced people each. The people are anxious to go home, especially ahead of the upcoming planting season, but are afraid. While the main towns in these districts are secured, outside of the safe zones, rural areas are lawless and off-limits. Even leaving the town perimeter to forage for firewood can get you killed.
Even in these dire conditions, there is some hope. According to United Nations data, the number of people receiving food in northeast Nigeria grew by 250 percent in the past five months; thanks to the International Committee of the Red Cross, Médecins Sans Frontières and other humanitarian organizations, some 2 million people are able to stave off hunger. But people here are still at rock bottom.
In Borno, only a minority of displaced families are lucky enough to have tents provided by humanitarian agencies. The majority lives with impoverished members of the host community or in makeshift shelters built of straw mats, metal sheeting, mud and sticks, or in abandoned buildings that are missing roofs, doors and windows. Markets are starting to function in some of these secured areas, but no one has money, so vendors have no incentive to bring in their goods.
In southern Borno, Mercy Corps is helping 130,000 people through various types of assistance, including providing food vouchers to stimulate these markets, and getting cash into people's hands in order to encourage traders to bring their goods. We hope to expand this approach to Dikwa as soon as possible.
At this time of year, farmers in Borno are normally planning for the planting season. With rains coming in late May or June, land preparation must start as early as March. As a result of the continued violence, many farmers across the state have not been able to reach the land where they have cultivated food for years. This year, again, they may miss the harvest.
In both Dikwa and Ngala, however, there may be opportunities for kick-starting at least some agricultural production. We saw land that can be used for cultivation, including many hectares within the secure perimeters of the towns and with access to irrigation. Dikwa is famous across Nigeria for its onions, as well as rice and grains. There is enough land to put hundreds of people to work. The farmers who own the land just need assistance buying pumps for irrigation, seeds, tools, plows and other tools.
Whether it is providing food or distributing seeds for farmers to grow their own, this assistance cannot happen without significant and ongoing support from the international community. Response to the crisis is drastically underfunded and the world needs to step up. The United Nations has launched a $1 billion funding appeal for Nigeria in 2017; at the end of February, a donor conference in Oslo, Norway, will try to mobilize support for this overlooked crisis.
Everyone should work with extreme urgency to ensure there is enough basic aid—food, clean water, hygiene services, shelter—for the millions of people still depending on it to survive. Simultaneously, we must take advantage of opportunities to stimulate local markets, switching to cash over direct aid wherever feasible, and providing income-generating opportunities, such as helping people cultivate crops, re-stock their herds and jump-start small businesses. Young people especially need both employment opportunities and a stake in their communities' future. In areas like this, affected by prolonged conflict, humanitarian aid must combine emergency relief with investment in social and economic recovery at the earliest possible stage.
The people I met this week in Dikwa and Ngala have faced unimaginable loss and devastation, but I witnessed an overwhelming will and desire from them to be the agents of their own recovery and get back on their feet. They don't just want humanitarian handouts. Instead, with our strategic support they can survive this crisis, return to peace, build better lives and transform their communities. But we must start that process now.
Adrian Ouvry is the regional humanitarian advisor for West and Central Africa at Mercy Corps.