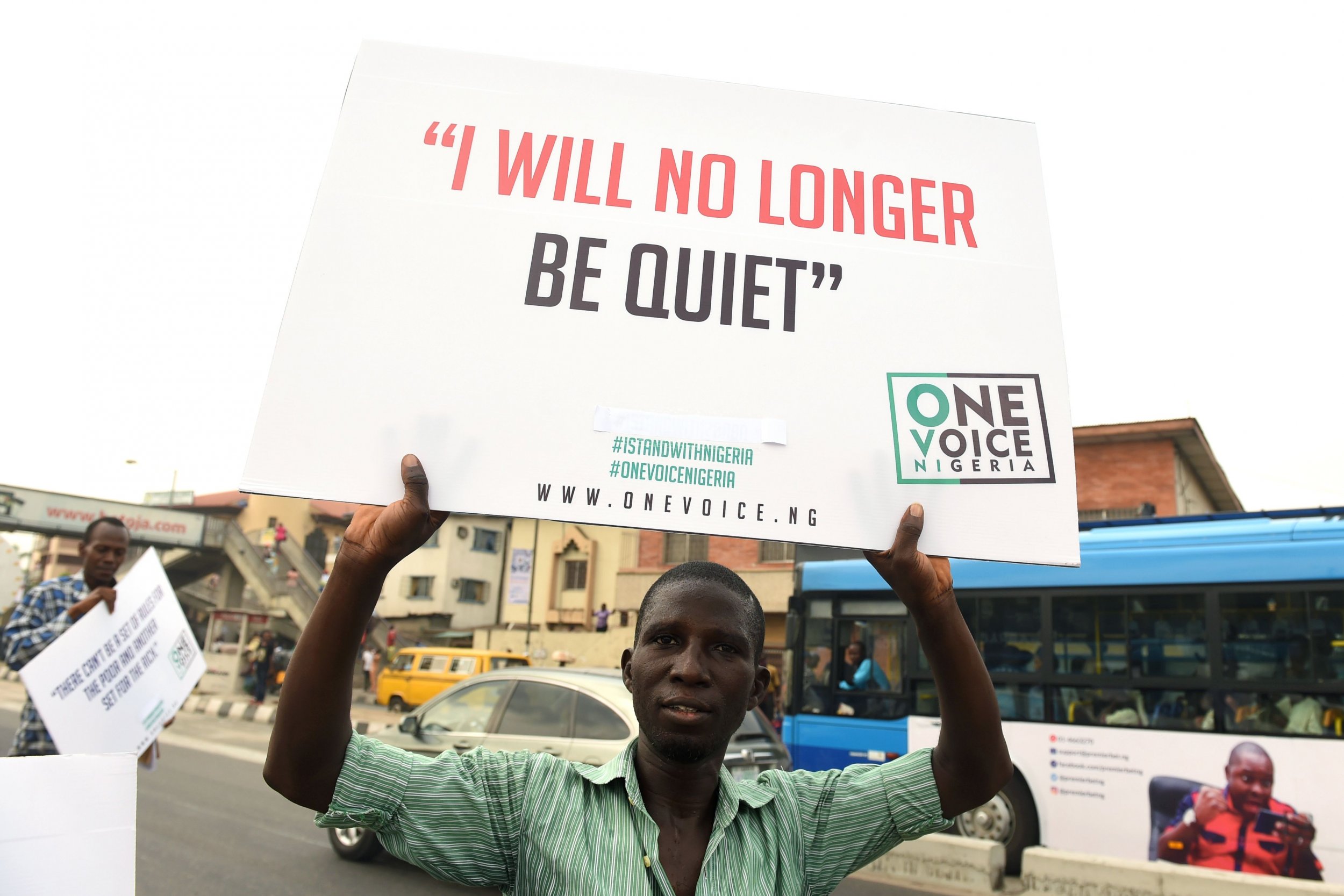 Hundreds of Nigerians took to the streets on Monday to protest against the struggling economic conditions and a brutal insurgency in the country.
Protesters turned out in the commercial hub Lagos and the capital Abuja in rare public demonstrations against President Muhammadu Buhari and his government. More than 500 demonstrated in Lagos, along with a heavy security presence, Reuters reported.
The protest was organized by Enough is Enough Nigeria (EiE Nigeria), a coalition of activists. It was originally headed up by Nigerian musician Innocent Idibia —also known as 2Baba or 2Face—but Idibia pulled out of the march on Sunday, citing security concerns.
Nigeria fell into recession in 2016 after a global fall in commodity prices and a downturn in its oil production caused by militant attacks on pipelines in the oil-rich Niger Delta. The country is also dealing with a massive humanitarian crisis as a result of a seven-year insurgency by Boko Haram—an Islamist militant group—which is still ongoing and has displaced more than two million people.
Protesters also called for an explanation as to Buhari's absence from the country since mid-January. The Nigerian president left the West African state on January 19 for a vacation, including medical check-ups, in the U.K. Buhari was due to return on Monday but informed lawmakers on Sunday that he would remain in Britain while awaiting the results of medical tests.
"We have a missing budget, missing Chibok girls and missing president," protesters chanted, according to Reuters. The statement was in reference to the more than 200 girls kidnapped from their school in Chibok, northeast Nigeria, by Boko Haram in 2014, the vast majority of whom are still missing. Protesters also referred to the fact that the 2017 budget has not yet been approved by parliament.
In a series of statements on social media, Nigeria's Vice-President Yemi Osinbajo—who has assumed the role of acting president in Buhari's absence—said that the government was aware of people's concerns.
"To those who are on the streets protesting the economic situation and those who are not, but feel the pain of economic hardship, we hear you," said Osinbajo. "You deserve a decent life and we are working night and day to make life easier."
Buhari came to power in May 2015, promising to reduce the country's dependency on oil, end the Boko Haram insurgency and crack down on corruption. But while the 74-year-old former military ruler has made progress—in retaking the majority of territory held by Boko Haram, for example—his administration has struggled to enact its pledges.
The West African country still relies on oil for much of its revenue, and Nigerians had to endure crippling fuel shortages in 2016 due to the country's inability to refine enough oil to meet its needs. Boko Haram continues to carry out suicide bombings in the northeast, though its fighting capacities are far reduced. Although several trials are ongoing, there have been no high-profile corruption convictions under Buhari.
Nigeria is also dealing with an ongoing conflict in its Middle Belt between settled farming communities and roving herdsmen, mostly belonging to the Fulani ethnic group, who clash with farmers over grazing land.