North Korea Calls Trump Nuclear Button Tweet the 'Spasm of a Lunatic'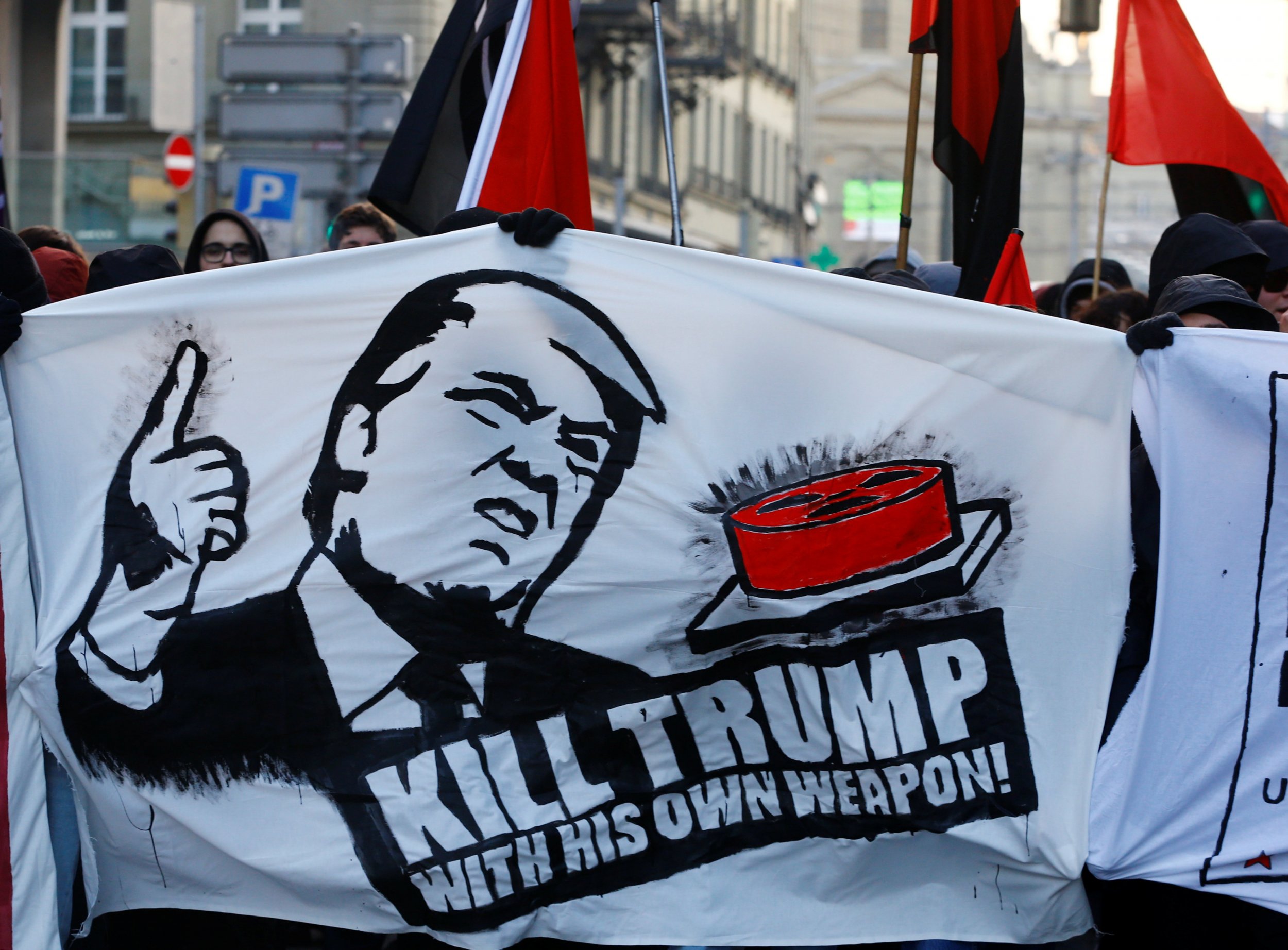 North Korea's state-controlled press has hit out at President Donald Trump's tweet boasting about the size of his nonexistent nuclear button.
An article published in the ruling party mouthpiece Rodong Sinmun newspaper on Tuesday mocked the president as a "lunatic madman" for his Twitter outbursts, explicitly mentioning the name of the social media platform, which is blocked in the country.
Trump's two-week-old tweet was sent in reaction to North Korean leader Kim Jong Un's New Year's address, in which Kim claimed his missiles could strike the U.S. mainland and the nuclear button was on his desk at all times. "Will someone from his depleted and food starved regime please inform him that I too have a Nuclear Button, but it is a much bigger & more powerful one than his, and my Button works!" Trump wrote in a tweet on January 2.
Read more: Japan news issues North Korea missile launch alert—but it's a false alarm
The tweet sparked outrage and mockery on Twitter, and was also referenced in a banner reading "Kill Trump with his own weapon" featured at a march protesting the president's visit to Davos in Switzerland on Saturday.
At a press briefing, White House press secretary Sarah Huckabee Sanders had to spurn a barrage of questions about Trump's tweet and mental health, saying Americans should worry about the mental health of the North Korean leader instead.
The North Korean newspaper article did not respond to the comments on the mental state of the country's leader, instead focusing on Trump's tweet as evidence of his mental instability and readiness to throw the human race into "the fireball of a nuclear war." It quoted the response of several American and foreign news outlets to the inflammatory tweet.
The article used Trump's words to support North Korea's need to build up its own nuclear arsenal and claimed the president's mental state derived from his failure to contain the country's nuclear and missile program, calling the tweet "a reflection of the desperate psychological state of the failed loser trying to prevent the powerful advance of our army and people."
The North Korean article, however, made no mention of Trump's reaction to the discussions about his mental health, rejecting what he called "fake news mainstream media" calling into question his mental stability and intelligence, tweeting that accomplishments such as being elected president on his first try qualify him as "not smart, but genius....and a very stable genius."
The North Korean media has often used epithets related to senility or mental health issues to undermine Trump's words and behavior. In a recent article, it mentioned how Trump's mental health was called into question in Michael Wolff's book Fire and Fury, claiming that the book's popularity foretold Trump's political end.