North Korea Calls U.S. Country of 'Extreme Racists' After George Floyd Protests
North Korea has lashed out at the United States over its handling of widespread protests sparked by the police killing of an unarmed black person, adding Pyongyang to a growing group of international voices criticizing Washington.
A spokesperson for the International Department of the ruling Workers' Party of Korea (WPK) Central Committee condemned the calls in the U.S. for violently quelling the protests, which President Donald Trump and some of his officials have argued were infiltrated by the loosely affiliated left-wing movement antifa. The unrest after the death of George Floyd by a Minneapolis police officer has unfolded across major cities, including the capital, and have been sometimes rocked by violence.
"Demonstrators enraged by the extreme racists throng even to the White House. This is the reality in the U.S. today," the official, quoted by the Central Committee newspaper Rodong Sinmun, said. "American liberalism and democracy put the cap of leftist on the demonstrators and threaten to unleash even dogs for suppression."
The remarks came as part of a broader criticism of Secretary of State Mike Pompeo's efforts to champion a West-led world under liberal democracy and vilify China's ruling Communist Party, which shares socialist roots with North Korea's own state ethos. Pompeo told Fox News on Sunday that the "threat" posed by the People's Republic was its "doctrine and ideology."
The North Korean spokesperson said that Pompeo's "nonsensical remarks" indicated a similar strategy toward Pyongyang's brand of socialism. The official ridiculed Pompeo as having "become too ignorant to discern where the sun rises and where it sets," while branding his description of growing Chinese Communist Party power as an acknowledgment that its socialist path had become stronger, warning Washington's top diplomat was "nervous over the plight of the U.S. on the downhill side."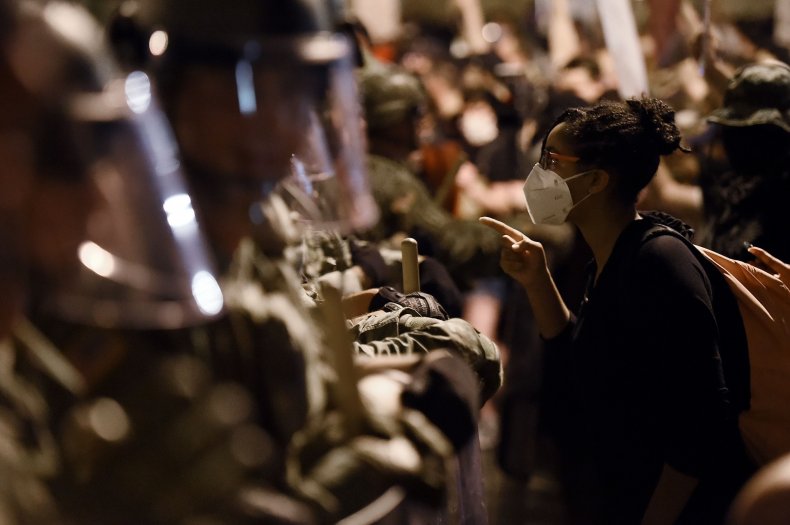 Rodong Sinmun and North Korean Cabinet newspaper Minju Choson have covered Floyd's death and the ensuing unrest that has rocked major U.S. cities for more than a week, highlighting the plight of systematic racism and police brutality within the country. Pyongyang officials have previously accused President Donald Trump's administration of pursuing racially charged policies.
China has also closely followed civil unrest in the United States. Chinese Foreign Ministry officials have expressed solidarity with the Black Lives Matter movement and criticized Washington officials for their "double standards" in supporting explosive protests in Hong Kong while seeking to suppress dissent at home.
Other countries critical of U.S. policy, such as Russia, Iran, Syria and Venezuela have also spoken out about the ongoing turmoil. The European Union has also condemned Floyd's death and expressed support for peaceful protest, while the United Nations High Commissioner on Human Rights Michele Bachelet issued her second statement on the situation Wednesday, calling on the U.S. government to condemn racism, avoid unnecessary law enforcement violence and prevent assaults on journalists.
The State Department has regularly accused its adversaries of human rights abuses. Washington's rhetoric toward Pyongyang somewhat softened as the two longtime adversaries sought a historic denuclearization-for-peace agreement but a prolonged stall in negotiations has begun to once again inflame tensions.
The U.S has stepped up its criticism of China recently as ties deteriorated over geopolitical, economic and ideological differences. The pair have swapped accusations over their handling of the novel coronavirus pandemic and continue to feud over global leadership.
In swipes at Beijing, Pompeo visited survivors of China's 1989 Tiananmen Square uprising Tuesday and State Department spokesperson Morgan Ortagus expressed solidarity the following day "with the people of China who continue to aspire to a government that protects human rights, fundamental freedoms, and basic human dignity." The Chinese government has placed the death toll of the military crackdown between 200 and 300, while outside sources estimate thousands were killed at the time.
Pompeo's visit came after Trump's declaration Monday that he would invoke the 1807 Insurrection Act to allow him to send in U.S. troops to quell nationwide disturbances. Defense Secretary Mark Esper on Wednesday expressed his opposition to the move.