Secretary of State Mike Pompeo was set to meet survivors of China's bloody crackdown at Tiananmen Square just over three decades ago as the death toll of ongoing protests in the United States continues to rise.
A schedule released Tuesday by the State Department read that Pompeo would meet the survivors of the 1989 Tiananmen Square uprising at 2:30 p.m. ET ahead of the 31st anniversary of its suppression by Chinese armed forces. The visit will come after he is expected to also accompany President Donald Trump on a visit to the Saint John Paul II National Shrine and the signing of an Executive Order to Advance International Religious Freedom.
Pompeo's event would be another symbolic jab at Beijing, with whom the Trump administration has been feuding on several overlapping geopolitical and economic issues.
But it also played out on the backdrop of worsening unrest at home. The president said Monday he would invoke a 200-plus-year-old military law to deploy troops in the U.S. in a bid to quell sometimes violent protests sparked by the death of George Floyd, a black man, after a white Minneapolis police officer, Derek Chauvin, kneeled on his neck. Chauvin has since been fired and charged with murder and manslaughter.
As of Tuesday, around at least nine people had been reported killed in connection with the protests against police brutality and systemic racism, and they include bystanders, suspected looters and one police officer.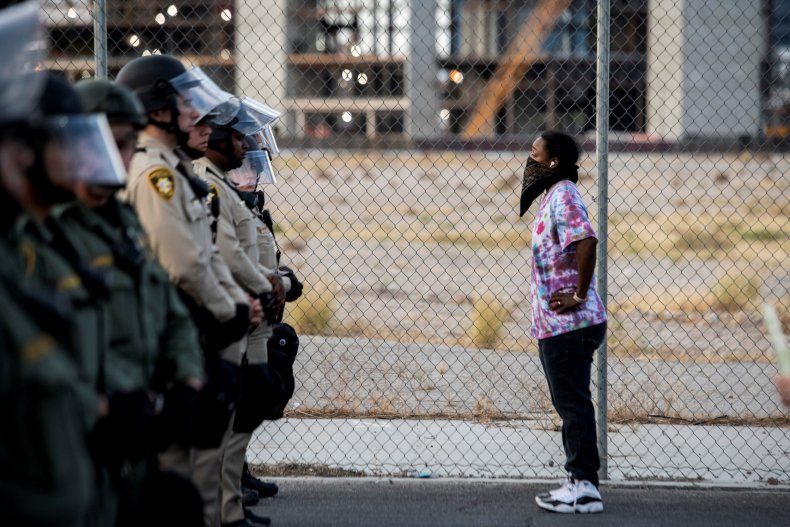 The Office of the United Nations High Commissioner for Human Rights and other international voices have condemned Floyd's death and a growing number of countries critical of U.S. policy have taken aim at the ongoing clashes between police and protestors. China has accused the Trump administration of holding a "double standard" in condemning Hong Kong's crackdown on demonstrations there while mobilizing the National Guard at home and threatening to shoot suspected looters.
Thousands have been arrested in both in the U.S. at protests following Floyd's killing and in the Hong Kong demonstrations where residents seek more independence from Beijing. Chinese officials have cautioned against comparing the two situations.
"During the disturbance over proposed legislative amendments in Hong Kong, hostile local and foreign forces flagrantly engaged in secessionist, subversive and terrorist activities that severely threaten national security, which are 'Hong Kong independence' and violence in essence," Chinese Foreign Ministry spokesperson Zhao Lijian told reporters Monday.
"As to the trigger for protests across the U.S., American media have made thorough coverage," he added.
That same day, Pompeo accused the ruling Chinese Communist Party of "destroying the amazing freedoms of the people of Hong Kong," a former U.K. colony granted limited self-rule as part of a 1997 handover to Beijing. He said Wednesday that this autonomy was no longer functional as a result of new Chinese laws, including recent national security legislation boosting efforts to crack down on separatism in Hong Kong. The new law led Trump to begin repealing special privileges afforded to the special administrative region under U.S. law.
Both Washington and Beijing have regularly accused one another of human rights abuses, with China's 1989 military efforts to end protests at Tiananmen Square in the capital being a recurring U.S. talking point. The demonstrations began that April shortly after the death by heart attack of former Chinese Communist Party Secretary-General Hu Yaobang, a reformist forced to resign over his beliefs, but was put to a violent end on June 4 with troops and tanks turning on the mass gathering.
Chinese government officials have placed the death toll between 200 and 300 among protesters and security personnel, while experts and activists have given estimates in the thousands.
As opposition anger continues to brew over Beijing's recent moves in Hong Kong, the opposition party Hong Kong Alliance in Support of Patriotic Democratic Movements in China shared a letter Tuesday showing an annual vigil for protesters killed during the Tiananmen Square uprising was set to be canceled due to concerns over the novel coronavirus.
"It starts; so soon," Pompeo tweeted Tuesday. "For the first time in 30 years, Hong Kong authorities denied permission to hold the #TiananmenVigil. If there is any doubt about Beijing's intent, it is to deny Hong Kongers a voice and a choice, making them the same as mainlanders. So much for two systems."