North Korea's Kim Jong Un Building Monuments to His Favorite Missiles Ahead of Meeting With Trump
North Korea has apparently begun building monuments to the recently developed intercontinental ballistic missiles (ICBM) that placed the U.S. within the country's trajectory for the first time ever, according to satellite imagery and expert analysis.
David Schmerler, a research associate at the Monterey, California-based James Martin Center for Nonproliferation Studies, shared on Saturday overhead photographs of what appeared to be a monument being constructed at the site of the November Hwasong-15 ICBM launch and two more at the site of both of Hwasong-14's launches in July. The tests were the culmination of decades of military development initiated by Kim's grandfather, inherited by his father and rapidly accelerated since Kim took over in 2011.
Related: More Americans Approve of Trump's Handling of North Korea: Poll
As President Donald Trump credited his own "maximum pressure" campaign with allowing him to potentially become the first sitting U.S. president to meet a North Korean supreme leader, Kim appeared to be gloating in the unprecedented success of the ballistic missile program rival South Korea claimed Kim would be willing to give up in exchange for peace.
North Korea and U.S.-backed South Korea have feuded since the earliest years of the Cold War that pitted them against one another in a three-year conflict in the early 1950s. North Korea's ruling Kim dynasty has long sought to develop nuclear weapons and ICBMs capable of delivering them as an effective deterrent against potential U.S. military action.
North Korea tested its first nuclear weapon in 2006, but it wasn't until last summer that the youngest Kim managed to oversee his country's first ICBM launch. It was followed by a second launch of what was referred to in North Korean state media as the Hwasong-14, and in November, a Hwasong-15 that traveled more than 10 times higher than the International Space Station. The entire U.S., including major cities such as New York and Washington, D.C., are potentially within the range of the latest weapon.
These launches, along with a hydrogen bomb test in September, came despite Trump's vows to halt Kim's nuclear ambitions. Trump has responded to North Korea by slapping the reclusive, militarized state with intense sanctions and holding frequent military exercises with nearby U.S. allies South Korea and Japan. In a rare sign of de-escalation, these drills were put on hold as even rarer inter-Korean talks were held surrounding the 2018 Winter Olympic Games in Pyeongchang.
The dialogue, one of many that all previously failed, produced never-before-seen diplomatic exchanges, including Kim's own sister traveling to South Korea, and a high-level South Korean presidential delegation visiting Kim in Pyongyang. Perhaps most shocking, however, was that delegation's revelation last week that Kim had invited Trump for direct talks—and that Trump had accepted. The Republican leader said he would meet Kim by May.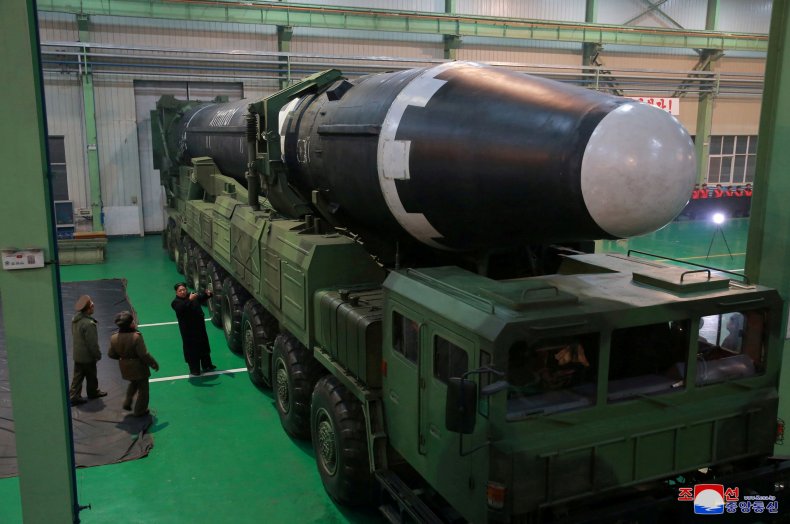 Kim and Trump's unpredictable approaches to diplomacy have made it difficult for observers to ascertain their motives. Both of their governments have steadfastly refused to make concessions, but South Korea has claimed Kim was ready to freeze his missile launches and ultimately denuclearize completely if his country's security could be guaranteed. North Korea has previously indicated its nuclear weapons were only necessary to defend against a hostile U.S. government.
These weapons of mass destruction are a vital talking point in North Korean propaganda, as well as part of Kim's national defense strategy. Kim has yet to formally announce a shift in his nuclear-armed stance, as the U.S. reportedly scheduled the resumption of military drills on the Korean Peninsula and Trump suddenly removed Rex Tillerson in exchange for a more hardline CIA Director Mike Pompeo as head of the State Department.