U.S. vs North Korea: Kim Jong Un Mocks Trump as Thousands Vow to 'Become Bullets and Bombs' at Mass Rallies
North Korea made a mockery of U.S. President Donald Trump and his intimidating warning of meeting Pyongyang's threats with "fire and fury" as the rogue state continued to threaten the U.S. territory of Guam and thousands of people showed up in the capital for a rally in support of ruler Kim Jong Un.
A North Korean general was quoted in state-run news agency KCNA rebuffing Trump's threats, made on Tuesday during the president's vacation at his golf course in New Jersey and criticized across the U.S. political spectrum as "a load of nonsense" and adding specific information about the military's plan to attack Guam.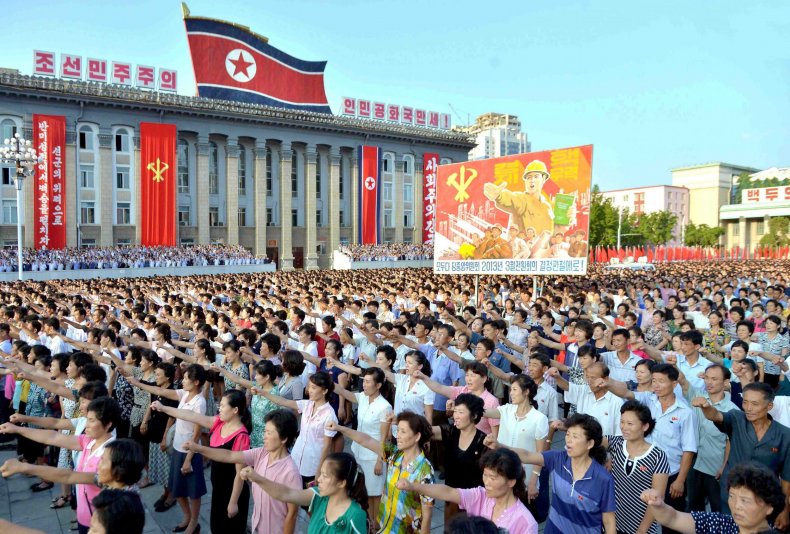 "The U.S. president again let out a load of nonsense about 'fire and fury,' failing to grasp the ongoing grave situation," said General Kim Rak Gyom, commander of the Strategic Force of the Korean People's Army, the military branch overlooking the missile units.
"Sound dialogue is not possible with such a guy bereft of reason and only absolute force can work on him," the commander added.
According to the general, the military is targeting the U.S. military bases in Guam, with the plans expected to be completed by mid-August and then presented to Kim Jong Un for him to decide if and when to strike.
Read more: Where is Guam? North Korea threatens attack on U.S. territory home to 160,000 people and two military bases
Bizarrely, KCNA reported specific details of the plan, which involves the launch of four Hwasong-12 rockets over Japan's Shimane, Hiroshima and Kochi prefectures, flying "3,356.7km [2,085 miles] for 1,065 seconds and hit the waters 30 to 40 km [18-25 miles] away from Guam".
The Hwasong-12 missiles are ground-to-ground medium long-range strategic ballistic rockets, which were tested in May and are believed to be able to reach the U.S. territory, which lies around 2,100 miles away from Pyongyang.
Read more: Is the U.S. going to war with North Korea? New threats from Trump and Kim Jong Un highlight troubled history
Along with the detailed plans, North Koreans demonstrated commitment and support of the country's anti-U.S. stance in a mass city rally on Wednesday.
According to KCNA, representatives of North Korea's army, institutions, workers' associations, party and government officials—but not Kim Jong Un himself—were present at the rally.
Thousands of people gathered in Kim Il Sung square in Pyongyang marching with their right-hand fist raised and holding signs reading slogans like "Let's become bullets and bombs devotedly defending respected Supreme Leader Comrade Kim Jong Un!" and "We fully support the statement of the DPRK government categorically rejecting the 'sanctions resolution' against the DPRK!" [the acronym for the country's official name Democratic's People Republic of Korea].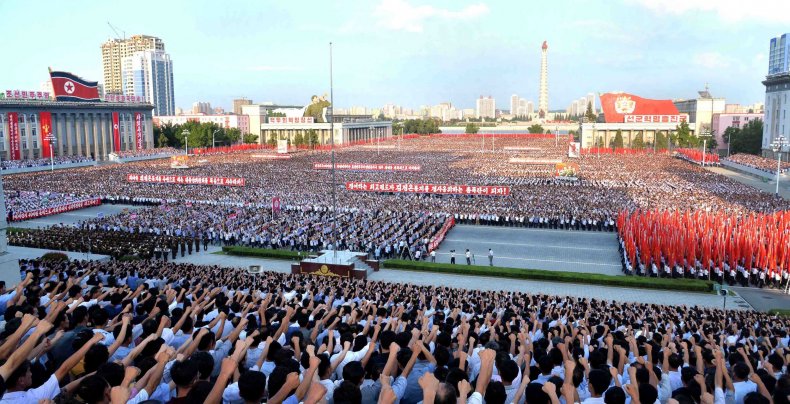 Confronting North Korea's plans, Secretary of Defense Jim Mattis warned the country to "cease any consideration of actions that would lead to the end of its regime and the destruction of its people" as it would lose any military confrontation.
"While our State Department is making every effort to resolve this global threat through diplomatic means, it must be noted that the combined allied militaries now possess the most precise, rehearsed and robust defensive and offensive capabilities on Earth. The DPRK regime's actions will continue to be grossly overmatched by ours and would lose any arms race or conflict it initiates," Mattis said in a statement to the press on Wednesday.