Is the U.S. Going to War With North Korea? New Threats From Trump and Kim Jong Un Highlight Troubled History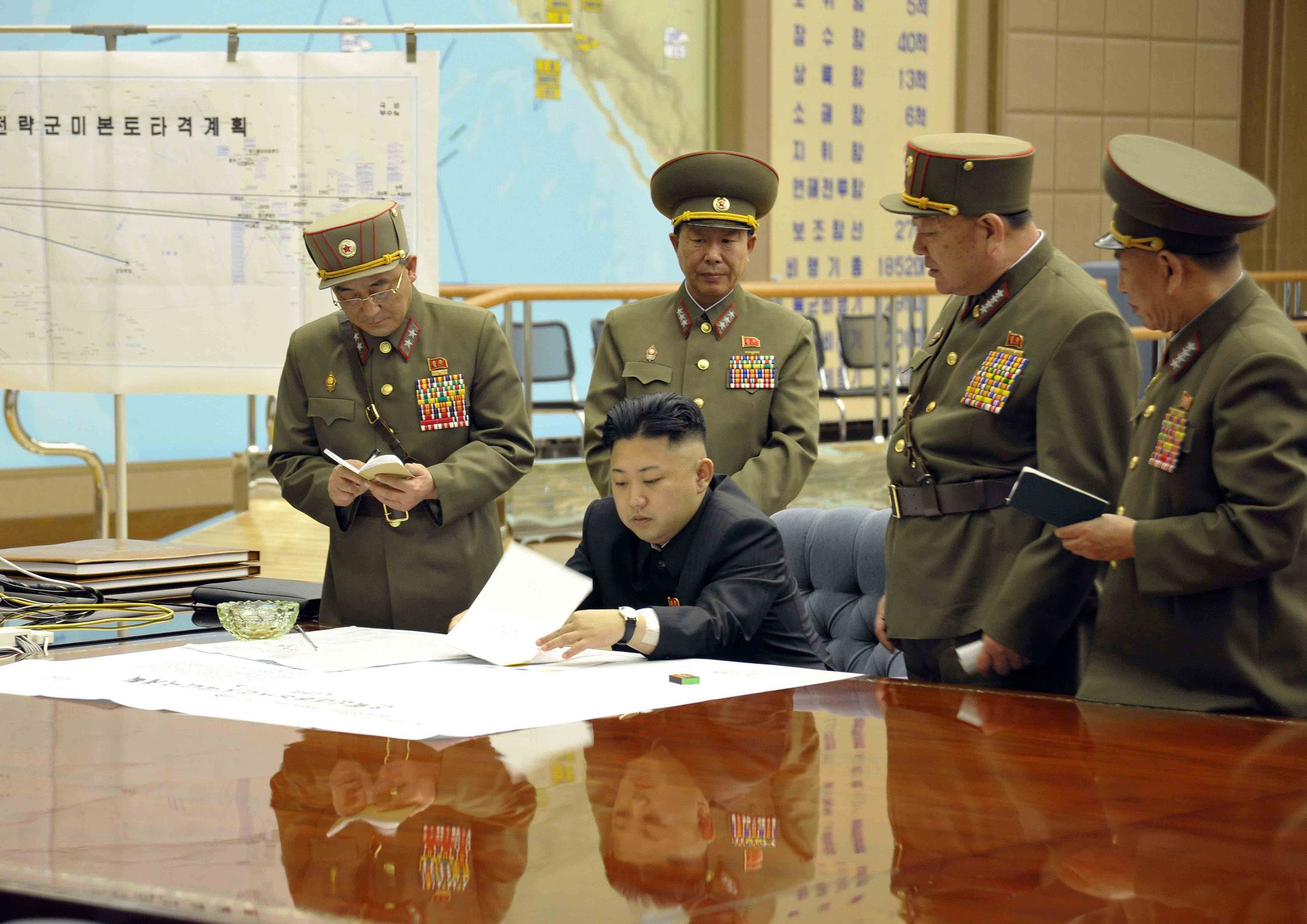 Updated | As Secretary of State Rex Tillerson sought to reassure Americans Wednesday that they can "sleep well at night," the escalation of threats this week between North Korea and the U.S. has revived concerns over a potential military confrontation between the two countries.
President Donald Trump's warning Tuesday that he will meet Pyongyang's escalating threats with "fire and fury" was met with outrage and condemnation across the political spectrum in the U.S. Meanwhile, North Korea responded by saying it would attack the island of Guam, a strategically-located U.S. territory in the Pacific hosting two military bases.
Guam Congresswoman Madeleine Z. Bordallo said Pyongyang's threats that it would strike the territory weren't unprecedented. And she's right.
But is this time different? Is the U.S. going to war with North Korea? Here's what you need to know about the last time the U.S. nearly engaged in a military conflict with Pyongyang.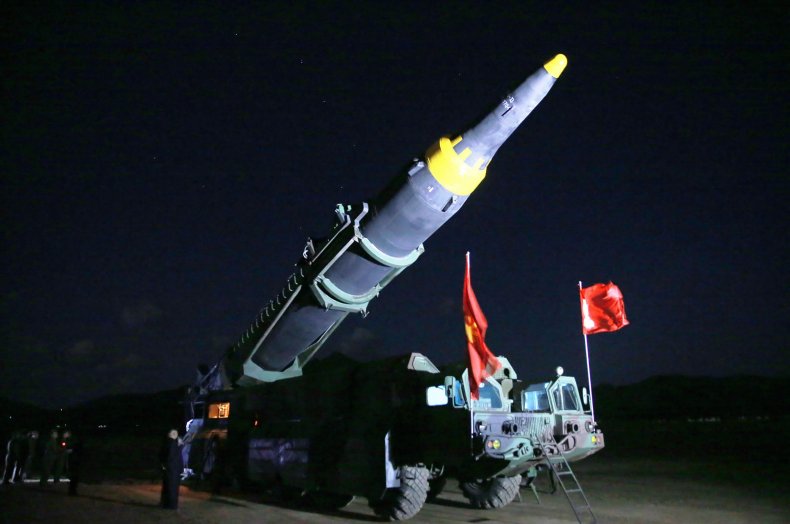 Plans for Missile Strikes
Trump's statements aside, the recent escalation between North Korea and the U.S. mimics events in early 2013, when North Korea put its rocket units on standby, threatening a nuclear attack on the United States and missile strikes on Guam's military bases after the U.S. flew two nuclear-capable stealth bombers over the Korean peninsula in a show of force.
At the time, North Korea had yet to develop missiles capable of reaching the U.S., but had stepped up nuclear tests. After the country conducted a third nuclear test in February that year, the U.N. Security Council unanimously approved sanctions in March that targeted the country's banking, trade and travel sectors, ignoring threats of retaliation.
A month later in April, after threatening Guam and releasing a picture of the country's ruler Kim Jong Un reviewing plans for missile strikes, North Korea shut down access to the Kaesong industrial zone that it had ran jointly with South Korea for the previous four years. The move sparked concerns for stability in the Korean peninsula which, since the 1950-53 Korean conflict ended with a truce without peace, has technically remained at war.
The Pentagon, led by then-Secretary of Defense Chuck Hagel, promised to send a missile defense system to Guam on April 3, calling North Korea a "real and clear danger."
"They have nuclear capacity now. They have missile delivery capacity now. And so as they have ratcheted up her bellicose, dangerous rhetoric and some of the actions they've taken over the last few weeks present a real and clear danger," said Hagel, as the U.S. was also conducting joint exercises with South Korea and working with the China to defuse tensions. A responsible member of the international community can't achieve peace and prosperity "by making nuclear threats and taking very provocative actions," he added.
The U.S. did not go to war with North Korea over the incident.
Rhetoric Versus Reality
A week after Hagel's April 2013 remarks, the then-director of national intelligence, James R Clapper, minimized the risk of military confrontation at a hearing of the House Intelligence Committee. "[Kim Jong Un's] primary objective is to consolidate, affirm his power," Clapper said, according to the New York Times, adding that "the belligerent rhetoric of late, I think, is designed for both an internal and an external audience."
Clapper said Kim's goal was to "somehow elicit recognition from the world and specifically, most importantly, the United States, of North Korea as a rival on an international scene, as a nuclear power, and that that entitles him to negotiation and to accommodation, and presumably for aid."
More recently, a similar belief in North Korea's desire for deterrence rather than attack was made in July by the top U.S. commander in South Korea, General Vincent K. Brooks of the United States Forces Korea, who said Pyongyang sought to use its nuclear capabilities as a bargaining tool to deter perceived hostility against it.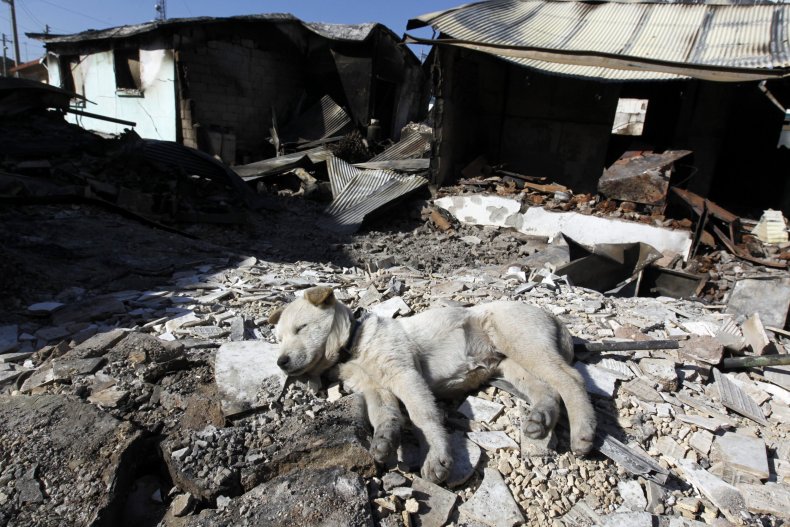 Now, with the latest rounds of threats between Kim and Trump, analysts still do not believe there is any appetite for nuclear destruction. After all, Washington avoided a conflict in 2013. And a full-on war failed to break out before that in November 2010, after North Korea fired dozens of artillery shells at the South Korean island of Yeonpyeong, killing two soldiers and two civilians.
"The risks that attach to a military confrontation on the peninsula have not changed since President Bill Clinton decided it was too risky in 1993. The use of the military would put South Korea—and the U.S. troops there—at great risk. It would also run the risk of an attack on Japan, [where] more American troops [are stationed]," James Hoare, a former diplomat who helped establish the British Embassy in North Korea in the early 2000s and an associate fellow at Chatham House, tells Newsweek.
"And there is no guarantee that it would work. North Korea has been concealing things underground since the 1950s and are past masters at it. So a dangerous option, especially as the rest of the world might take a very dim view of it," he adds.
Hoare believes the escalation in threats are mostly for rhetorical purposes. "I suspect that much of what is being said now on both sides is rhetoric. The North Koreans are more likely, however, to have a clearer idea of what they want and perhaps how to get it than the U.S. Statements from the North are just thrown out willy-nilly, they have been thought out. So the North Korean foreign minister is not making policy on the golf course as Mr. Trump seems to be, while others are saying something different."
At present, the biggest threat seems to be the ego of the North Korean and American leaders. Professor Andrew O'Neil, ballistic missile testing expert at Griffith University in Australia, told the Guardian this week that Trump's "fire and fury" comments could be a "game changer" as "the possibility this time around is that Kim Jong Un and Donald Trump may have too much confidence in their capacity to manage a crisis and de-escalate before a spiral gains traction."
This story was updated to include comments from James Hoare received after publication.