North Korea Warns of War With U.S. and 'Puppet' South as Trump Meets With Korean Leader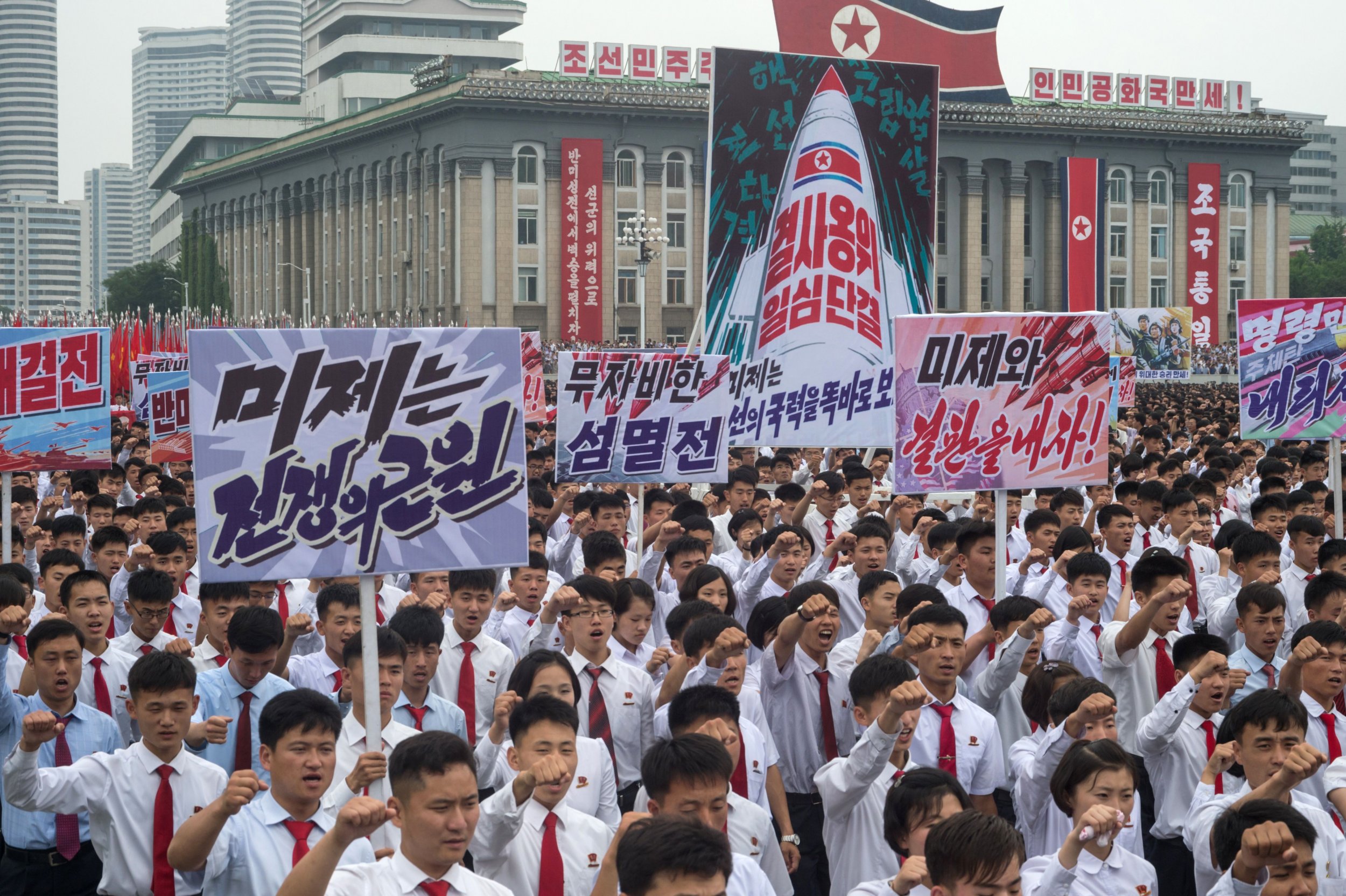 North Korea has warned of dire, destructive consequences to the increased collaboration between its southern rival and the U.S., which received South Korea's recently elected leader Thursday in hopes of aligning the two nation's efforts to dismantle Pyongyang's nuclear weapons and missile program.
North Korea's state-run Korean Central News Agency (KCNA), a daily outlet for the views of North Korean leader Kim Jong Un's government, cited Thursday a spokesperson for Pyongyang's National Peace Committee of Korea in criticizing "South Korean puppet military warmongers" who he said were provoking their northern neighbor's armed forces with a series of recent military drills conducted alongside U.S. President Donald Trump. The U.S. has sent two carrier strike groups and bolstered military assets in the region in order to increase military and political pressure on Kim to abandon his nuclear ambitions. In another KCNA piece, the agency blasted the U.S.–South Korea exercises as well as what it considered inflammatory remarks by South Korean President Moon Jae-in.
Related: America's new problem? Russia wants to solve the North Korea crisis
"This is just a risky and reckless military move driving the already acute situation on the Korean peninsula to the brink of a nuclear war, and a blatant challenge to all Koreans and other peace-loving peoples in the world aspiring after peace and security on the peninsula" the article read, later attacking U.S. military moves in the region.
"The Trump administration should not run riot, thinking twice about the catastrophic consequences to be entailed by its foolhardy military moves. It should properly understand the spirit and will of the Korean army and people to annihilate the enemy and finally conclude the standoff with the U.S.," KCNA concluded.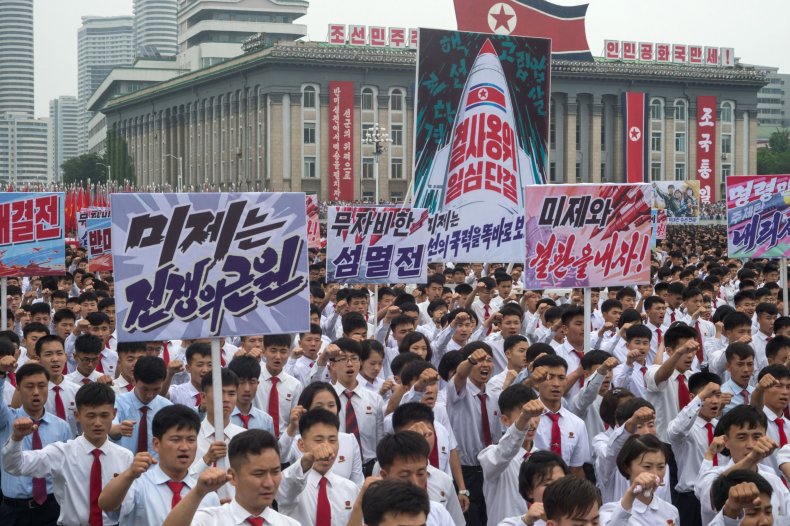 North Korea regularly asserts its right to possess nuclear weapons and develop intercontinental ballistic missiles (ICBM), arguing that these military assets are necessary to prevent foreign powers like the U.S. from invading and overthrowing Kim's administration. The militarized state's pursuit of these technologies, however, has led the U.S. and even sympathetic nations such as China and Russia to support U.N. Security Council sanctions against North Korea. The U.S. has taken its threats a step farther and has publicly considered taking military action to prevent its longtime Asian foe from conducting a sixth nuclear weapons test.
Trump first approached Chinese President Xi Jinping in an attempt to convince North Korea's greatest ally to exert its leverage and convince its neighbor to disarm its nuclear and ballistic missile program. While Trump has acknowledged China's efforts, following the death of U.S. student Otto Warmbier shortly after his release from North Korean prison. the president said last week that "it had not worked out." Warmbier had reportedly fallen into a coma not long after his trial and imprisonment for allegedly stealing a sign bearing a political slogan during a visit to North Korea last year and never woke up. A senior White House official said Wednesday that China had "had fallen far short of expectations" in dealing with North Korea.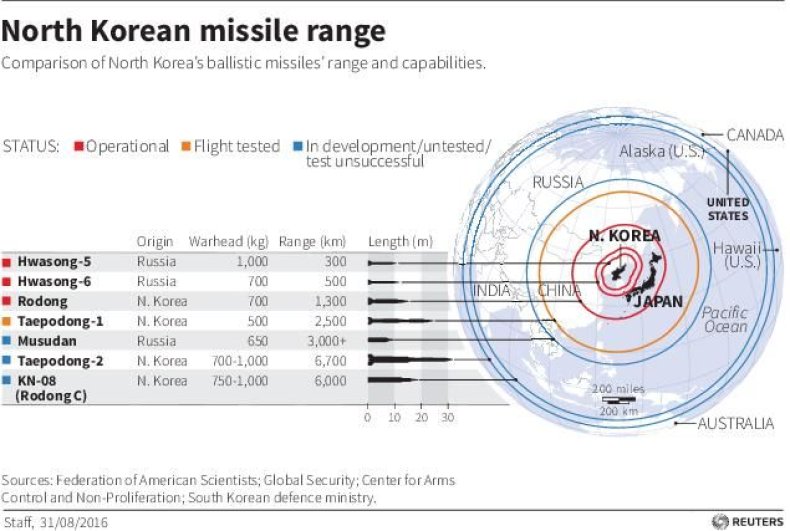 In the U.S.'s latest attempt to turn up the heat on North Korea, Trump was scheduled to meet with Moon for the first time Thursday. Moon, who was elected last month after his predecessor was arrested in a corruption scandal, distanced himself from the conservative views of the former South Korean administration, but he has recently embraced a more militant stance toward North Korea, with which his country has technically remained at war since the 1950s. While Moon has pushed back on certain measures regarding the installation of the U.S.'s Terminal High Altitude Area Defense (THAAD) anti-missile system in his country, which was expedited before he took office, Moon said only days into his administration that there was a "high possibility" of conflict with North Korea.
While North Korea is not yet believed to have the capacity to produce an ICBM, much less fit it with a nuclear warhead, analysts have said that the country could begin testing such projectiles as soon as the end of this year. North Korea is estimated to possess up to 20 nuclear weapons and an extensive arsenal of ballistic missiles, all capable of striking nearby countries.