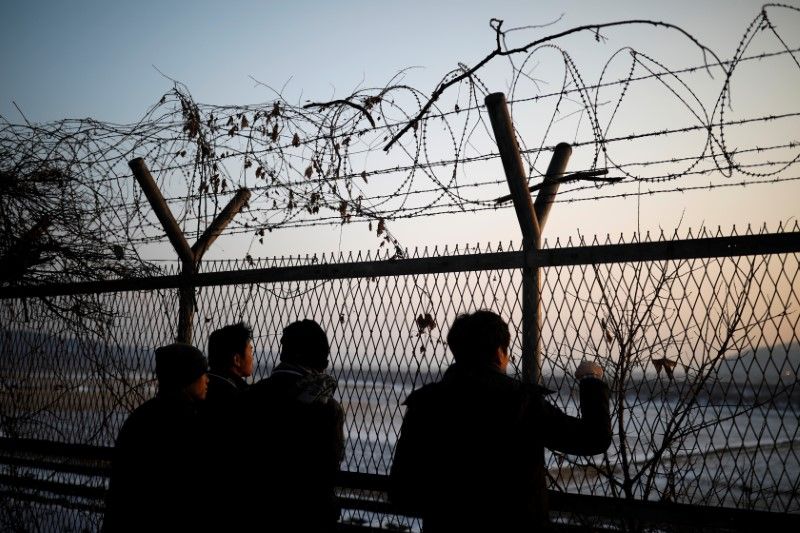 North Koreans desperate to flee their country staged some spectacular defections in 2017, but the number of those who successfully escaped has dropped to its lowest since 2001—and is the smallest since Kim Jong Un took power.
The total number of defections to South Korea recorded in 2017 was 1,127, down more than 20 percent from the previous year, when South Korea's Ministry of Unification recorded 1,418 defections, Seoul-based news agency Yonhap reported.
Women continue to account for the vast majority of North Koreans who flee to the South: 83 percent of the 2017 defectors and 71 percent of the 31,339 defectors that have settled in South Korea since the Korean Peninsula split along the 38th parallel in 1948.
North Korea claims to uphold gender equality, but women have a much lower status in society, and several rights bodies have reported that violence against women is common. According to accounts from North Korean women gathered by Human Rights Watch in April, gender-based violence both in public and private spaces often go unpunished.
According to a 2014 U.N. report, women's rights violations are endemic. "The State has imposed blatantly discriminatory restrictions on women in an attempt to maintain the gender stereotype of the pure and innocent Korean woman. Sexual and gender-based violence against women is prevalent throughout all areas of society," the report read.
The most well-known defection this year occurred across the heavily guarded demilitarized zone (DMZ) that separates North and South Korea, when a soldier dashed across the Joint Security Area, the only part of the 160-mile-long border where guards from the two countries face one another.
Only a handful of similar cases of defections across the DMZ were recorded in 2017, most recently in December, as North Koreans usually take the perilous journey via the northern border with China to eventually find safety in South Korea. North Korea has strengthened security measures across both borders. In December, reports suggested China was building a network of refugee camps along its 880-mile border with the North, possibly with an eye to the tensions escalating between Kim and the West.
North Koreans who make it to China live under constant fear of being detained and sent back across the border, where they would be interrogated and likely suffer beatings, torture and rape, according to the U.N.
In November, a group of North Korean defectors held in China made headlines worldwide when a man appealed to President Donald Trump and Chinese President Xi Jinping to prevent the forced repatriation of his wife and 4-year-old son, who were captured in China while attempting to defect. The man had himself defected to the South in 2015 and believed his wife was among the group of 10 people trying to escape North Korea over the Chinese border.
However, his plea was unsuccessful, as weeks later he heard his wife had been brought to a North Korean city for interrogation.There was no news about his son's fate. According to unconfirmed reports from an unidentified source in U.S.-based Radio Free Asia's Korean service, one of the men in the group, a nuclear scientist, killed himself while in detention in the same center as the wife.
Human rights activists believe the decrease in defections in 2017 reflects a crackdown by Chinese authorities. According to a Human Rights Watch report, China detained 49 North Koreans between July and September 2017, almost the same number of arrests, 51, made during the entirety of 2016.
"This decrease in arrivals is extremely concerning because it's not that life became that much better in North Korea, it is because the Chinese authorities, while signing up for increased sanctions on the North Korean economy, also stepped up their crackdowns on North Korean refugees," Sokeel Park of Liberty in North Korea, a U.S.-based nonprofit organization that helps defectors reach the South, told French news agency AFP.