OANN White House Correspondent Implies in Tweet That Hill and Vindman Aren't Americans, Despite the Fact They Are
One America News Network's (OANN) White House correspondent Emerald Robinson attacked former National Security Council official Dr. Fiona Hill and Lt. Col. Alexander Vindman, implying that neither is American despite the fact that they are.
"I'm wondering: are any Americans going to testify against Trump?" Robinson, a journalist for the conservative media outlet, wrote Thursday in a now-deleted tweet about the two witnesses who delivered testimony at President Donald Trump's impeachment inquiry hearings this week.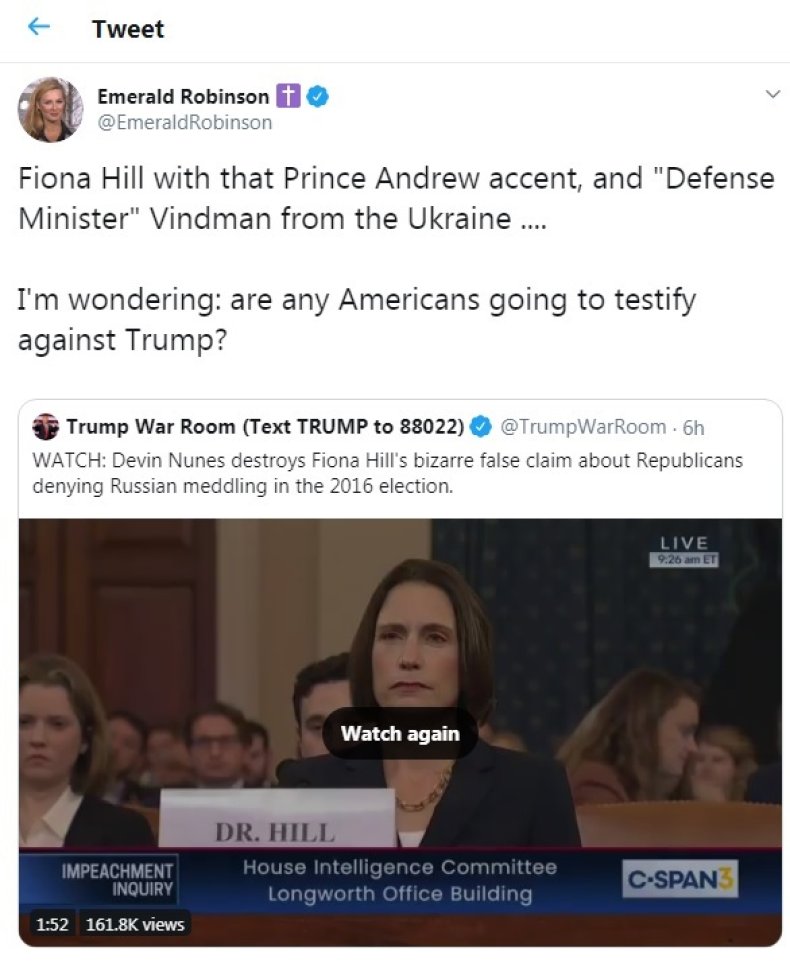 In her tweet, Robinson joined other Republicans in questioning the credibility of Vindman and Hill.
"Fiona Hill with that Prince Andrew accent, and 'Defense Minister' Vindman from the Ukraine..." she wrote, referencing Hill's Northern English birthplace and Vindman's birth in the Soviet Union.
Vindman fled to the United States in 1979. He is a Purple Heart recipient, who has served the U.S. army since 1999.
Hill became a U.S. citizen in 2002, before serving on the National Intelligence Council under President George W. Bush. She then worked for the Trump Administration as a Russia advisor starting in 2017.
A number of conservative commentators have questioned Vindman's background, with some accusing him of espionage, because he was not born in the United States.
During her testimony in Thursday's impeachment inquiry hearings, Hill called out GOP attacks against Vindman. "I think it's very unfortunate. This is a country of immigrants...Everyone immigrated to the United States at some point in their family history. This is what, for me, really does make America great," she said. "I know for a fact that every single one of my colleagues—and there were many naturalized citizens in my office and across the National Security Council—felt exactly the same way. I think it's deeply unfair."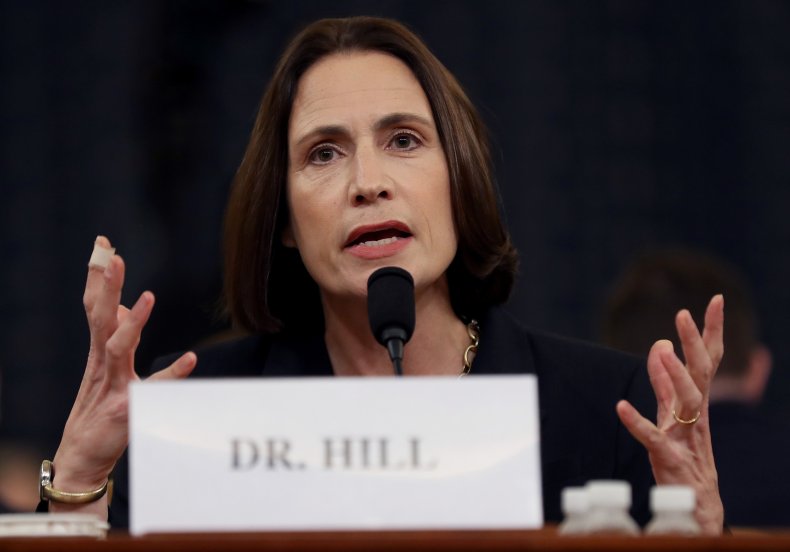 On Twitter, people quickly called out Robinson for her ignorance. "Questioning the patriotism of two dedicated public servants who are naturalized U.S. citizens. Talk about bigoted white trash," national security lawyer Bradley P. Moss tweeted.
Other people on social media criticized Robinson for questioning the citizenship of the two witnesses. "This is the worst, most xenophobic, embarrassing take I have ever seen from someone who actually has a press pass to the White House," one person tweeted.
Later in her testimony, Hill told the committee that she did not believe that U.S. Ambassador to the EU Gordon Sondland was unaware of Trump's pressure on Ukraine to investigate Presidential Candidate Joe Biden.
Hill testified alongside David Holmes, who testified that he was able to hear Trump ask Sondland about "investigations" over the phone, while having lunch with Sondland in Ukraine.